Port Aransas Lifts Vehicular Access Ban Amid Citywide Safety and Parking Concerns
Press Release
PORT ARANSAS, TX – In a public service announcement the Nueces County lifted the current beach order which previously restricted vehicular access in response to battling COVID-19 in Port Aransas due to financing and a multitude of parking issues.
Port Aransas Mayor Charles Bujan announced the cities' decision to not enforce the order, which is currently in effect until Aug. 17, via social media on Sunday.
"The city can no longer afford providing 24 hour day policing of the county beaches closure order." said Bujan,  "We have depleted all of our overtime budgets. The county beach closure has created a major life safety issue in regards to the in-town beach parking being completely out of control, blocking streets to EMS access, and Fire Dept trucks responding to emergencies."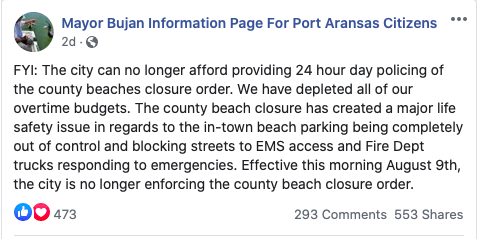 Effective the morning of August 9th, the city of Port Aransas announced that it will no longer be enforcing the counties' beach access closure.
In early July Nueces County Judge Barbara Canales issued the initial order banning vehicular access in response to the large COVID-19 spike seen across Texas this summer, however the order was recently extended on July 31.
Although vehicles and golf carts were not allowed on the beach, pedestrian beach access was still available, which caused a major parking issue throughout the city, especially on the streets along the beach.
Get more stories like this by signing up for our daily newsletter, The LIVE! Daily.