San Angelo, Midland, Odessa and Abilene Regions Under Tornado Watch Until 5 a.m. March 13, 2019
SAN ANGELO, TX — The San Angelo station at the National Weather Service issued a tornado watch for the West Texas region. The watch extends from Fort Stockton to Del Rio; then from Del Rio through Sonora, San Angelo, to Snyder. The watch includes Abilene. Coleman, Haskell. Midland and Odessa.
The watch is in effect until 5 a.m. March 13, 2019.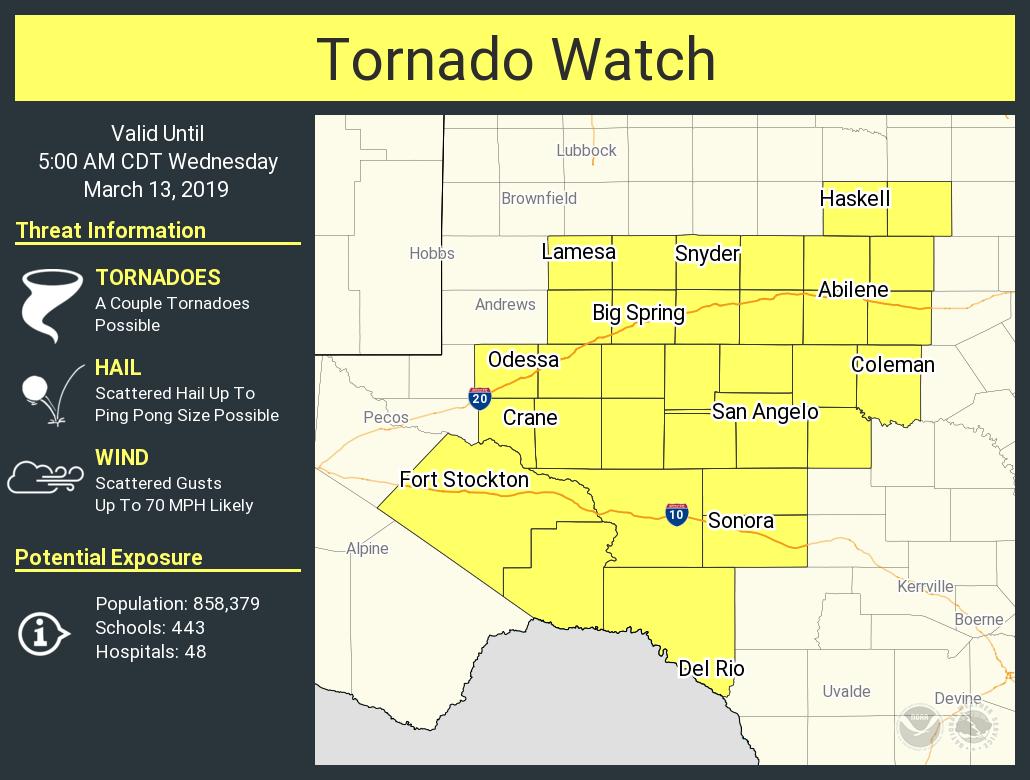 The NWS noted weather threats in addition to tornados include hail up to ping-pong ball size and scattered windy gusts up to 70 mph.
The population impacted by the watch is 858,379 people, 443 schools, and 48 hospitals.
As of 11 p.m., the NWS predicts the boundary of the strong to severe line of thunderstorms will be approaching from the west, approaching a north-south line from Sterling City through Barnhart to Ozona. That line will travel east to arrive over a north-south line from Hamlin through Abilene/Sweetwater, San Angelo, and Sonora between midnight and 2 a.m. The line will continue east to be over a line from Throckmorton through Albany, Coleman, Brownwood, Brady, Menard, Mason, San Saba, and Junction between 2 and 5 a.m.
NWS said damaging winds are the primary threat as the storms move over. There is a risk of isolated tornados, NWS added.
Earlier today, personnel from the NWS San Angelo described the weather that was about to travel through West Texas:
Get more stories like this by signing up for our daily newsletter, The LIVE! Daily.