More than Egg Hunts: The Tradition of West Texas Easter
SAN ANGELO, TX - In the community of San Angelo, Easter represents a time of excitement and celebration as it brings churches and families together for services, egg hunts, and more. However, for the smaller communities that surround San Angelo, this holiday serves as an uplifting reminder of not only theological beliefs, but cultural and communal realities that go deeper than religious ritual. 
In the town of Ozona, Texas, attendees of the First United Methodist Church, an establishment that has stood in Crockett County for over 100 years, conduct a Easter service annually for their congregation. The church takes the center piece of a wooden cross, adorned with flowers and palm branches by the children of the church, and uphold this as a symbol of hope and life that is all too critical to a people who have built a community on agriculture. 
Though the cross itself is simple, to Pastor Gene Reardon, it represents more than simply nice feelings. 
"The wooden cross, made from the trunk of a Christmas tree, stands bare and foreboding on Good Friday. It is a symbol of death and defeat. At the beginning of our Easter service, the children of the church come forward with flowers as the opening hymn is sung. As they place the flowers over every inch of the cross, it is transformed into a beautiful symbol of resurrection and the possibility of transformation of our own lives."
For the people of Crockett County, this sentiment has resonated for 125 years, in times of drought, economic depression, natural disasters, and community tragedy.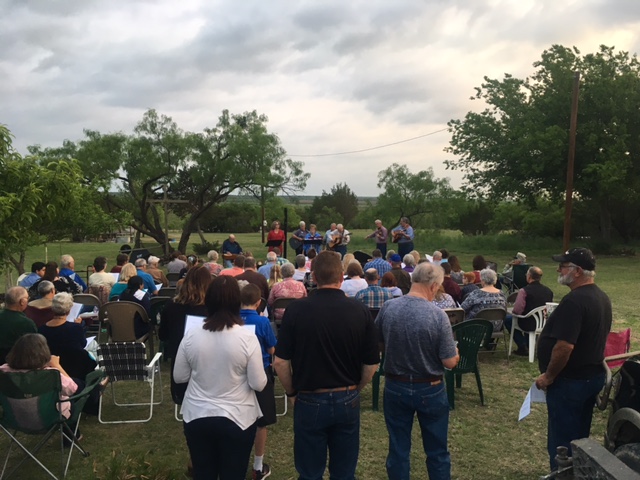 In Mason, at a Methodist church still standing for over 140 years, the service is shared with the entire community, as people come back to Mason from all over the country to celebrate on land donated in 1862 to build the first church in the community. Facing east to the rising sun, people from all walks of life will join to celebrate both the history of their faith and their community. 
For Pastor Mike Bell, the service represents Mason's commitment to both faith and to maintaining the rich culture, history, and community. 
"We love coming together to celebrate the resurrection of Christ and the blessing that we have as a community, getting to live here and be together," Bell said. 
These are just a few examples of the many traditions that take place all over West Texas and the Concho Valley during Easter. And while they are varied in both history and practice, they all share one thing in common besides their religious and spiritual importance; they play a critical part in reminding the people in the communities that make up West Texas of their history, their culture, and the faith that has helped carry them on. 
Get more stories like this by
signing up for our daily newsletter, The LIVE! Daily
.