Early Days Celebration in McCulloch County Another Great Success
MCCULLOCH COUNTY, TX - In its third year of celebrating the early days of McCulloch County, The County Historical Commission presented to visitors, both local and out-of-towners, a peek into what life was like in the early days in and around McCulloch County.
The two-day event, which began last Friday, saw busloads of school children from area schools including Brady, Lohn, Rochelle, Menard and Cherokee. One spokesperson estimated over 700 children were treated to the exhibits and demonstrations.
Below: Chief Broken Eagle (Ray Hernandez from Menard) regaled students with stories and facts of early life.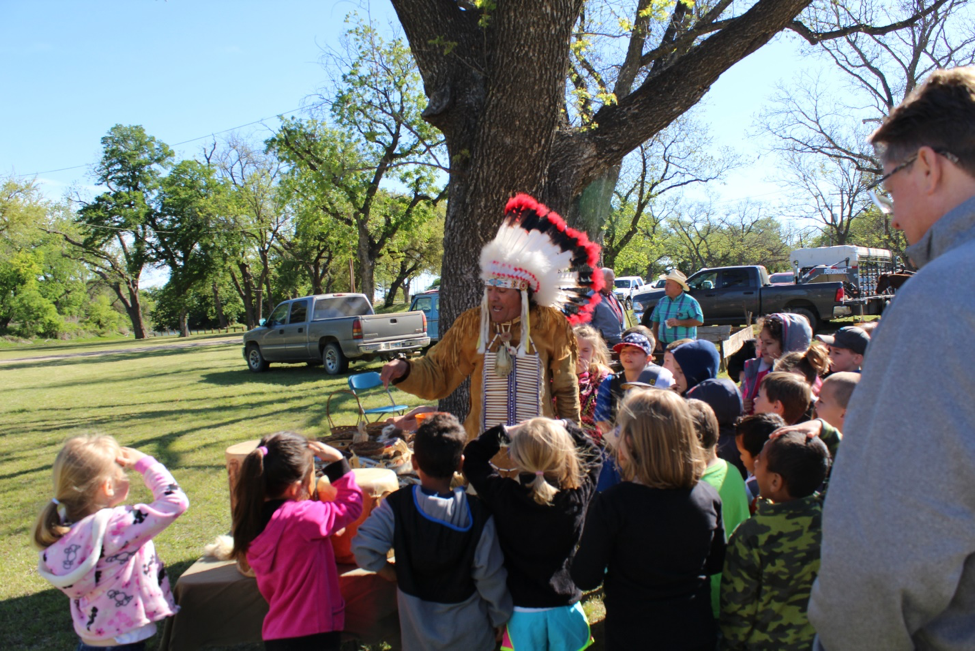 Military displays included representatives of Ft. Concho, Ft. Griffin, FT. Lancaster, Ft. McKavett, Alan Mack-Buffalo Soldiers, Tara Roy military laundress and The Seventh Texas Infantry & First Virginia Mounted Artillery.
Displays included quilt making, survival skills, pioneer life, chuck wagon cooking, Horseshoeing, belt and boot making, stone cutting and farming and blacksmithing tools.
Live performances included The HOT Museum Band, the Pat Logan Band, Sue Young, A crowd pleaser, The Sahawee Indian Dancers, and a crowd favorite, The Concho Cowboy Company from San Angelo, whose members did a shoot-out skit.
The Concho Cowboy Company on Saturday included Jack and Karen Smith, Brad and Doris Downing, Richard Prater and Tom Colton.
The Early Days Celebration is made possible in part by grants including the City of Brady, The Texas Commission for the Arts  and Humanities Texas, which is the state affiliate of the National Endowment for the Arts.
Get more stories like this by
signing up for our daily newsletter, The LIVE! Daily
.