Veribest's Drought-Ending Season Shaped from Summer Work
VERIBEST, TX -- Veribest's first-year Athletic Director and head girl's basketball coach Jim Eubank has been coaching for almost four decades. Claiming Veribest's first district title since 2002 ranks right up there in a long line of fond memories.
"It means the world to me for these young ladies," an emotional Eubank said following Tuesday's win.
Veribest beat Blackwell 51-48 in a thrilling regular season finale on Tuesday. The scenes inside the school of 82 students was one of elation.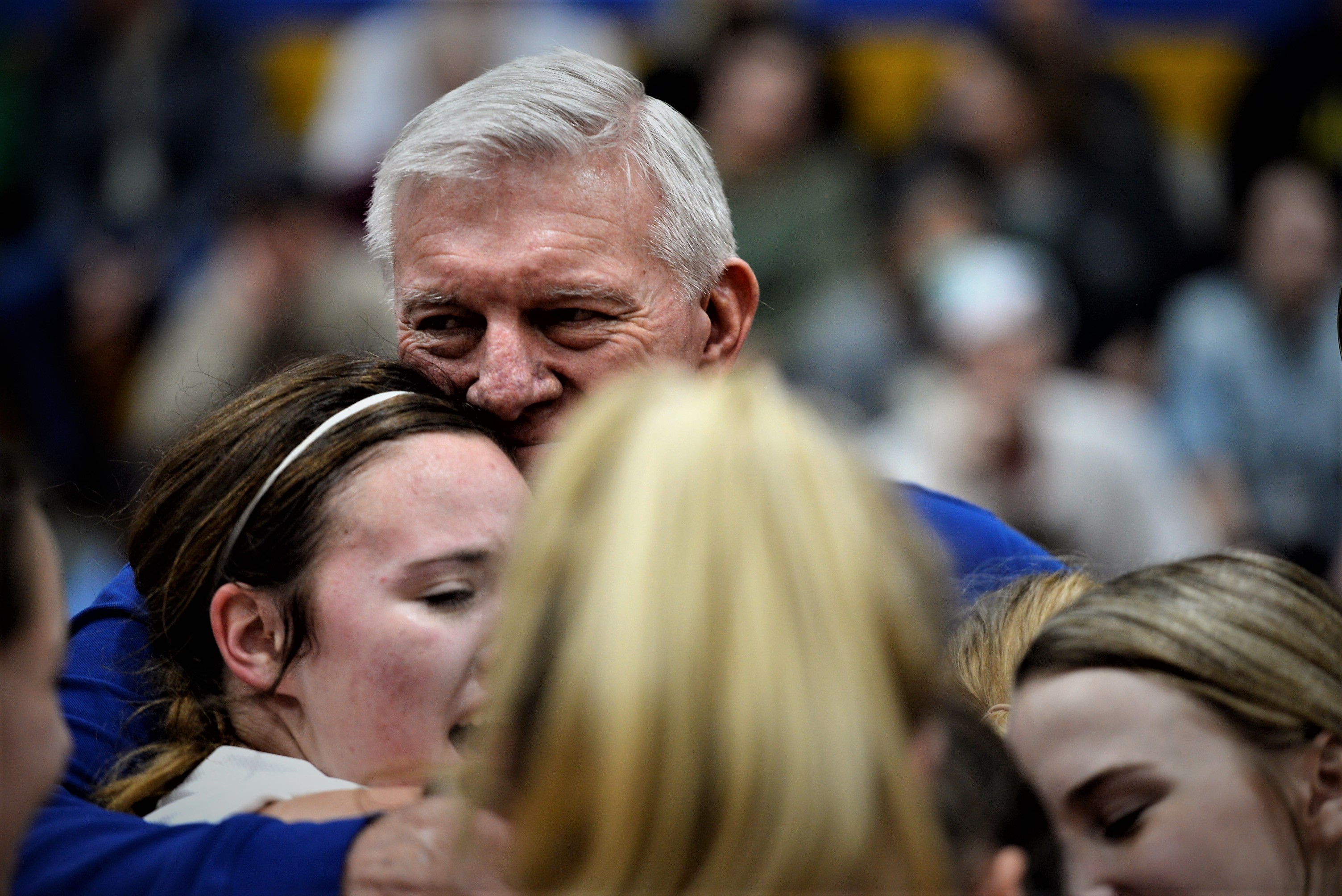 Above: Veribest head coach Jim Eubank hugs Abby Taylor (L) after winning their first district title in 17 years. Feb. 5, 2019 (LIVE! Photo/Sam Fowler)
"It's crazy. I don't even have words," said Howard Payne-bound senior guard Catlyn Ward. "For four years, me and the other seniors have worked so hard. To be here and to have won with our team, it's crazy."
However, the Lady Falcons' first title in 17 years was won in the summer, shortly after Eubank was hired to resurrect a program at a school known for its volleyball success.
"Coach [Denise] Richards, our volleyball coach, does an outstanding job and she's taught these girls how to win and how to compete. She's been here longer than any other coach I think," Eubank said. "But for us to be that volleyball school, who doesn't get to start basketball until almost Thanksgiving, to be able to step in and compete for a district title and win a district title says a tremendous amount about these ladies out here … We asked them to do things we've never done before."
Since a good portion of the team spent most of the fall in volleyball, Eubank knew he needed to get his team on the right track during the summer. That meant putting the Lady Falcons through summer weights and conditioning, something they hadn't done before.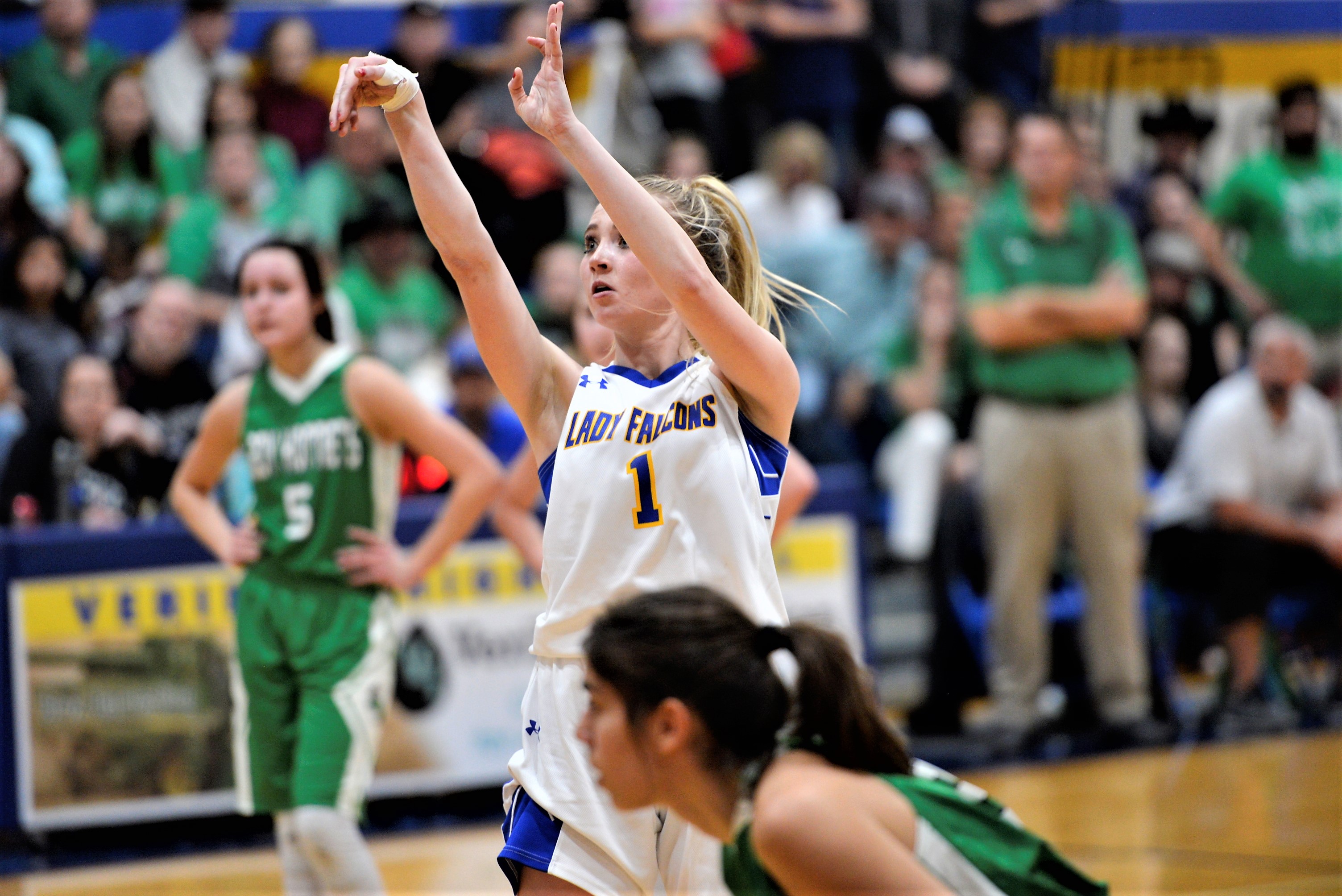 Above: Veribest's Catlyn Ward (1) shoots a free throw against Blackwell. Feb. 5, 2019 (LIVE! Photo/Sam Fowler)
So, Eubank was able to spend seven Wednesdays with his team outlining his system and the plans for 2018-19.
Those seven Wednesdays are the difference between Veribest being champions instead of runner-up.
"That doesn't sound like a whole lot," Eubank noted. "But when you're a new coach trying to put in a new system, new verbiage, new names for things, those seven Wednesdays were huge … That helped us to at least be able to jump start the program so we weren't starting dead cold."
While it was new to them, the Lady Falcons bought in right away. They knew it would pay off in the long run.
"I think we knew from the very beginning. We just knew it was going to be hard to work from where we had been the past few years," Ward said. "We knew we had the coach and the players to do it. We just had to trust him and trust ourselves."
Above: Veribest's Abby Taylor (23) goes up for a layup against Water Valley. Jan. 8, 2019 (LIVE! Photo/Sam Fowler)
Ward, Kameron Salvato and Abby Taylor are the only seniors on the Lady Falcons' roster. Ward is the only one who didn't play volleyball, but all three showed "tremendous leadership" in turning the program around according to Eubank.
"[They are] tremendous leaders, unselfish being willing to accept roles that maybe wasn't exactly what they wanted," he praised. "But they bought in and they did the best they could with the roles they were given. Like I said, this senior class has been -- we wouldn't have gotten here without them."
It wasn't just seniors that got Veribest back to glory. Freshman Kennadi Wheeless stepped in as the right mix to Veribest's starting five.
"Kennadi, along with several others -- they're basketball players. They love this sport," Eubank said. "They do extra work. They do extra shooting. Some of them have trainers they go to. They have put in the work outside of the time we have them up here and they've been doing that for years.
"It's also playing and competing. We've got a group of girls out here that go to San Antonio and compete, they go to the metroplex and compete. When you go there, the level jumps way up and you learn what it's like to step on the floor with really good athletes. They have really great fundamental skills and it prepares you for moments and seasons like this even though you're just a freshman."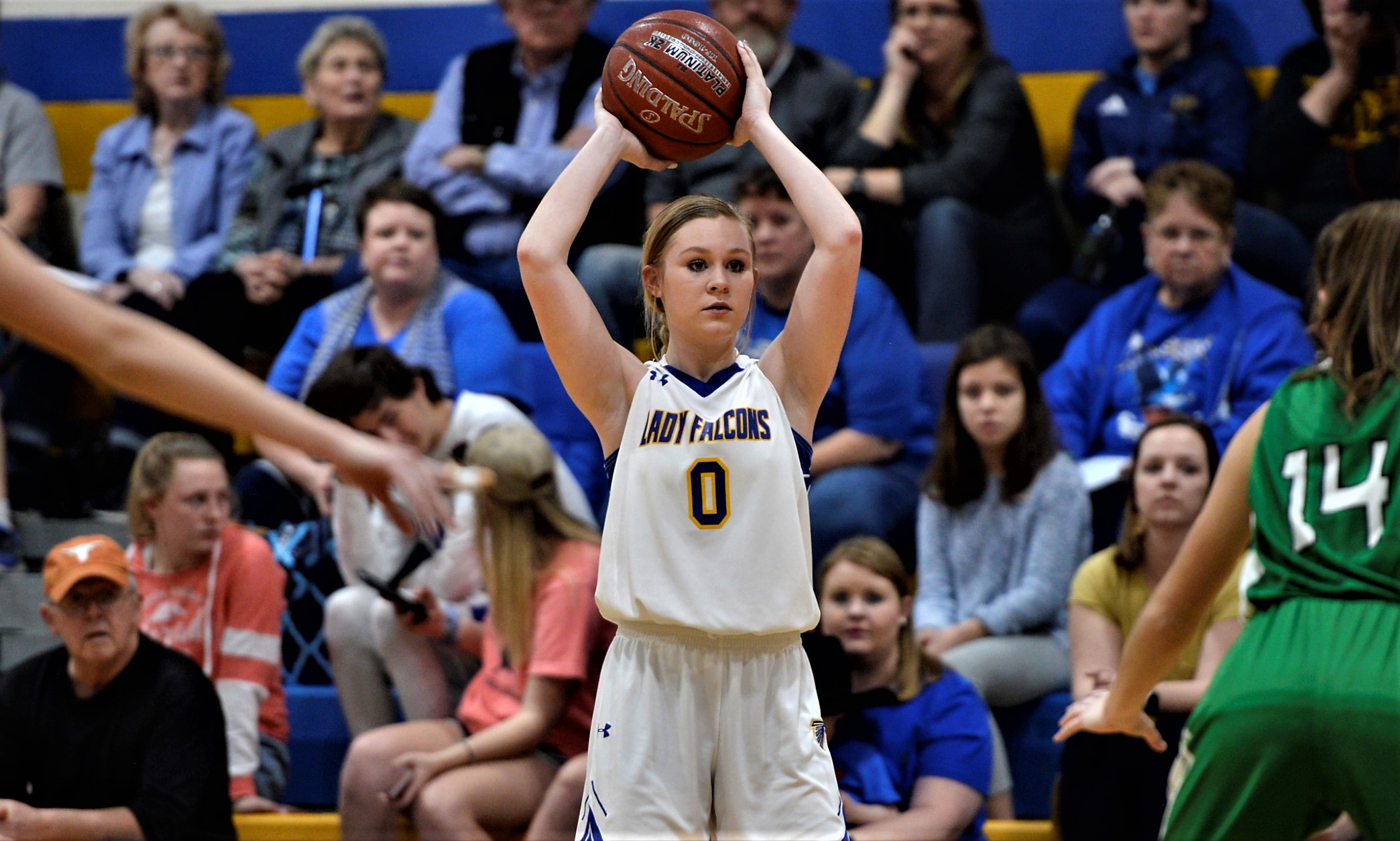 Above: Veribest's Kennadi Wheeless (0) looks to pass against Blackwell. Feb. 5, 2019 (LIVE! Photo/Sam Fowler)
But Wheeless knew she had some learning to do in her first year on varsity. So, she leaned on that senior leadership to help her growth this season.
"They've been really helpful," Wheeless said. "If I was doing something [wrong], they'd be like, 'Hey, you're doing this.' They've been really helpful all year.
While the lion's share of the work came in the summer, Veribest still had plenty of work to do in season. District 11-1A proved to be a gauntlet.
Veribest and Blackwell spent considerable time in the TABC's top 25 rankings. However, both teams suffered losses to Robert Lee and Water Valley, showing the road to a district title was treacherous.
That could prove beneficial for Veribest in the postseason.
"It's tremendous," Eubank emphasized. "[Water Valley] beat us, they beat Robert Lee, they beat everybody except Blackwell. To have to play at a high level game in and game out, knowing if you have a bad game -- which we did against Water Valley -- they'll beat you, it teaches the kids not to take a play off. I think all three of our teams will benefit from it."
Get more stories like this by signing up for our daily newsletter, The LIVE! Daily.