Best Area Athletes Named to 2018 San Angelo Live All-Concho Valley Football Team
SAN ANGELO, TX-- Before the 2018 season winds to a close, we want to cap off a stellar 2018 season on the gridiron in the Concho Valley with the announcing of the 2018 San Angelo Live All-Concho Valley team.
The team features the best player from the area and their accomplishments of the season. We kicked off the 2018 All-Concho Valley team by announcing Mason's senior QB Otto Wofford as our MVP.
Overall, 17 teams made the postseason. Six advanced to the second round. Only Garden City, Mason and Wall advanced to the third round.
Garden City made it to the state semifinal where they lost to eventual champion McLean.
Mason won their second state championship with a 44-6 rout of no. 5 New Deal.
Here is the 2018 San Angelo Live All-Concho Valley team:
Newcomers of the Year
Malachi Brown, So., QB, Central
Above: Central's Malachi Brown (8) tries to shed a tackle against Fort Worth Richland on Oct. 19, 2018. (LIVE! Photo/Sam Fowler)
Brown took over Central's offense a year ahead of schedule. He was thrown into the fire in week 2 against Del Rio after Maverick McIvor went down with a season-ending knee injury.
His baptism by fire was successful, as he helped lead the Bobcats to their ninth straight playoff appearance.
The District 3-6A newcomer of the year did that by proving to be a lethal weapon out of the backfield. He had 188 carries for 1,283 yards and 10 touchdowns to lead the team in just nine starts.
Brown really showed his rushing ability against Fort Worth Richland. He rushed for a school record 335 yards.
In addition to his stellar rushing numbers, Brown was 131-of-262 passing for 1,434 yards and 15 touchdowns.
Korbin Covarrubiaz, Fr., QB, Eldorado
Above: Eldorado's Korbin Covarrubiaz (4) sprints into the end zone against Menard. Nov. 2, 2018 (LIVE! Photo/Sam Fowler)
The Eldorado Eagles weren't planning on using Korbin as a quarterback this season. That's because the Eagles had his older brother, Kevan, set to run the offense in his junior season. That was after a knee injury sidelined the elder Covarrubiaz in all of 2017.
Then, Kevan went down with another knee injury in week 3 against Brackett.
After two losses, Korbin found his stride in district play to lead Eldorado to a 4-1 mark in District 8-2A Division II.
Korbin did that by completing 98 of his 170 passing attempts for 1,366 yards and 14 touchdowns. He added 129 yards and six touchdowns rushing in Eldorado's first district championship season since 2012
Offense
QBs (3):
Brayden Wilcox, So., Christoval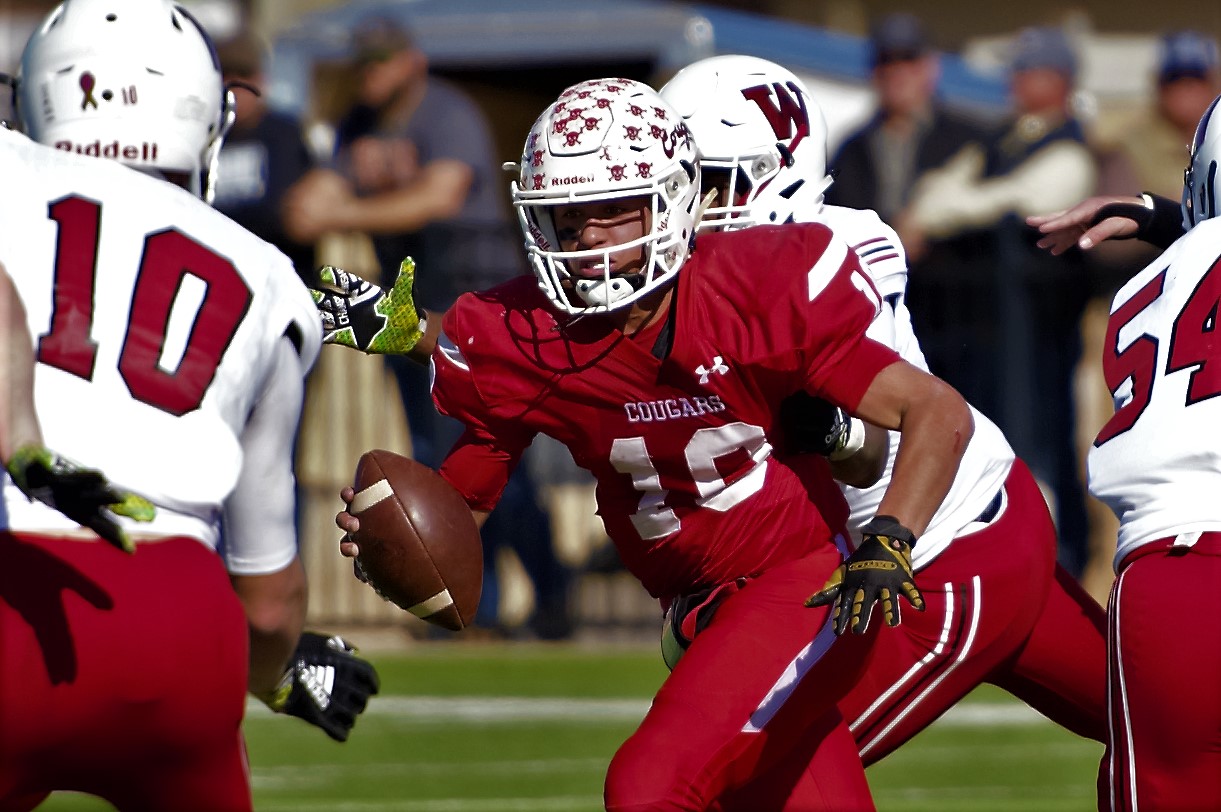 Above: Christoval's Brayden Wilcox (10) tries to escape from Wellington tacklers. Nov. 23, 2018 (LIVE! Photo/Sam Fowler)
Wilcox followed up a breakout freshman campaign by doing something no Christoval QB has done since they moved up to 11-man -- win a playoff game.
The 8-2A DII MVP led the Cougars to a share of the district title and a playoff win over Cross Plains by rushing for 1,851 yards, throwing for 887 yards and picking up 34 total touchdowns.
Mason Fuchs, Jr., Wall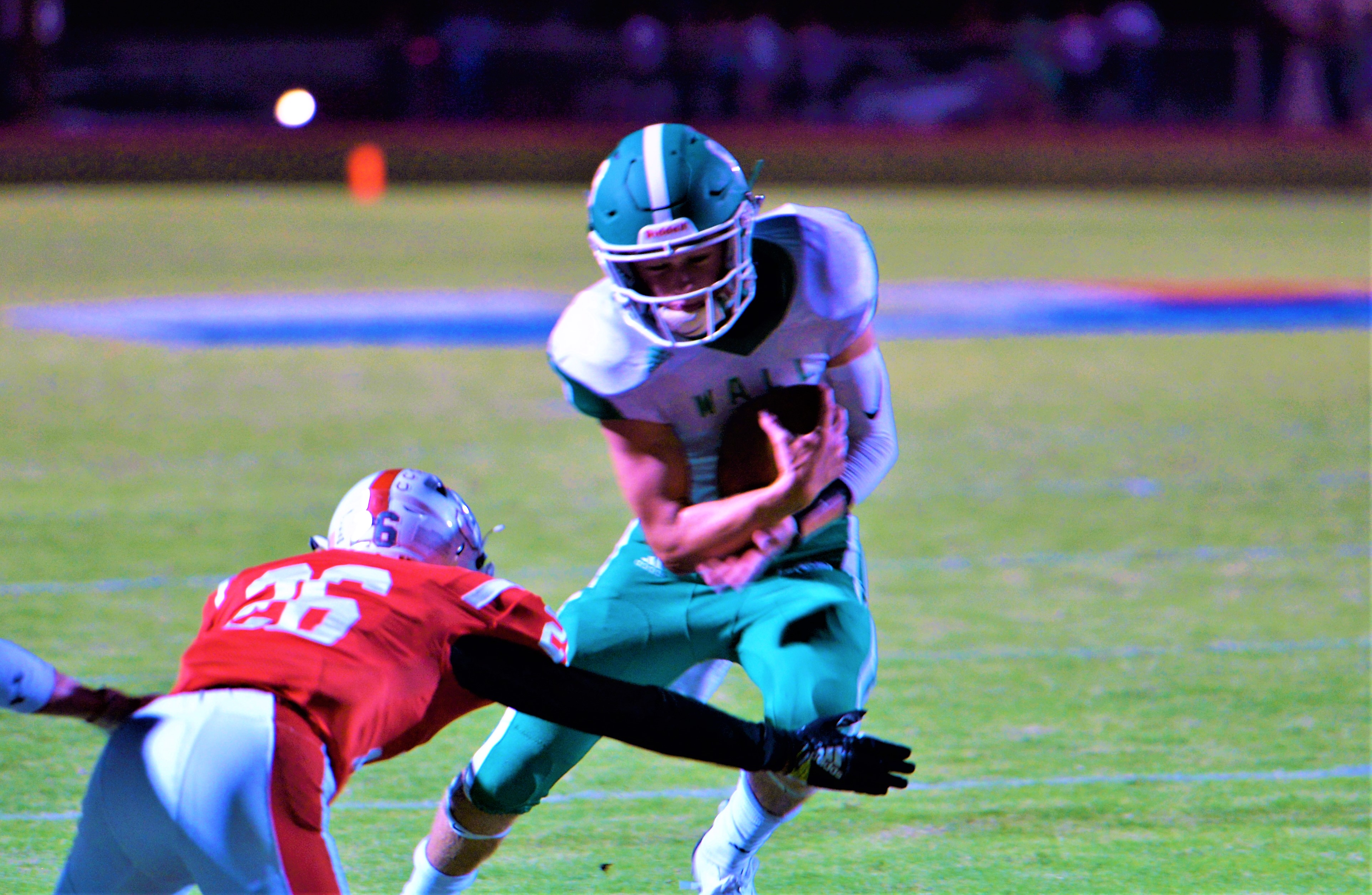 Above: Wall's Mason Fuchs (9) breaks a Sonora tackle for a touchdown. Sept. 20, 2018 (LIVE! Photo/Sam Fowler)
Wall fans saw something they're not used to in 2018. The Hawks threw the ball and threw it well.
Fuchs became the first 1,000-yard passer at Wall under head coach Houston Guy.
Through 11 games, the first team All-District 3-3A DI selection was 53-of-98 passing for 1,123 yards and 11 touchdowns.
Fuchs also rushed for 645 yards and 13 touchdowns in that same span.
Edgar Nunez, Jr., Ballinger
Nunez was easily one of the most balanced QBs in the area in terms of yardage.
In 2018, Nunez threw for 1,124 yards, rushed for 1,442 and picked up 29 total touchdowns.
That performance was good enough for Ballinger to get to a 7-4 record and into the playoffs. It was also good enough to earn Offensive MVP honors in 4-3A DII.
RBs (3):
Mason Bryan, Sr., Miles
Above: Miles' Mason Bryan (5) fights off a Munday Mogul on Sept. 29, 2018. (LIVE! Photo/Sam Fowler)
Bryan was the toughest running back to tackle in 2018, as he was the year prior.
Through Miles' 10 games in the regular season, he carried the ball 213 times for 1,955 yards. That mark, which is nearly 200 yards per game, is good enough for third in Class 2A Division II.
The coaches in 8-2A DII took note of that and named Bryan the co-offensive MVP with Eldorado's Eric Reyes.
Chase Rios, So., Wall
Rios had as good a year as you could ask from a sophomore in his varsity debut.
The 3-3A DI Newcomer of the Year didn't start the year on varsity and was moved up before their game against Midland Christian. The rest was history.
Rios was the team's leading rusher with 115 carries for 926 yards and 12 touchdowns.
Jake Cockerham, Sr., Mason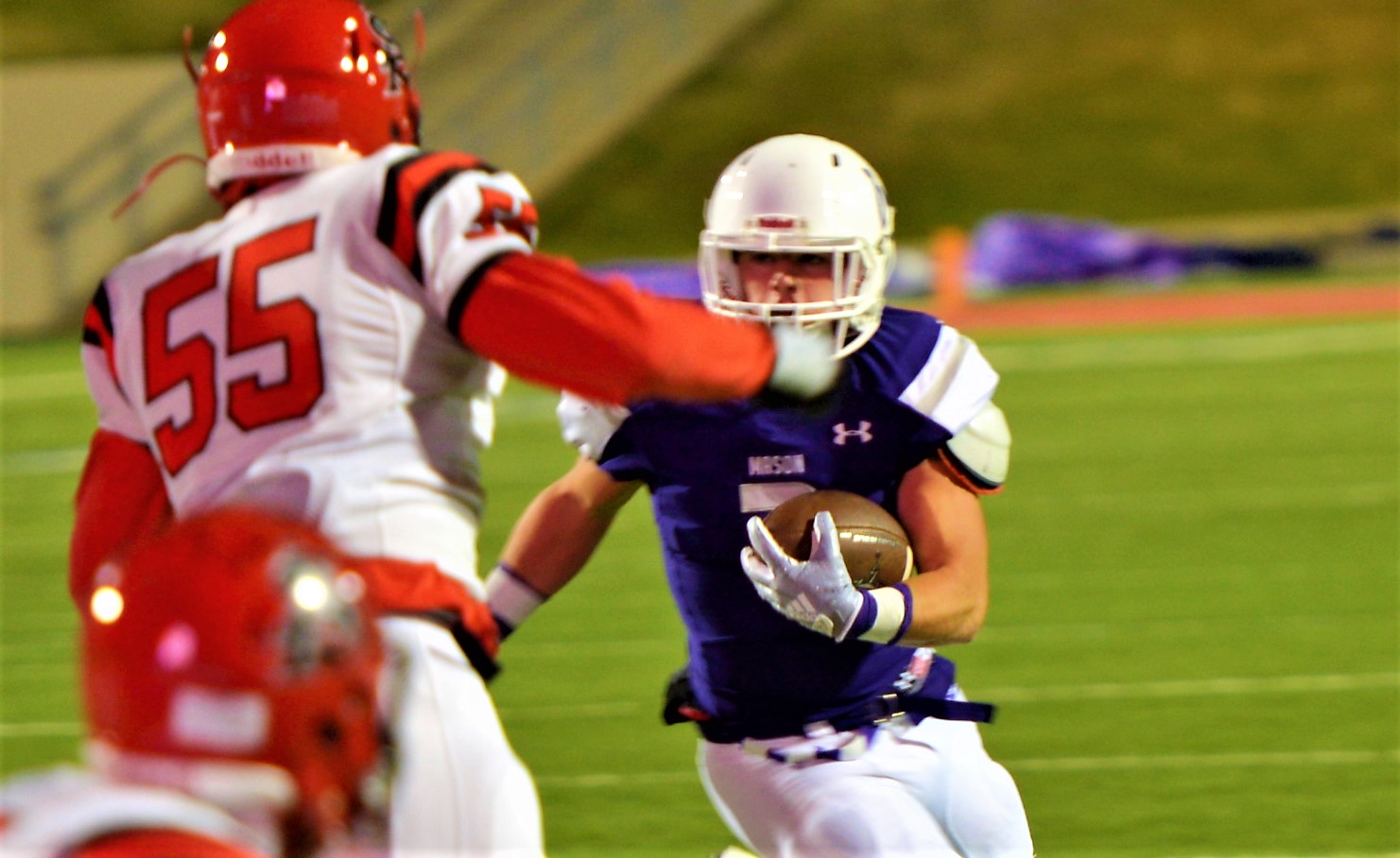 Above: Mason's Jake Cockerham (2) avoids San Augustine defenders. Dec. 14, 2018 (LIVE! Photo/Sam Fowler)
It took a little while, but Cockerham left his mark on this season thanks to his resurgence in the playoffs as his state championship offensive player of the game honor would suggest.
The 5-foot-6 senior finished with 61 carries for 420 yards and 10 touchdowns. He also had three catches for 71 yards and two touchdowns.
Cockerham was expected to be the focal point of the Punchers' offense heading into the season. Then he missed some time on offense due to injury.
Meanwhile Otto Wofford set about breaking numerous school passing records and Klay Klaerner punished opposing defenses.
Then Cockerham caught fire in the regional final against Refugio with two catches for 40 yards and a touchdown.
Two games later, in Arlington, he broke out for 105 yards and two touchdowns to earn player of the game honors and lift Mason to their second state championship.
Receivers (5):
Jackson Timme, Sr., Central
Above: Central receiver Jackson Timme (4) attempts to make a play on the ball in their game against Del Rio on Sept. 21, 2018. (LIVE! Photo/Sam Fowler)
Part of developing a young quarterback is having the right pieces around them. Timme was one of those pieces for young Malachi Brown this season.
Timme was Central's leading receiver with 59 catches for 643 yards and seven touchdowns.
He made his mark with 12 catches for 180 yards in Central's season opener against Killeen Shoemaker.
Ahmad Daniels, Sr., Lake View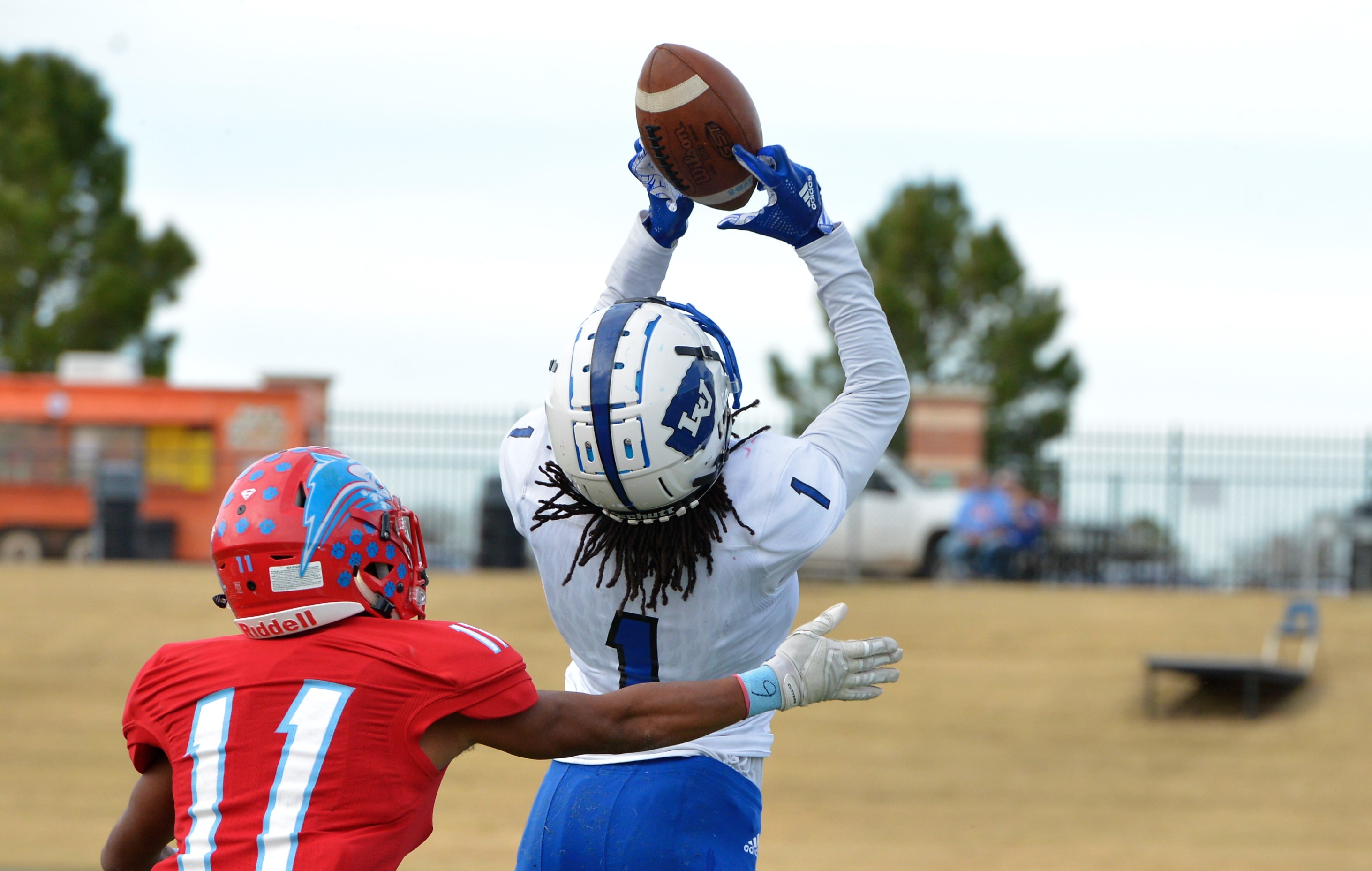 Above: Lake View's Ahmad Daniels (1) goes up to catch a pass against Wichita Falls Hirschi in the area round of playoffs. Nov. 24, 2018 (LIVE! Photo/Sam Fowler)
You wouldn't think that Daniels played his first year of football this year. Yet, that's what he did.
He proved he is a true athlete, not only by making his foray onto the gridiron, but by also earning first team All-District honors despite missing three games for the Chiefs.
In the nine games he played for Lake View, Daniels led the team's receiving corps with 39 catches for 688 yards and nine touchdowns.
He also put those hands to good use on defense by intercepting three passes.
Weston Rollwitz, So., Ballinger
Ballinger's passing game was spread out across the board, but Rollwitz always found a way to make the catches he needed for the Bearcats.
The first team All-District selection caught 20 passes for 358 yards. Six of those catches went for touchdowns.
Jayton Warren, Sr., Robert Lee
Warren's first and only year at Robert Lee was a successful one.
As a utility back, Warren did a little of everything for the Steers.
He caught 33 passes for 800 yards and 14 touchdowns. He also had 44 carries for 543 yards and eight touchdowns.
Ethan Saucedo, Sr., Eden
Saucedo was a big part of Eden's offense that led them to their first district championship in 24 years. They were an 11-man football team back then.
The senior receiver finished the season with 1,097 yards receiving with 20 touchdowns.
Offensive Line (5):
Coleton Williams, Jr. , Miles
Why did Miles have such a good rushing attack? Part of that could be attributed to the natural talent in their back field. The large reason is because of their push up front, with Williams leading the charge.
Anytime you saw Mason Bryan break for a big gain, you would likely find a well-executed block by Williams to spring him at the line.
Because of his work in the trenches, Williams was a first team All-District selection for the Bulldogs.
Gunner Couch, Sr., Central
Above: Central's Gunner Couch (75) getting ready to run out of the tunnel before their game against Richland. Oct. 19, 2018 (LIVE! Photo/Sam Fowler)
If you ask any coach what the biggest key to a successful offense is, nine times out of 10 they'll tell you it's consistency on the line.
During his four-year career for the Bobcats, Couch brought that consistency, especially in his senior year.
In 2018, Couch was able to spring Malachi Brown for his 1,000-yard rushing season. District 3-6A took note of that and selected Couch to the first team All-District.
Colton Arendt, Sr., Eldorado
Keeping a young quarterback calm in the pocket is tough. Sometimes they feel they have to do too much and bad things happen.
Arendt was the anchor to an offensive line that made life easy for their freshman quarterback. Because of stellar play up front, Korbin Covarrubiaz was able to flourish in Eldorado's offense and Arendt was a first team All-District selection for it.
Noe Estrada, Sr., Sonora
Estrada was the best offensive linemen for the Broncos this season, hands down.
The senior graded out at 93 percent and had 31 pancake blocks and 19 cut blocks. Those numbers are significant because it is part of the reason the Broncos could run the ball successfully this season. He did that while also allowing just one sack in 11 games played.
District 13-3A DII took note of Estrada's performance and named him a first team All-District selection.
Hunter Duggan, Jr., Winters
To get their triple option offense going, the Blizzards rely on their linemen to act as snow plows clearing the way for their backs.
Duggan did just that, grading out at an astounding 96 percent. Along with that grade, Duggan racked up 33 knockdown blocks and 24 pancake blocks. That was good enough for first team All-District 3-2A DI honors.
He also wreaked havoc on the defensive line for Winters, tallying 12 tackles for a loss and six sacks en route to defensive first team All-District honors.
Kicker (1):
Miles Houser, Sr., Central
It's kind of tough to argue against Houser being on this list. The only field goal he missed was a 49-yard attempt in week 2 against Del Rio.
Houser finished the year 3-of-4 on field goals and 28-of-31 on extra points.
All while playing his first year of football. Head coach Brent Davis and players talked the soccer star into coming out for spring practice and he stuck around for the Bobcats.
You can bet they were happy he did when he hit a game-winning field goal against Abilene to keep Central's district championship hopes alive.
Honorable Mention Offense: Cesar Garcia, Jr., WR, Eldorado; Ethan Powell, Sr., WR, Mason; Hunner Rogers, So., QB, Eden; Kurt Klausner, Jr., OL, Central; Jovan Young, Sr., QB, Winters; Nick Brown, Sr., FB, Winters.
Defense
Defensive Backs (5):
Johnny Espinosa, Jr., Lake View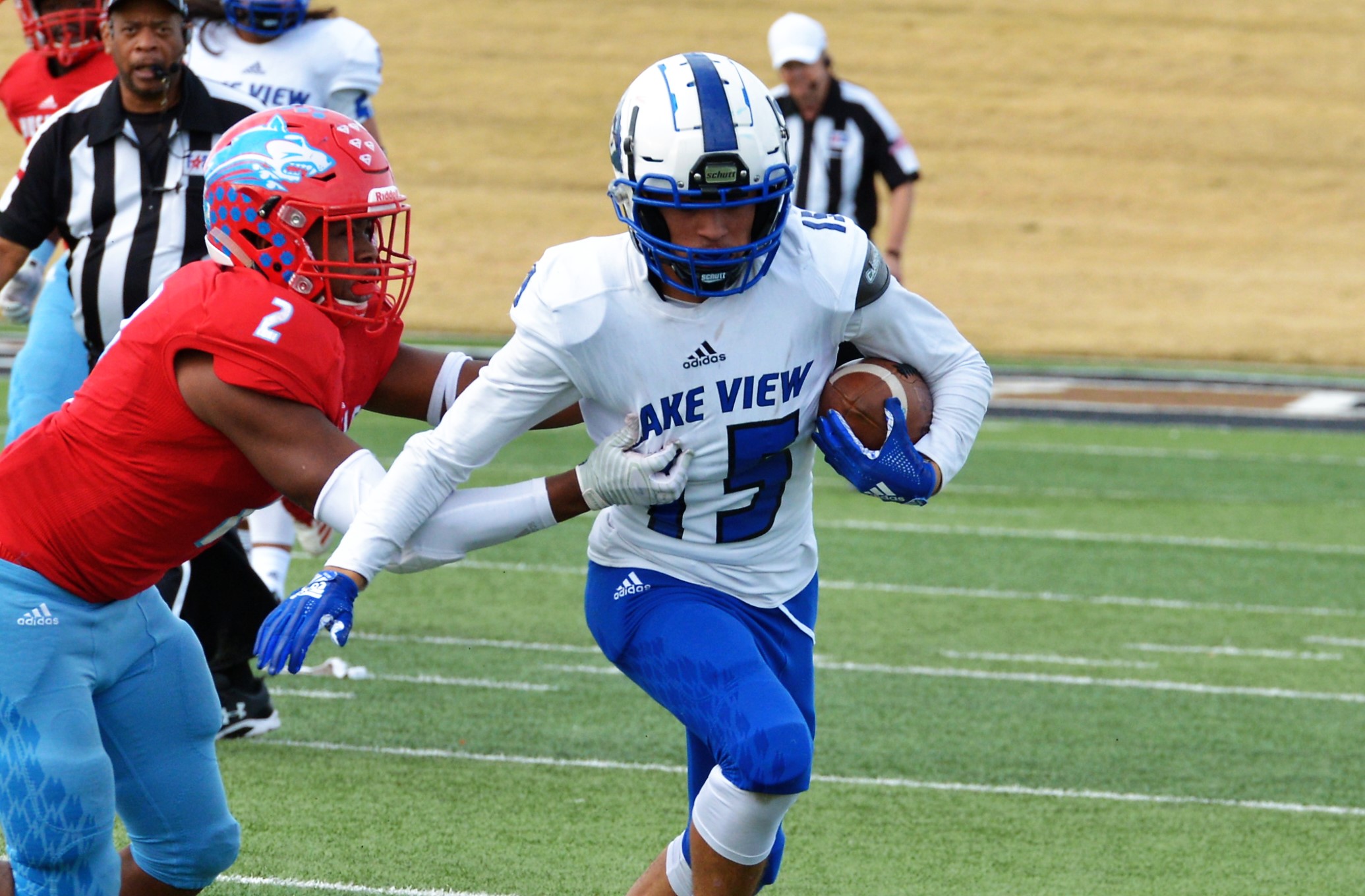 Above: Lake View's Johnny Espinosa (15) tries to break a tackle against Wichita Falls Hirschi. Nov. 24, 2018 (LIVE! Photo/Sam Fowler)
Espinosa was an absolute ball hawk for the Chiefs in 2018.
The junior defensive back led the entire state in interceptions with 11. That was good enough to get him first team All-District honors.
He did that despite missing two games for Lake View.
Espinosa was also the Chiefs' second-leading receiver with 570 yards and six touchdowns. He was an offensive second team All-District selection because of that.
Hunter Bunch, Sr., Sonora
Bunch helped keep Sonora going this season.
Defensively, the 6-foot-3 senior racked up 155 tackles, seven tackles for a loss, two interceptions, two fumble recoveries and a blocked kick.
That was good enough for Bunch to be named utility player of the year in 13-3A DII.
Clayton Edmiston, Jr., Christoval
There are a number of reasons Christoval was able to win their first-ever 11-man playoff game. But there's only one reason that game was sealed up.
Edmiston intercepted a Cross Plains pass late in the game to give Christoval the win. It was one of his five interceptions on the year.
The junior also had 38 total tackles for the Cougars in a year where he was named a first team All-district selection.
Hunter McMillan, Jr., Garden City
Above: Garden City's Hunter McMillan (1) rushes up the sideline against Strawn. Oct. 5, 2018 (Contributed: Bobbie Brown/Texas 1A Fan)
McMillan was a first team All-District selection as a utility player because he was just about everywhere defensively.
The hard-hitting junior amassed 121 tackles and 16 tackles for a loss this season. What's more, he created 10 turnovers for one of the most opportunistic defenses in the six-man ranks.
He was the team's second-leading rusher, as well, with 594 yards and 22 touchdowns.
Roman Coe, Sr., Mason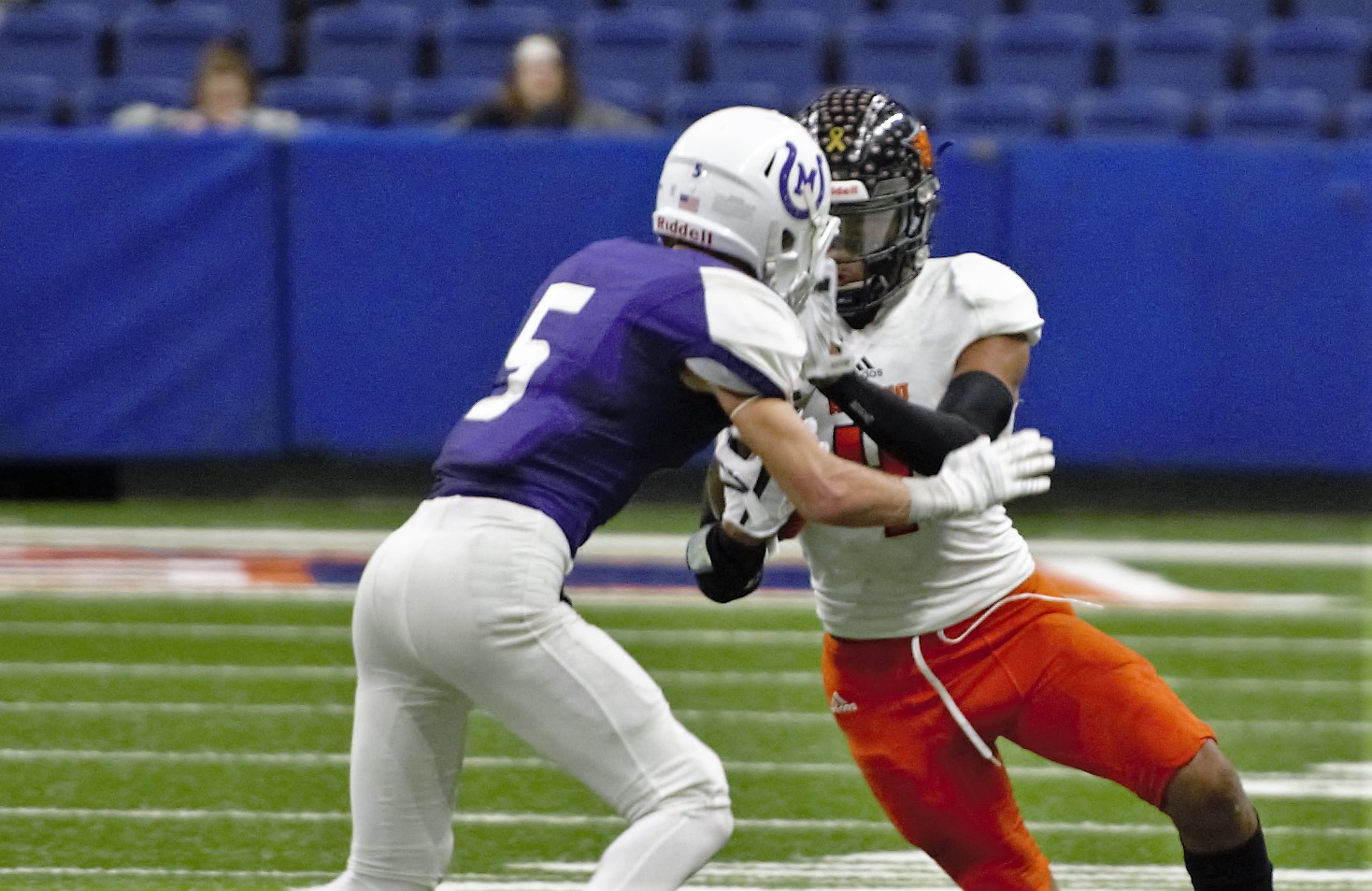 Above: Mason's Roman Coe (5) tries to tackle a Refugio Bobcat in the regional final. Dec. 7, 2018 (LIVE! Photo/Sam Fowler)
Mason was dominant in 2018. Their defense epitomized that by allowing 6.8 points per game.
How did they do that? Hard-hitting defense and forcing turnovers. The Punchers were good at both, but probably better at creating turnovers. They forced 36 turnovers in 2018.
Roman Coe was there to make five of Mason's 23 interceptions this season.
The senior defensive back picked up his fifth interception in the state championship against New Deal.
Linebackers (5):
Daylon Green, Sr., Central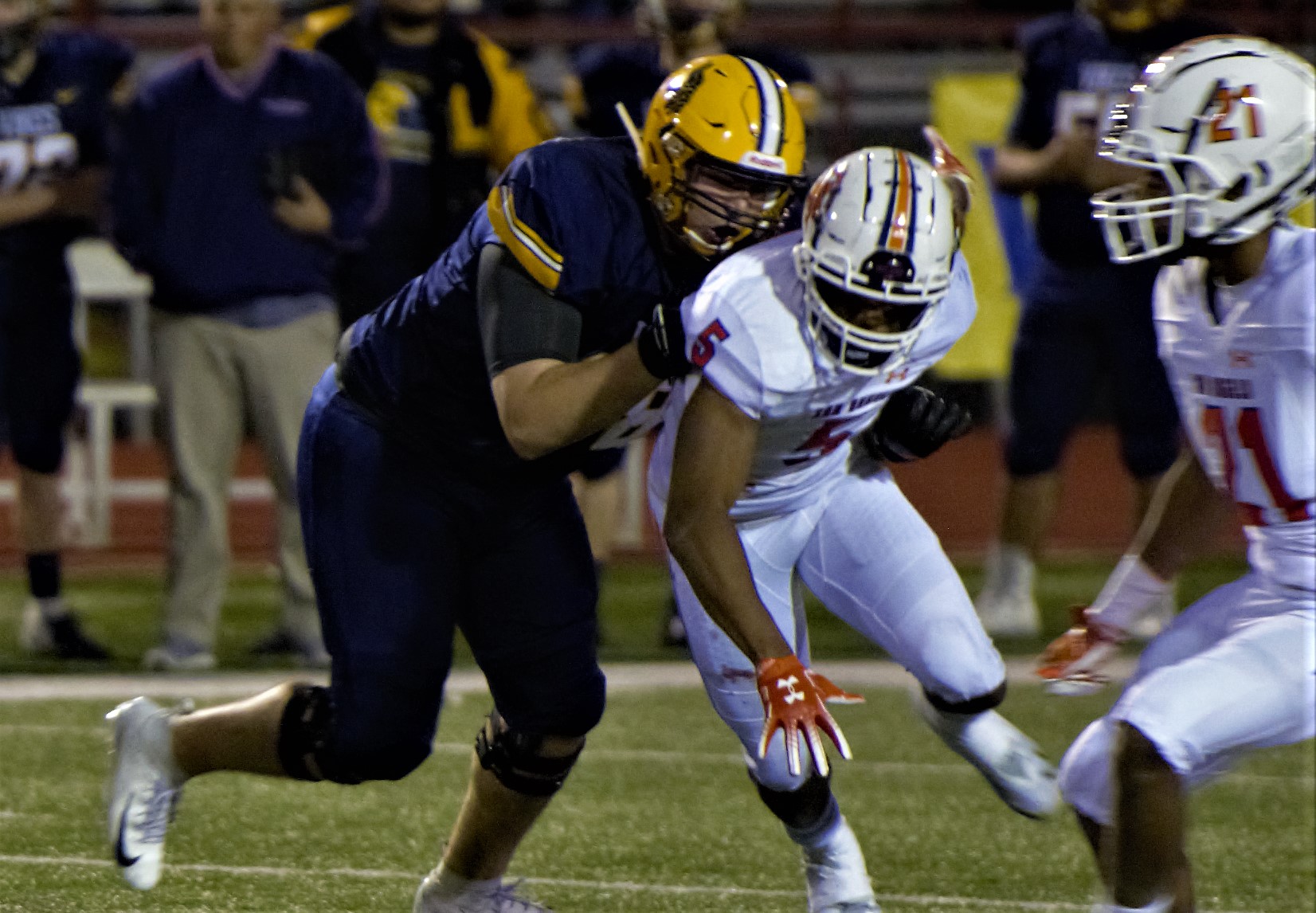 Above: Central's Daylon Green (5) tries to shed a block against Arlington Lamar. Nov. 16, 2018 (LIVE! Photo/Sam Fowler)
Green was a dominant force on the field for Central this year.
Because of that work, Green was one of three Bobcats selected to the first team All-District defense.
Jack Griffin, Sr., Eldorado
Griffin was an absolute nightmare for opposing offenses. Griffin was the lynchpin for a defense that didn't allow a touchdown in district play until the final game of the season against Christoval.
The senior linebacker finished with 131 total tackles, 36 tackles for a loss and seven sacks. All of those marks were team-highs.
Cesar Chavez, Sr., Garden City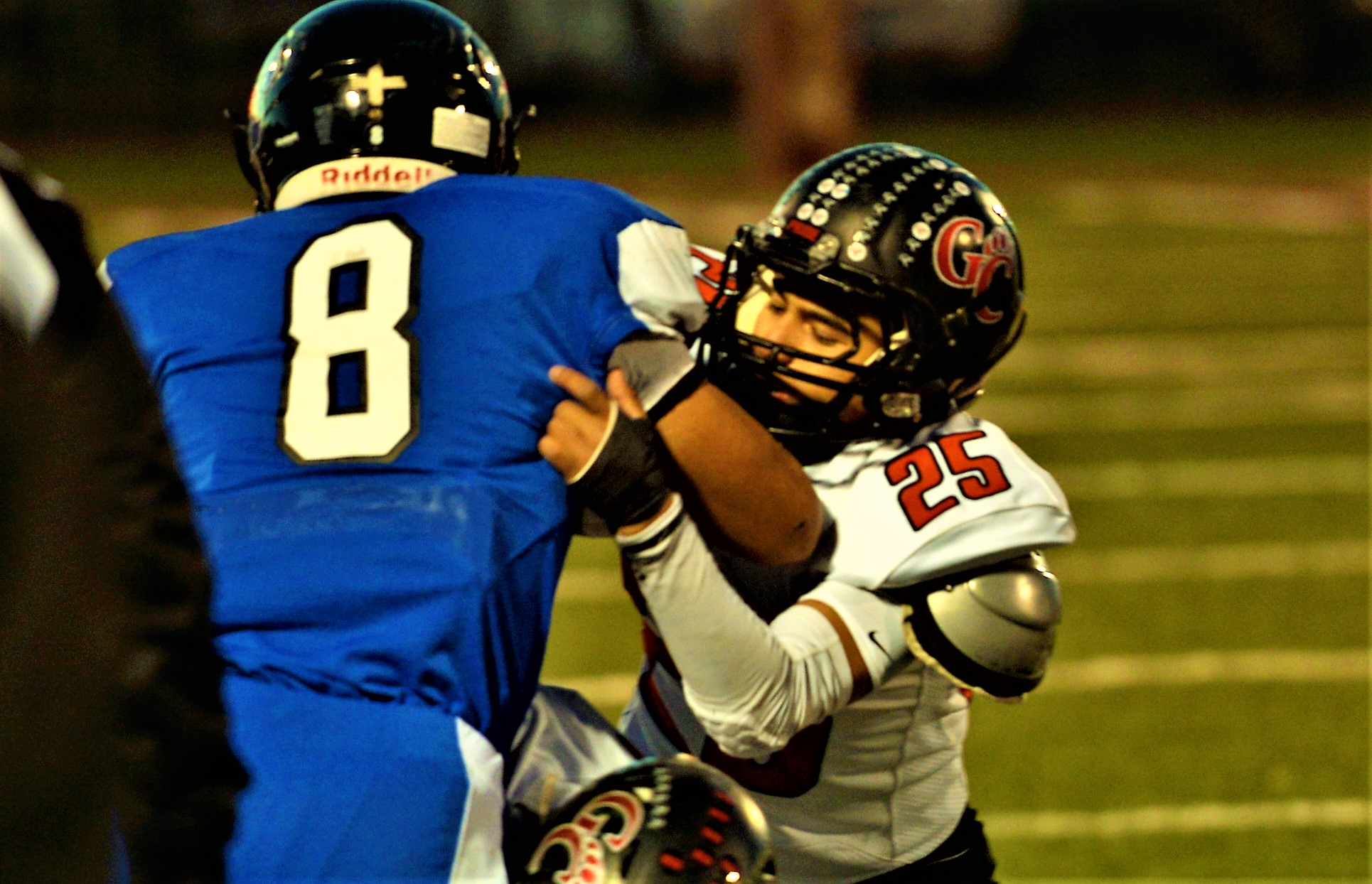 Above: Garden City's Cesar Chavez (25) tries to bring down a Balmorhea ball carrier. Dec. 1, 2018 (LIVE! Photo/Sam Fowler)
Chavez was the undeniable leader of one of the state's best defenses in six-man football.
The senior made sure to leave everything he had on the field in his final season with the Bearkats.
Those two interceptions came in their dismantling of Balmorhea in the regional final.
Cooper Bean, Jr., Ballinger
Bean continues the trend of nightmares in opponents' backfields.
The first team All-District selection tallied 165 total tackles. Fourteen of those went for a loss.
Casey Skipworth, Robert Lee
Skipworth did more than make tackles from his linebacker spot for the Steers this season.
While he made just 57 total tackles four tackles for a loss, Skipworth came up with four fumble recoveries and a pair of interceptions.
That helped Robert Lee get back to the playoffs for the first time since 2015.
Defensive Line (5):
Gage Weishuhn, Sr., Wall
Weishuhn was the workhorse that kept Wall going this year.
The co-MVP for 3-3A DI lived in the backfield, racking up 18 tackles for a loss and eight sacks for Wall this year en route to an eighth straight district championship.
The senior was also available wherever he was needed, which turned out to be the offensive line after injuries plagued a young Hawks team.
Brandon Rodriguez, So., Miles
In his sophomore campaign, Rodriguez garnered first team All-District honors by tallying 43 tackles for the Bulldogs. He also tallied 14 tackles for a loss this year.
Rodriguez will be another big factor for Miles next year, as he's one of three underclassmen on Miles' defensive line to receive All-District honors.
Zach Burnett, Sr., Garden City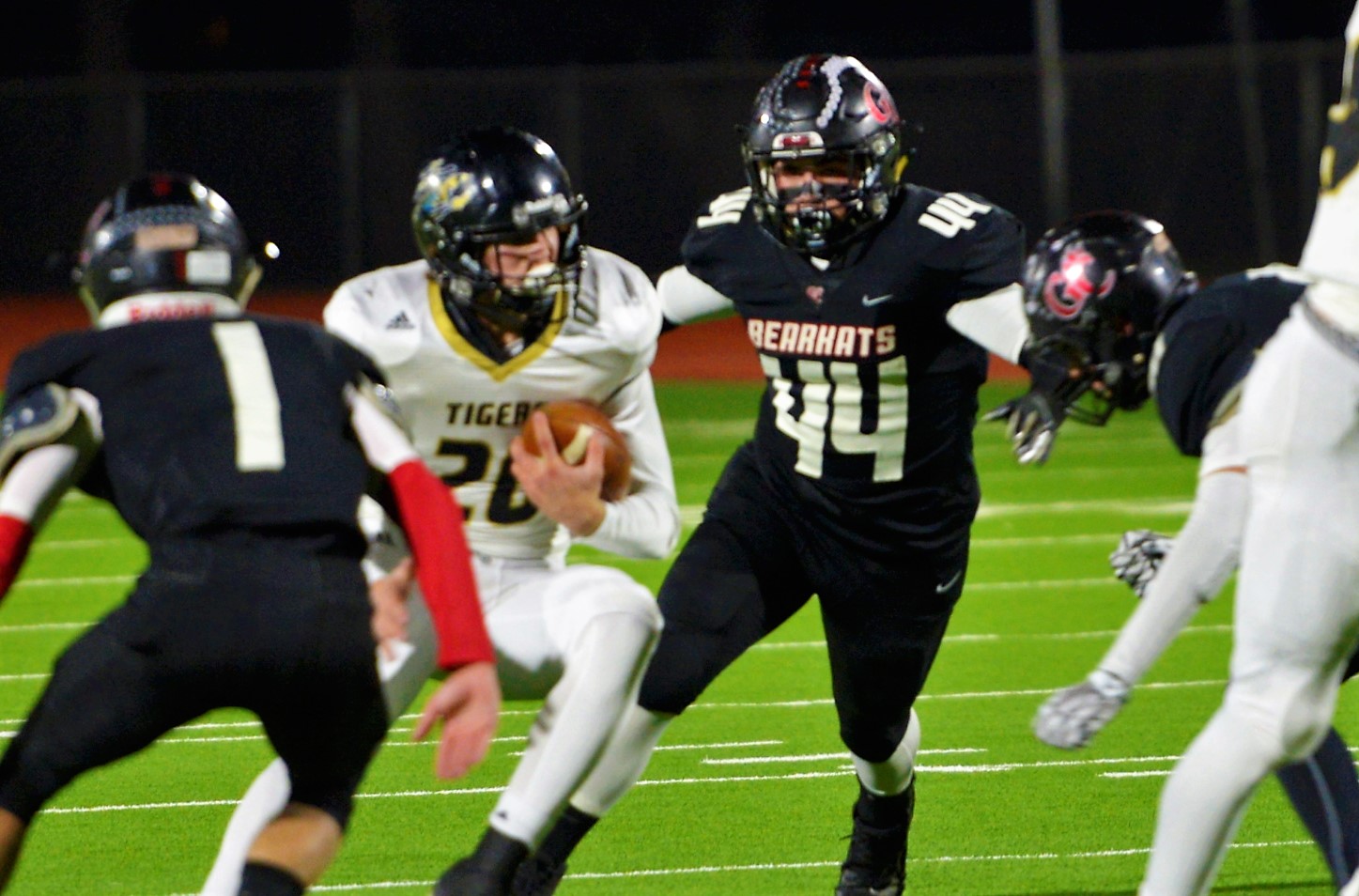 Above: Garden City's Zach Burnett (44) tries to tackle McLean's Ben Crockett (20) in the state semifinals. Dec. 10, 2018 (LIVE! Photo/Sam Fowler)
The senior Bearkat earned his defensive honors by spearheading one of the hardest hitting defenses in the state.
With 56 total tackles, six tackles for a loss and a trip to the state semifinals, Burnett capped off a stellar career for the Bearkats.
Slone Stultz, Jr., Mason
Stultz brought the boom for Mason's defense in their state championship run.
Stultz camped out in New Deal's backfield in the state championship game. He kept them under wraps with 3.5 tackles for a loss, 1.5 sacks and six total tackle to earn defensive player of the game honors for the Punchers.
Cameron Perkins, Sr., Winters
Perkins picked up Lineman MVP honors in District 3-2A DI after dominating on both sides of the ball for the Blizzards.
While he had 38 knockdown blocks and 19 pancake blocks on offense, his most impressive work came on the defensive side.
The 6-foot-3, 240-pound senior also served as a fullback for the Blizzards. He had two touchdowns and 46 yards rushing on nine carries.
Punter (1):
Klay Klaerner, Jr., Mason
Above: Mason's Klay Klaerner fields a punt against Wallis Brazos. Nov. 30, 2018 (LIVE! Photo/Sam Fowler)
You could honestly put Klaerner at either of his primary positions -- RB and LB -- in this list and it would work. He was Mason's leading rusher and tackler after all.
Klaerner booted the ball 18 times for an average of 35.1 yards. He had a long of 49 yards and only three touchbacks. 
Honorable Mention Defense: Jashon Hall, Sr., CB, Central; Noel Sanchez, Sr., DB, Miles; Wyatt Sisco, Jr., Sterling City; Brock Aschenbeck, Jr., LB, Sonora; Raul Almazan, Sr., LB, Garden City; Quinten McMullan, Jr., Sterling City; Rudy Martinez, Sr., DL, Mason; Manuel Baeza, Sr., DL, Lake View;
Coach of the Year:
Kade Burns, Mason
Above: Mason head coach Kade Burns sings the Mason school song before their meeting with Wallis Brazos. Nov. 30, 2018 (LIVE! Photo/Sam Fowler)
That just shows what the Burns family is capable of--winning. It doesn't matter who Mason puts on the field, they're expected to win and they do everything in their power to live up to the legacy set before them.
Selecting Burns as coach of the year was an easy pick. He and his team proved they meant business in week 1 by beating Wall 27-21.
As it turned out, that was the closest game the Punchers would have from then on. Mason allowed just 5.8 points per game and beat opponents by an average of roughly 40 points.
Get more stories like this by signing up for our daily newsletter, The LIVE! Daily.