All-Concho Valley MVP: Wofford, Mason's Offensive Scheme Gel Perfectly for State Title Run
MASON, TX-- As we get ready to recognize the best football players in the Concho Valley later this week, we kick off the festivities by announcing our All-Concho Valley Most Valuable Player, Mason senior QB and DB Otto Wofford.
When you look at Mason's historic undefeated state championship run compared to others, one thing stands out compared to similar Mason teams from 2011 and 2014: they could throw the ball well.
That isn't necessarily what head coach Kade Burns and his staff like to do. They prefer the old fashioned Wing-T offense and hard-hitting, run-it-down-your-throat football.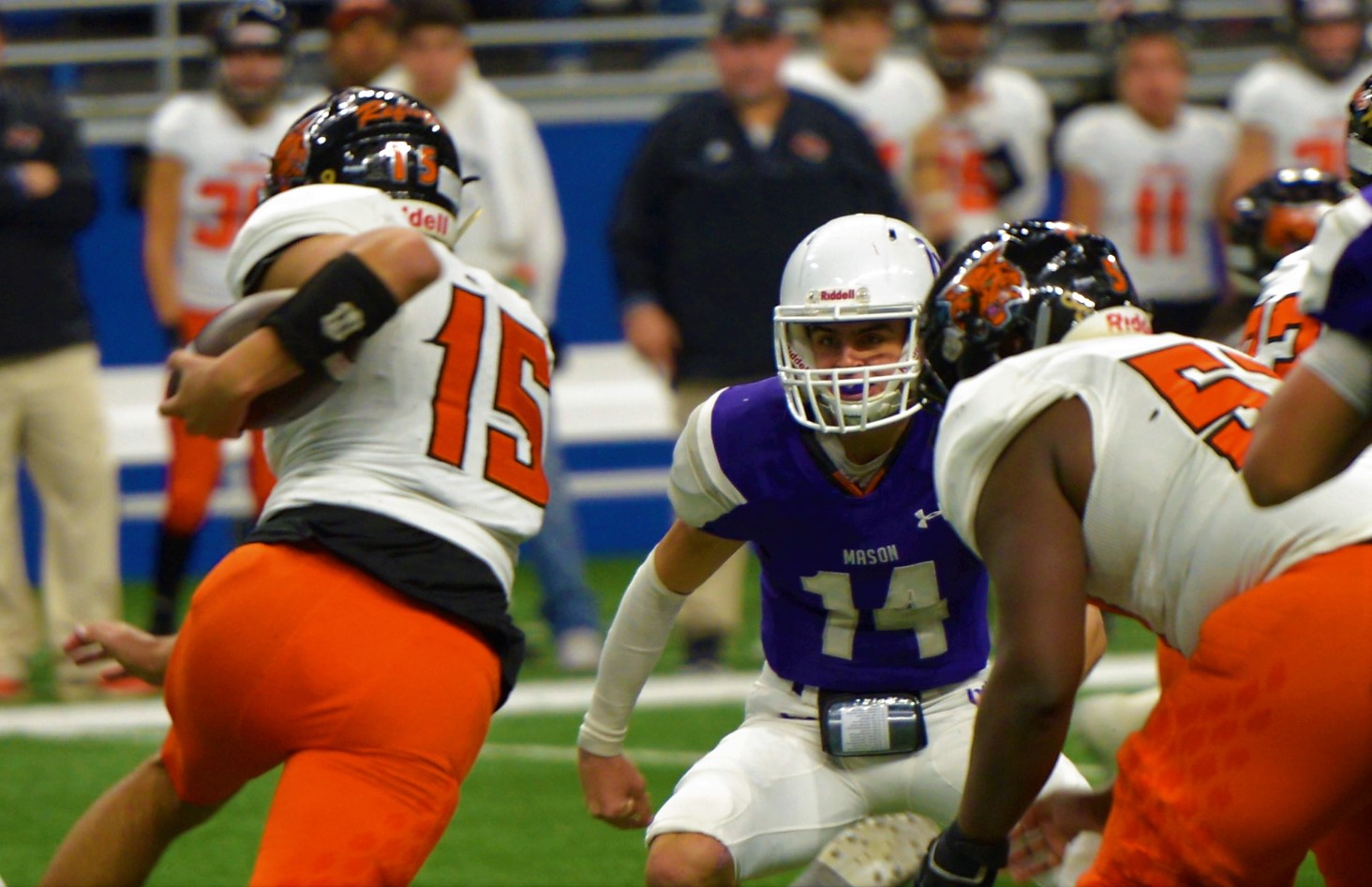 Above: Mason's Otto Wofford (14) braces to make a tackle against Refugio in the regional final. Dec. 7, 2018 (LIVE! Photo/Sam Fowler)
With that in mind, you could imagine the shock Wofford had when he had to learn all new terminology when he moved from Wimberley, an air-it-out offense, to Mason's run-oriented scheme ahead of his sophomore season.
"I came from Wimberley. As a quarterback, they threw it a lot in the spread," Wofford said. "My first year here we had a 3,000-yard rusher [Haddon Hudson] who's at Angelo State. So, I was under center like 80-percent of the time, which was good. I was just a sophomore, I needed to get adjusted to the new offense."
So, the Punchers continued to run the ball in Wofford's sophomore and junior years. It worked well, getting Mason to the regional final in both of those years. Yet, despite a stout rushing attack and a lethal defense, the Punchers couldn't get past their rival Refugio in either of those years.
That meant Mason needed to find a way to get the most from every bit of their offense, including their signal-caller, going into 2018.
Above: Mason's Otto Wofford (14) drops back to pass against Wall. Aug. 31, 2018 (LIVE! Photo/Sam Fowler)
Then Mason showed they were going to get everything from each of their players in their 27-21 win over Wall to open the season. In a game that featured two offenses known for their rushing ability, the two squads combined for 281 yards passing. Wofford finished the day 9-of-14 passing with 126 yards.
"[Passing] allowed us to be a lot more balanced," Burns said. "He came over to the sideline in the [state] game and said, 'Let's dial one up.' I said, 'You just missed a run-pass option check. You should've thrown it.' … We were able to be very, very flexible with our offense. Again, the football IQ is off the charts. I felt that allowed us to do those multiple formations."
That set the tone for Wofford's record-breaking season under center for the Punchers. Wofford's name will hold its place in Mason's record books for a while after breaking a number of records set in the early 1970s by Ted Geistweidt. Those broken records include most yards passing in a career, most yards passing in a season (2,089), most touchdown passes in a season (24) and most passes completed in a career, which was set in 2001 by Dewey Stockbridge.
Wofford finished the year 105-of-155 passing for 2,089 yards and 24 touchdowns. Wofford threw just six interceptions this season. The senior QB was also the team's second-leading rusher with 495 yards rushing and 13 touchdowns.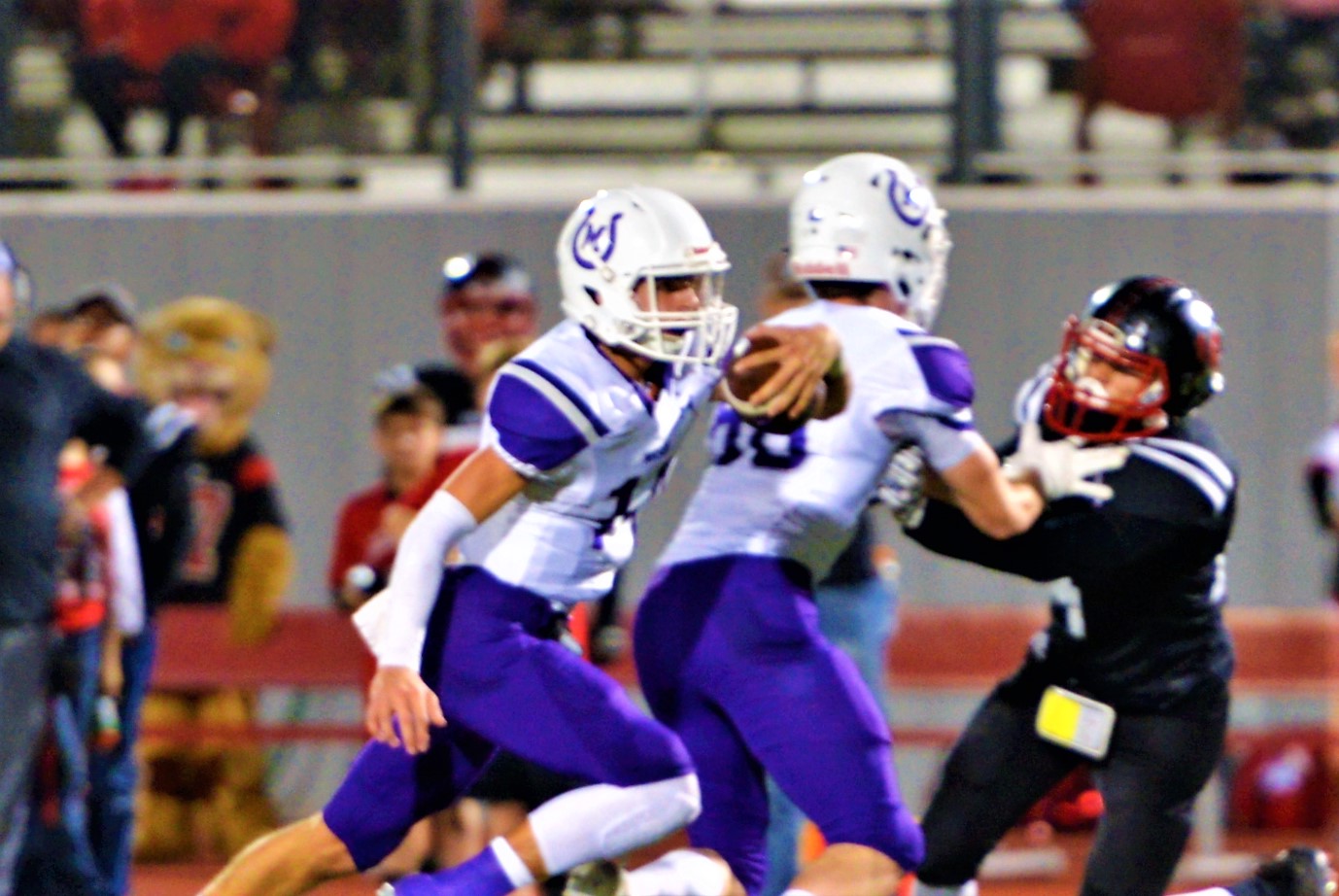 Above: Mason's Otto Wofford (14) follows a blocker to break free for a big gain against Wallis Brazos. Nov. 30, 2018 (LIVE! Photo/Sam Fowler)
With Burns having faith in his quarterback to do something fairly atypical of their offensive scheme, Wofford felt as comfortable as ever running Mason's offense.
"It made me comfortable knowing coach Burns had trust in me to spread it out a little bit," Wofford said. "As a senior, I've been his quarterback for the last three years. So, I think more and more he trusted me. Then, this year, we kinda opened it up for real. It was a whole lot more comfortable. I had never been in a huddle before Mason."
As crucial as Wofford's performance was for the Punchers to claim their second state championship, so, too, was Burns influence on Wofford.
"We've gotten really close over the last three years and understand each other," Wofford said. "He made it clear to me what needs to be done for me, like not try to do too much, but do what I can that fits my play style. So, he's really helped me develop as a player. I'm super happy his 100th win at Mason was the state championship."
We will announce the full All-Concho Valley team this Friday.
Get more stories like this by signing up for our daily newsletter, The LIVE! Daily.