Top-Ranked Lady Hawks Use Last Year's Playoff Loss as Fuel for Potential State Run
WALL, TX-- The Wall Lady Hawks have been on a tear so far in the 2018-2019 season. They're 13-1 and have won games by an average of 24 points.
The motivation for their dominance stems from their heartbreaking loss to Lubbock Roosevelt in the third round of last year's playoffs.
"I think there was some disappointment, obviously, with the way we finished the year last year," head coach Tate Lombard said. "A lot of that team is back this season. So, I think the kids that got to play a lot and be in that position really have a little chip on their shoulder and a little more incentive to not take any game for granted."
You could argue that no player wants a state run more than senior point guard Sawyer Lloyd. She's the only remaining player from the 2016 state championship-winning team who played during that run.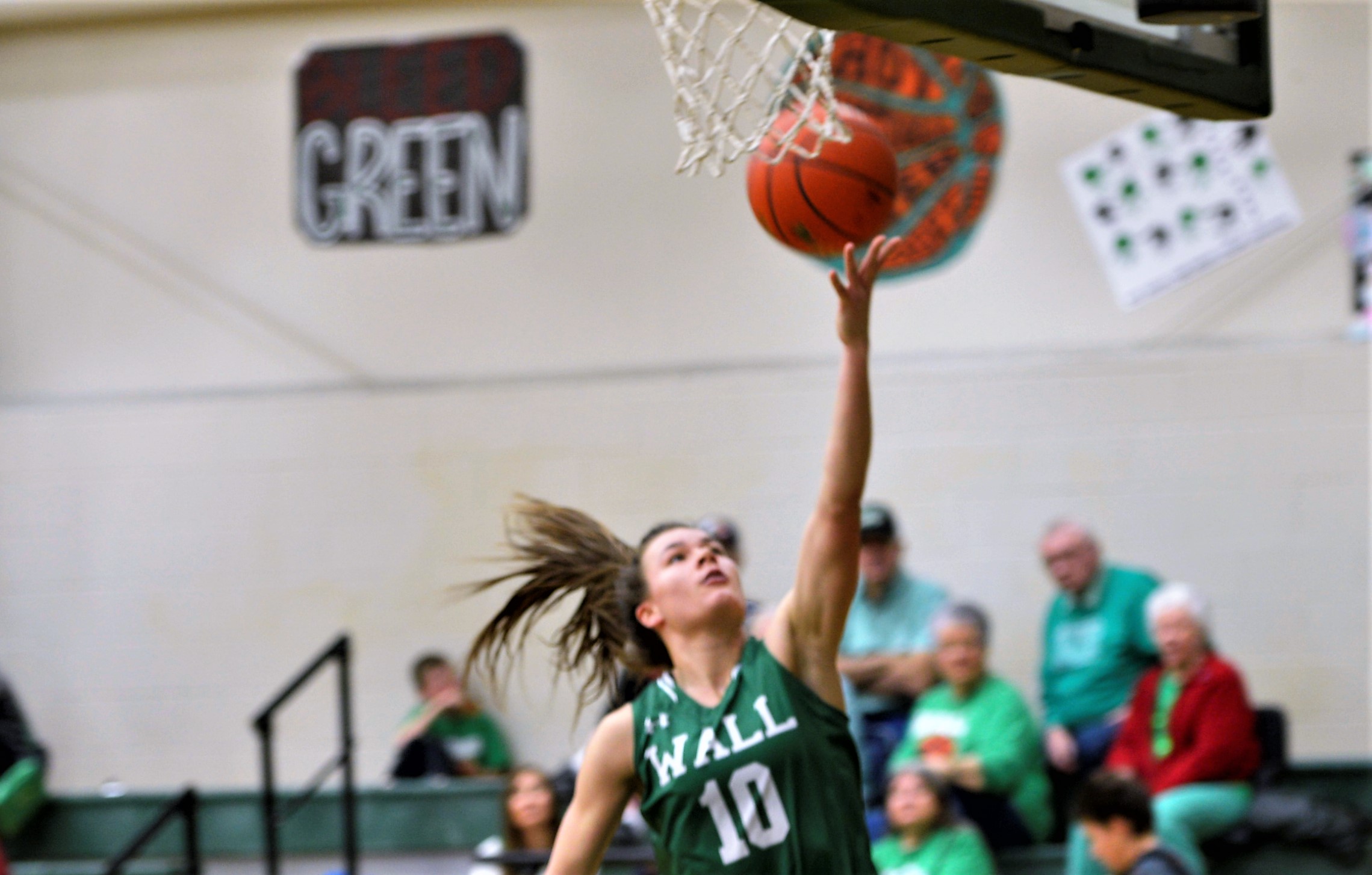 Above: Wall's Sawyer Lloyd (10) goes up for a layup against Grape Creek. Dec. 21, 2018 (LIVE! Photo/Sam Fowler)
"We just wanna show everyone what we can do and leave it all out on the court so we don't look back and wish we could do something else," the Angelo State signee said.
The no. 1-ranked team in the state has made light work of more than the lion's share of their schedule so far. To this point, the only loss of their season came in a 66-43 decision against then sixth-ranked Allen, a Class 6A program, at the Canyon Tournament. Otherwise, the Lady Hawks have been perfect with wins over Midland's two public high schools, Midland High and Midland Lee; Abilene Wylie and Princeton, both 5A programs; and 4A foes like Midland Greenwood and Canyon. They will see more of the same competition in the Whataburger Tournament later this week.
"I think playing hard teams before district put us in some tough situations that we'll need to be ready for in playoffs," senior Sam Rocha said.
That tough scheduling was part of Lombard's plan for this season. He wants his team to be ready for a deep run in the playoffs and avoid an upset like last year.
However, that plan is only good if you have a team with the pieces in place. Those pieces were molded during pee-wee basketball when most of the Lady Hawks played together for the first time. Now, years later, they seemingly know what their teammates are going to do before they do it.
Above: Wall's Sam Rocha (22) tries to dribble past a Midland Lee defender. Nov. 13, 2018 (LIVE! Photo/Sam Fowler)
"They've been playing together for a while," Lombard said. "And most of them at the varsity level, this is their third year. So, I think they do a good job setting the tone for how we defend and do those type of things. They're getting better at understanding where each other are on the court and really making impactful plays."
However, Lombard feels his team's greatest strength doesn't lie in physical ability. Rather, the depth and quality of this Lady Hawks team is what Lombard feels to be their greatest asset.
"We have nine kids and they all contribute," he said. "We don't drop off. We sub and we kinda keep the pressure on. That's allowed us to really compete at the level we've needed to compete at this season."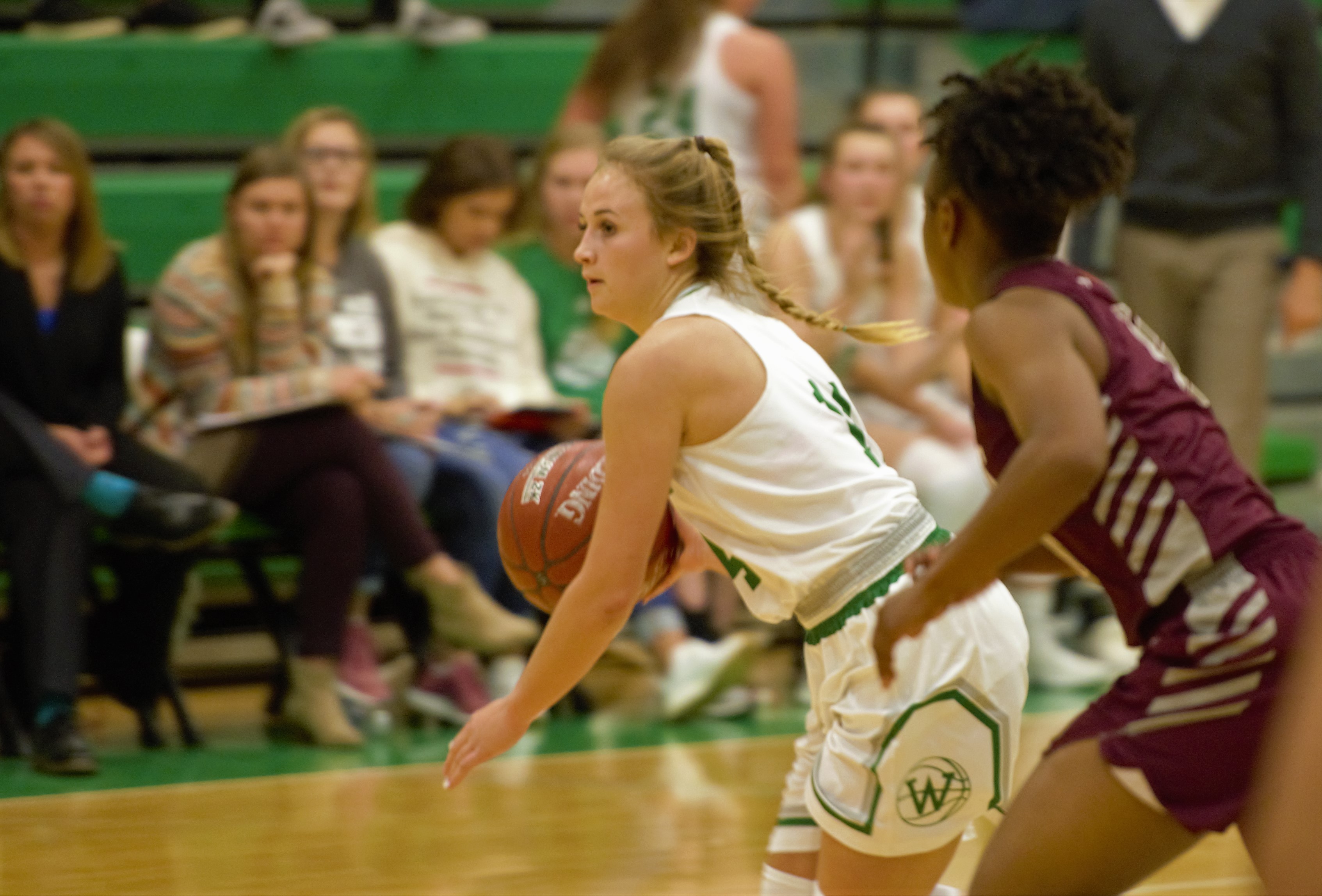 Above: Wall's Payton Box (14) tries to dribble past a Midland Lee defender. Nov. 13, 2018 (LIVE! Photo/Sam Fowler)
Aside from Lloyd and Rocha, who both signed to play collegiately at Angelo State University, this is the last time this group of seniors will get to play together. That has also been a stiff motivating factor for players like Jayden Fiebiger.
"I love playing with my friends," Fiebiger said. "Basketball is so much fun because we're all best friends. It makes it more fun to play as a team. So, it would be awesome to make it to that state championship with my friends, especially since we're all seniors."
From the moment she suited up for varsity play, nobody could argue that Lloyd was talented. The biggest growth in her game, though, has been her leadership on the court over the last three seasons according to her head coach.
"She's always been talented. We had her on varsity as a freshman and she was impactful," Lombard praised. "But her maturity level, her focus, her leadership have really stood out this season."
The Lady Hawks open the Whataburger Tournament in Saginaw against 4A foe Seminole at 8:30 p.m. on Thursday.
Get more stories like this by signing up for our daily newsletter, The LIVE! Daily.