Lake View's Alumni, Fans Show Spirit During Friday's Homecoming
The sounds of cowbells and cheers filled the air of San Angelo Stadium on Friday night as Lake View High School hosted the Lubbock Coronado Mustangs for the Chiefs' homecoming game.
Lake View students, mums and garters in tow, leaned against the rails of the bleachers cheering on the football team while many of the littlest fans sat in their parents' laps, some holding pom-poms or dressed in tiny Lake View Chiefs t-shirts.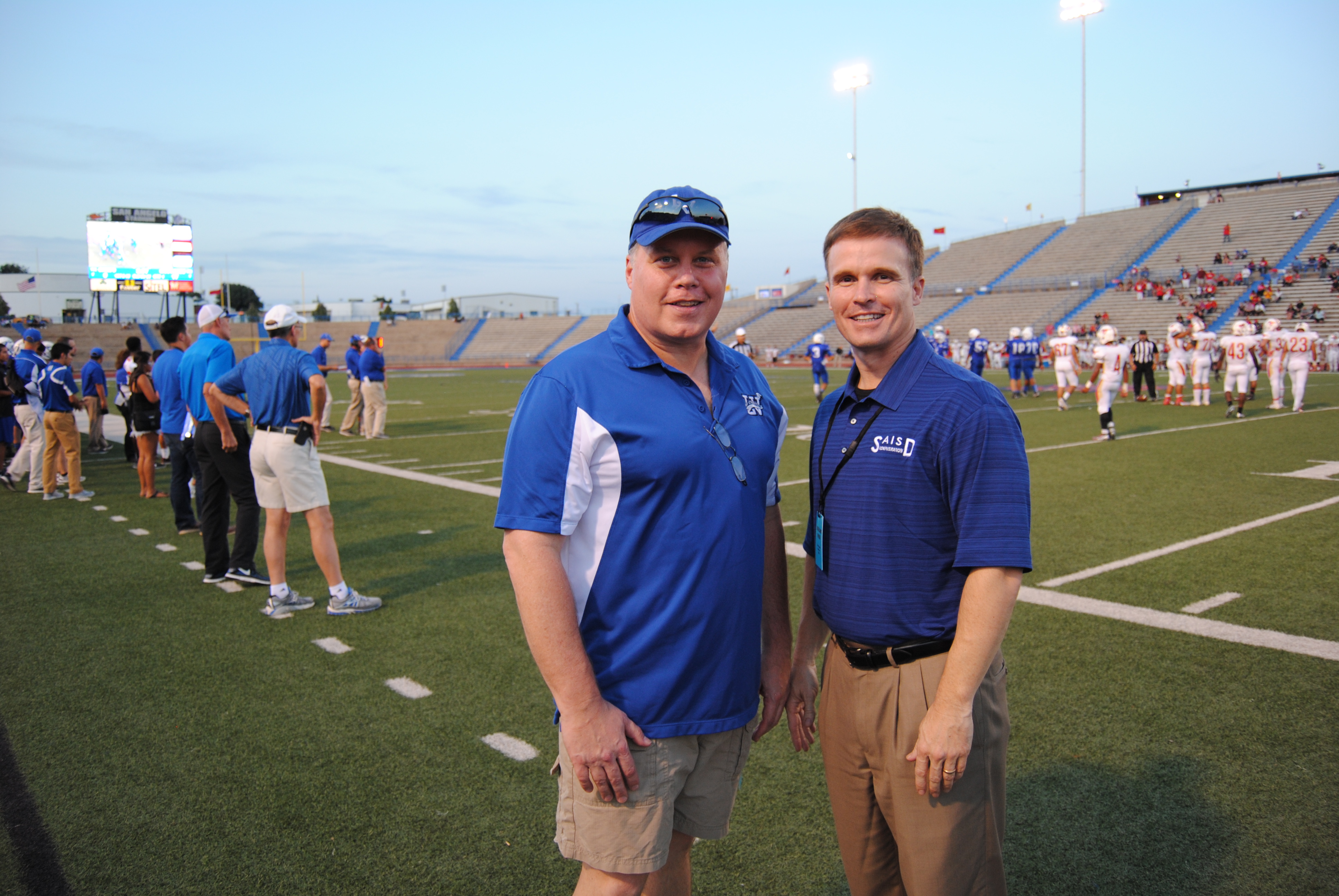 Above: SAISD Superintendent, Dr. Carl Dethloff (right), and Executive Director of Schools and Student Services, Steve Gill, cheered on the Chiefs from the sidelines Friday night. (LIVE! Photo/Jennifer Gonzales)
Down on the field, SAISD's new superintendent, Dr. Carl Dethloff, cheered on the Chiefs alongside his wife and Executive Director of Schools and Student Services, Steve Gill, and school board member, Max Parker.  The three let out a yell when the Chiefs scored their first touchdown of the night during the first half, bringing the score to 31-7, Mustangs.
Lake View's homecoming queen and cheerleading captain, Macy Moreno, was also down on the field Friday night. She proudly wore her crown and sash with her cheerleading uniform as she supported her team.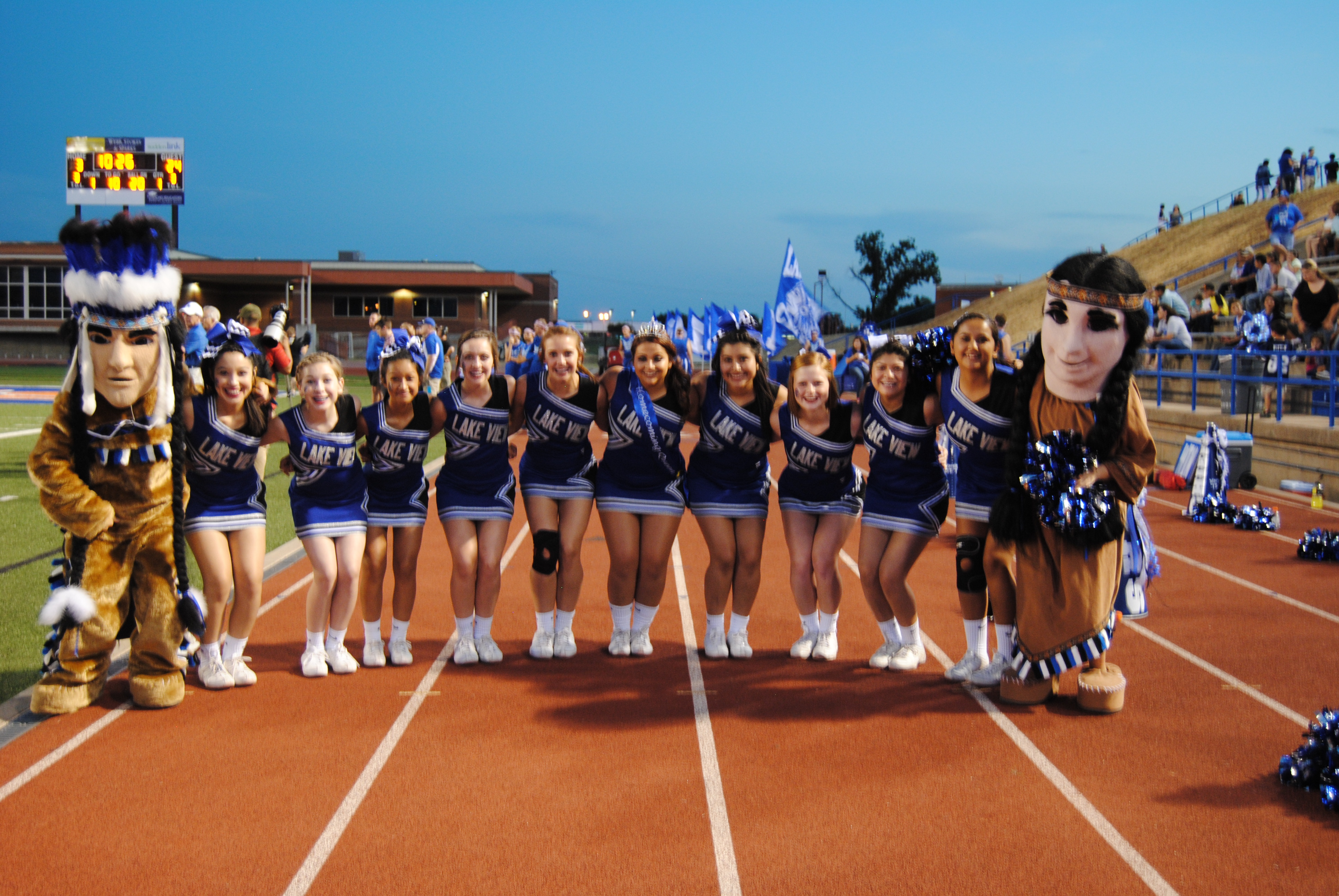 Above: Lake View cheerleaders performing at Homecoming. Macy Moreno, Lake View's Homecoming Queen, is pictured center. (LIVE! Photo/Jennifer Gonzales)
Moreno said that the week had been filled with fun activities like dress up days, her personal favorite being "Tacky Tourist Tuesday." When asked if she had an inkling she would be elected homecoming queen, Moreno replied, "I had no idea! I was just surprised to be nominated. I didn't think I'd win!" 
Moreno also said that she felt "honored" to be recognized in such a positive manner by her classmates. She plans to graduate next May, and continue her studies at South Plains College after which, she hopes to attend Angelo State University to fulfill her dreams of becoming a physician's assistant.
Lake View alumni, Michael Fox, sat atop the stands cheering on his alma mater. Fox, who graduated this past May, is a San Angelo native. While he moved away from San Angelo for a short time, he attended high school in San Angelo for all four years, spending three of those at Lake View.
When asked what the most memorable part of homecoming was for him, Fox said he couldn't decide. Rather, "it's all fun to watch."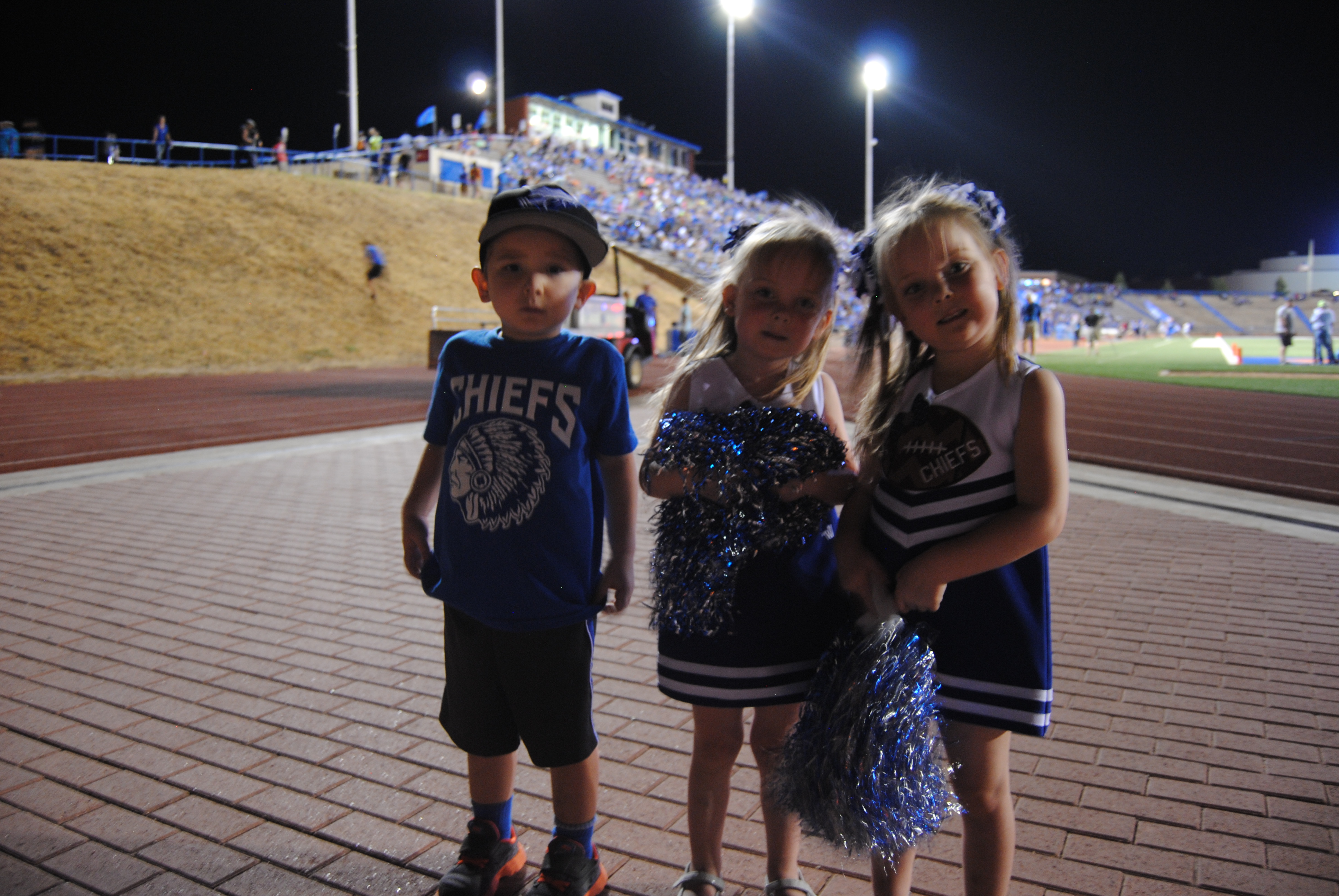 Above: Triplets, Drew, Audrey and Laine, play during half-time. (LIVE! Photo/Jennifer Gonzales)
Three of the youngest Chief fans belonged to Coach Hank Casey, a four-year veteran of the Lake View Chiefs. Casey and his wife Katie are proud parents to triplets, Drew, Audrey and Laine, and are expecting baby number four later this year.
Katie also mentioned that her husband coaches baseball and laughingly declared that, "this baby will be named Homer since Hank coaches baseball, too!"
The triplets, donning their mini cheerleading outfits and Chief t-shirts, ran up and down the grassy mounds of San Angelo Stadium, blue and white pom-poms in their little hands, before heading back to their seats for the second half.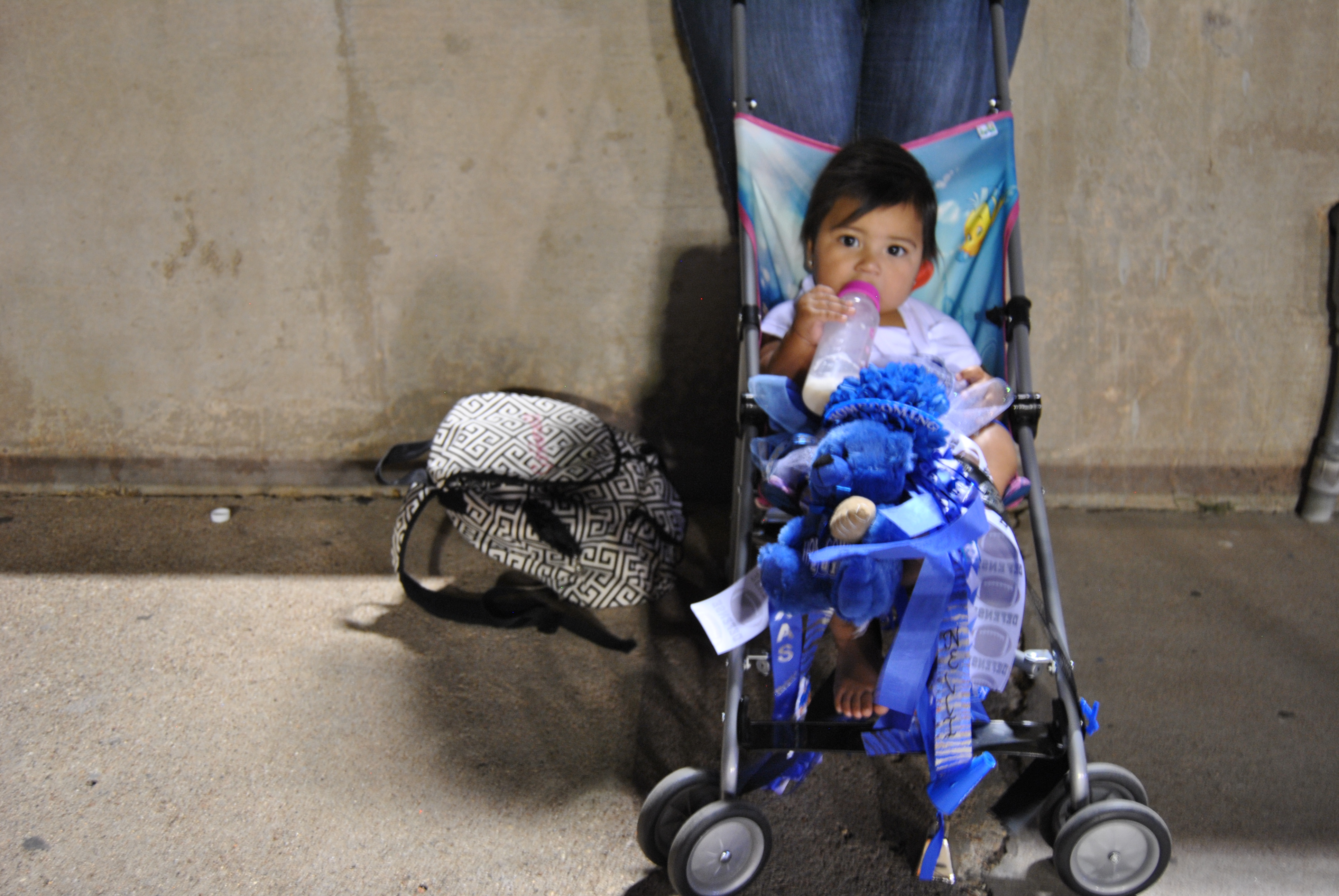 Above: Asia Gregory stands with her daughter, Gabbanelli, during the second half. (LIVE! Photo/Jennifer Gonzales)
At the edge of the stadium stood Asia Gregory and her young daughter, Gabbanelli, in her stroller. Gregory, a graduate of Lamesa High School, was there with her younger brother who plays on the Lake View Junior Varsity football team. Gabbanelli, wearing a mum almost as big as her that her grandmother made for her, sat and smiled in her stroller as Chief fans walked by.
Despite the Chiefs' disappointing 59-11 loss to the Mustangs on Friday night, their fans, old and young, certainly enjoyed their time under the Friday night lights. One thing is for sure: These folks certainly do not lack spirit. 
Get more stories like this by signing up for our daily newsletter, The LIVE! Daily.