Cleanup Begins as National Weather Service Confirms Tornado Struck San Angelo
SAN ANGELO, TX — Relief efforts are underway as authorities are assessing the damage. Earlier Saturday afternoon, San Angelo Police spokeswoman Tracy Piatt-Fox estimated 42 structures within the city sustained significant damage.
Hardest hit was the less affluent part of the city in the area surrounding Bradford Elementary. Some residents in that area have relocated to an emergency shelter set up at the First United Methodist Church, 37 E. Beauregard St at Oakes St.
Many other businesses and residences were badly damaged, including the West Texas Boys Ranch southwest of San Angelo.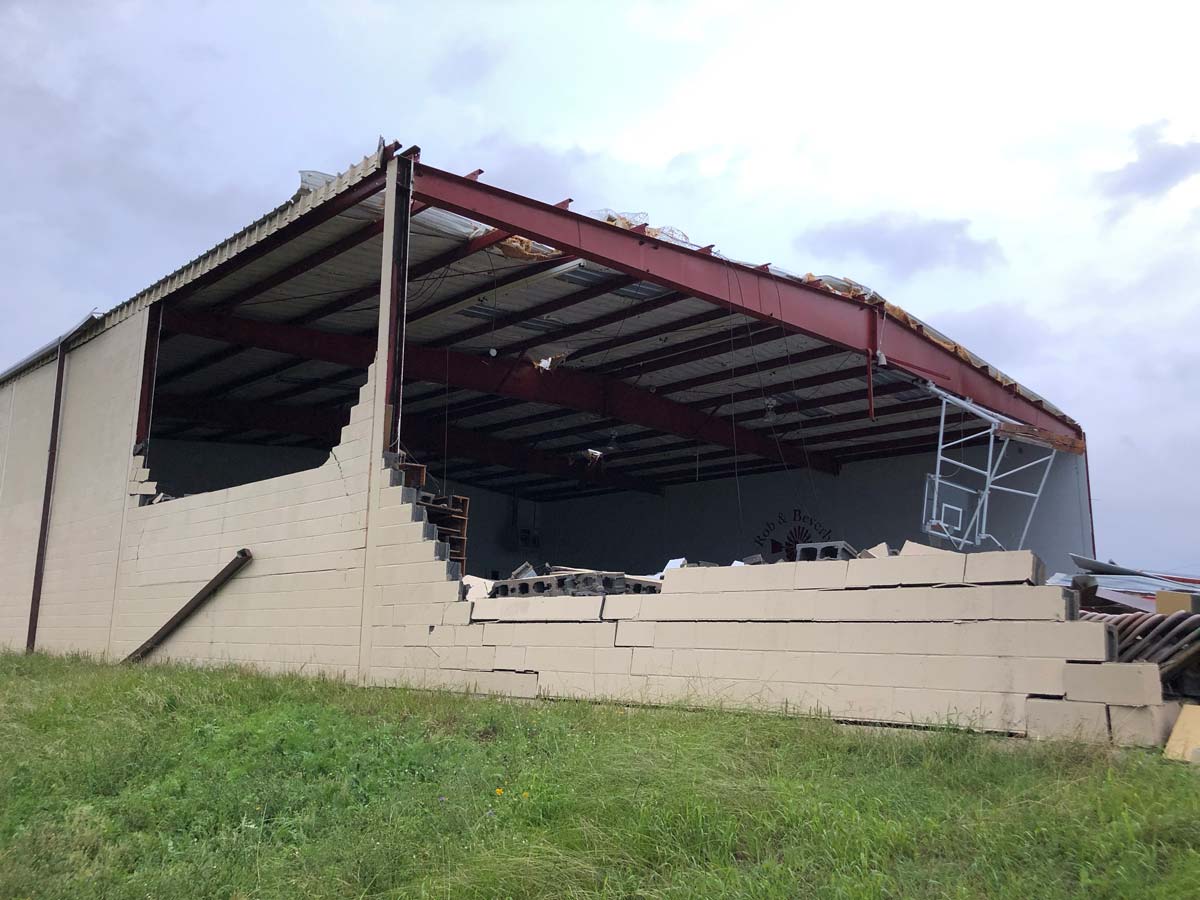 Above: The Rob and Beverly Junell Gymnasium, built in 1972, is no more. At the West Texas Boys Ranch. (LIVE! Photo/Joe Hyde) 
The San Angelo office of the National Weather Service said that the damage in the Bradford Elementary area of San Angelo was at least EF2 tornado, with winds between 111-135 mph and perhaps higher. There was another sighting of a tornado touching down near Ballinger.
"EF" stands for Enhanced Fujita, a measurement of strength of a tornado based upon wind speed.

Above: A tornado was spotted between Ballinger and Rowena on Saturday, May 18th, 2019. (LIVE! Photo/Lizette Paceley
The San Angelo Area Foundation established a San Angelo Area Disaster Relief Fund to accept monetary donations to assist victims of this storm. The Foundation works closely with local first responders and organizations to determine the type and amount of assistance needed. For all donations, the Foundation will cover all credit card fees, so 100% of donations will be distributed to assist victims. You can contribute online here.
The American Red Cross has designated the First United Methodist Church, 37 E. Beauregard Ave., as a shelter for those needing food, housing, or assistance as a result of the storm.
For those beginning the cleanup process, the City of San Angelo has designated two debris drop-off locations.
The Lake Operations facility at 2301 Fisherman's Road (the corner of Fisherman's and Knickerbocker roads).
In the parking lot at Foster Communications Coliseum, 50 E. 43rd St.
The drop-off points will be marked with orange traffic barrels.
Only trees and shrubbery should be brought to the sites. Please do NOT take construction debris to the drop-off points. Removal of construction debris should be handled through a homeowner's insurance claim.
If a homeowner cannot transport limbs and damaged shrubbery, that vegetation should be left on the front curb. Please do not push or leave debris in the street.
City Street and Bridge crews will be collecting limbs left on curbs, though that work will continue for several weeks.
For more on the Storm of 2019:
Get more stories like this by signing up for our daily newsletter, The LIVE! Daily.