Downtown San Angelo's Heritage Park Set for Grand Opening Saturday
SAN ANGELO, TX — Heritage Park – a "show and tell" pocket park in the heart of Downtown San Angelo '— will salute and showcase the Concho Valley area's ranching influence and impact.
Located at the corner of E. Twohig St. and S. Oakes St., this unique respite for children, shoppers and visitors will tell in sight and sound the story of the area's ancestral beginnings and encourage conservation of our most precious resources.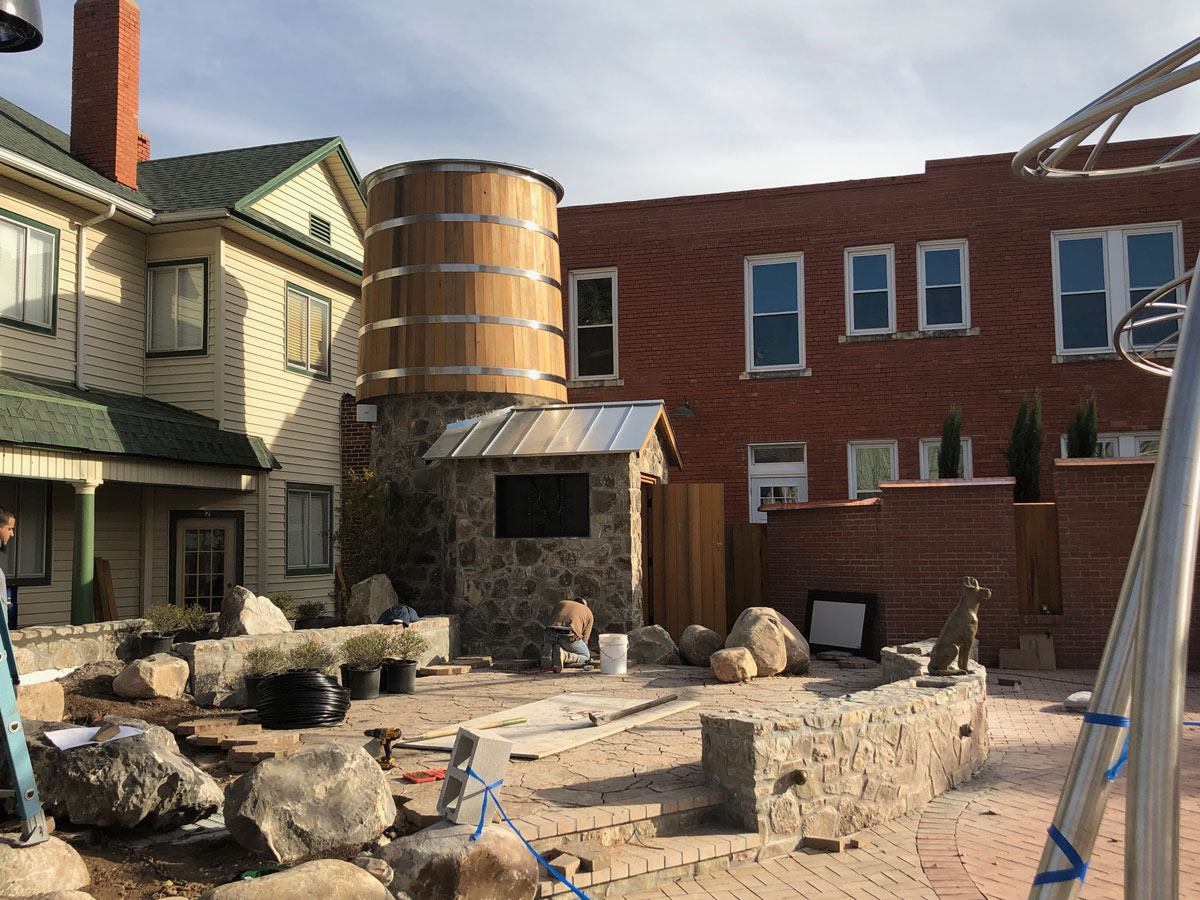 Above: Workers preparing Heritage Park for its grand opening on Thursday before the big day Saturday, Nov. 17, 2018. (LIVE! Photo/Joe Hyde)
Workers were busy Thursday placing the bricks of hundreds of donors, the list of whom reads like a who's who of San Angelo business and ranching interests.
Here is interesting trivia about Heritage Park: In the 1992 R/UDAT report that suggested projects needed to help revitalize downtown San Angelo, the original location suggested for what the study called a "pocket park" was the vacant lot next to the Texas Country Music venue called Blaine's Pub in the unit block of W. Harris Ave. Instead, the park will now be located next door to the former blues bar and bed and breakfast once called Sealy Flats.
Availability of the land is the reason, not any preference for blues over Texas Country Music. J. Willis Johnson, III, the grandson of his namesake who was a San Angelo forefather, who was also the owner of about 100,000 acres of ranchland in Tom Green County, including Crow's Nest and Door Key Ranches north and south of San Angelo respectively, donated the lot and the seed money for the project. Willis died earlier this year before he could see the completed project. But he was front and center for the groundbreaking (see video below):
The original vision was for a statue to be placed on the lot to commemorate the ranching lifestyle. Lee Pfluger, downtown businessman and rancher, took that initial, simple vision and expanded it into what will now be Heritage Park, complete with WiFi and an audio-visual presentation about history of San Angelo's ranching industry.
The dedication and grand opening will be conducted at 10 a.m. Saturday, November 17. Among dignitaries on hand will be Lee Pfluger and Matt Lewis, San Angelo Area Foundation President/CEO whose organization will ensure the perpetual permanency of the site.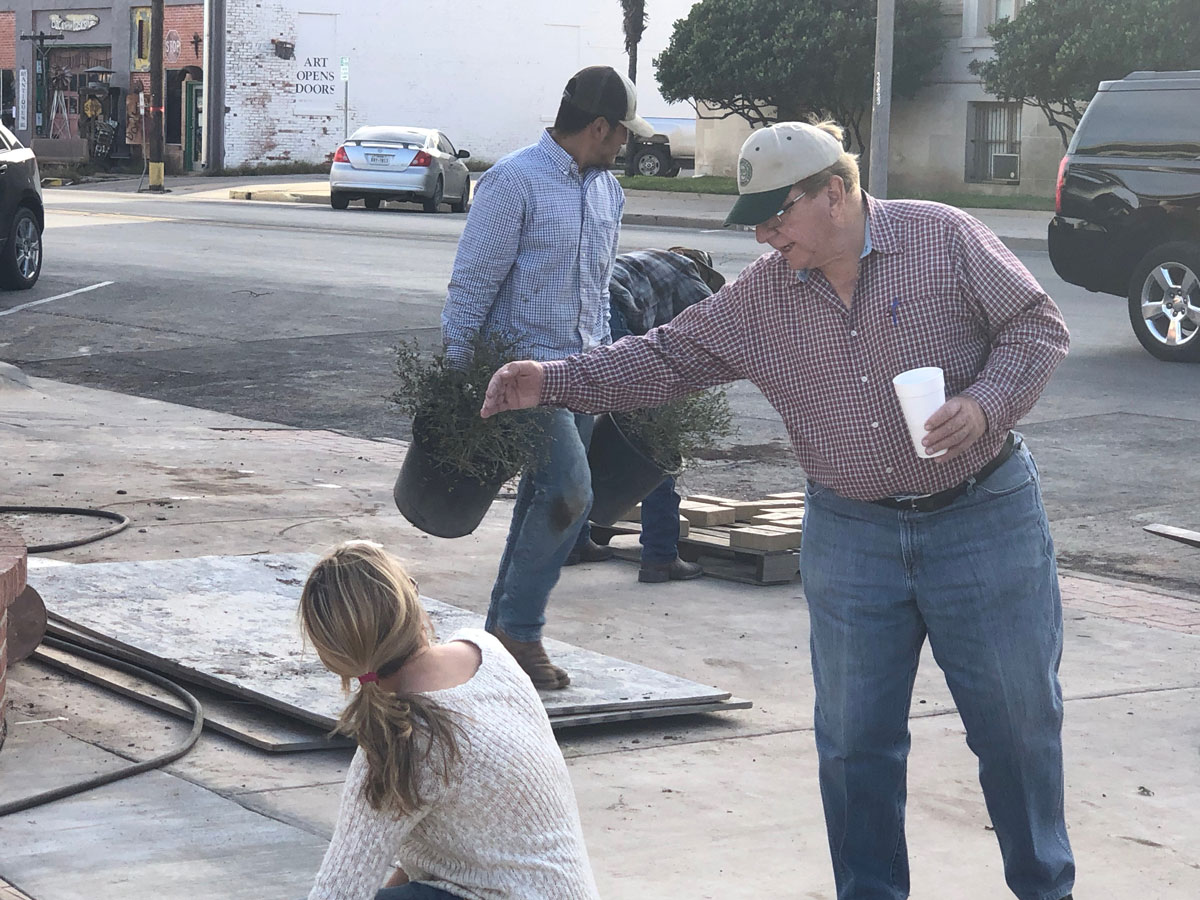 Above: Lee Pfluger, who for years pushed for the establishment of the Heritage Park, directs the final placement of bricks from donors that aided in financing the $870,000 project. (LIVE! Photo/Joe Hyde)
The park cost $870,000 to design and build, and most of the money was raised with private donations. About $150,000 of the $870,000 cost for the park will fund an endowment through the San Angelo Area Foundation to pay for annual maintenance.
Since maintenance of the park is financed through the Area Foundation's endowment, no taxpayer funds will be needed.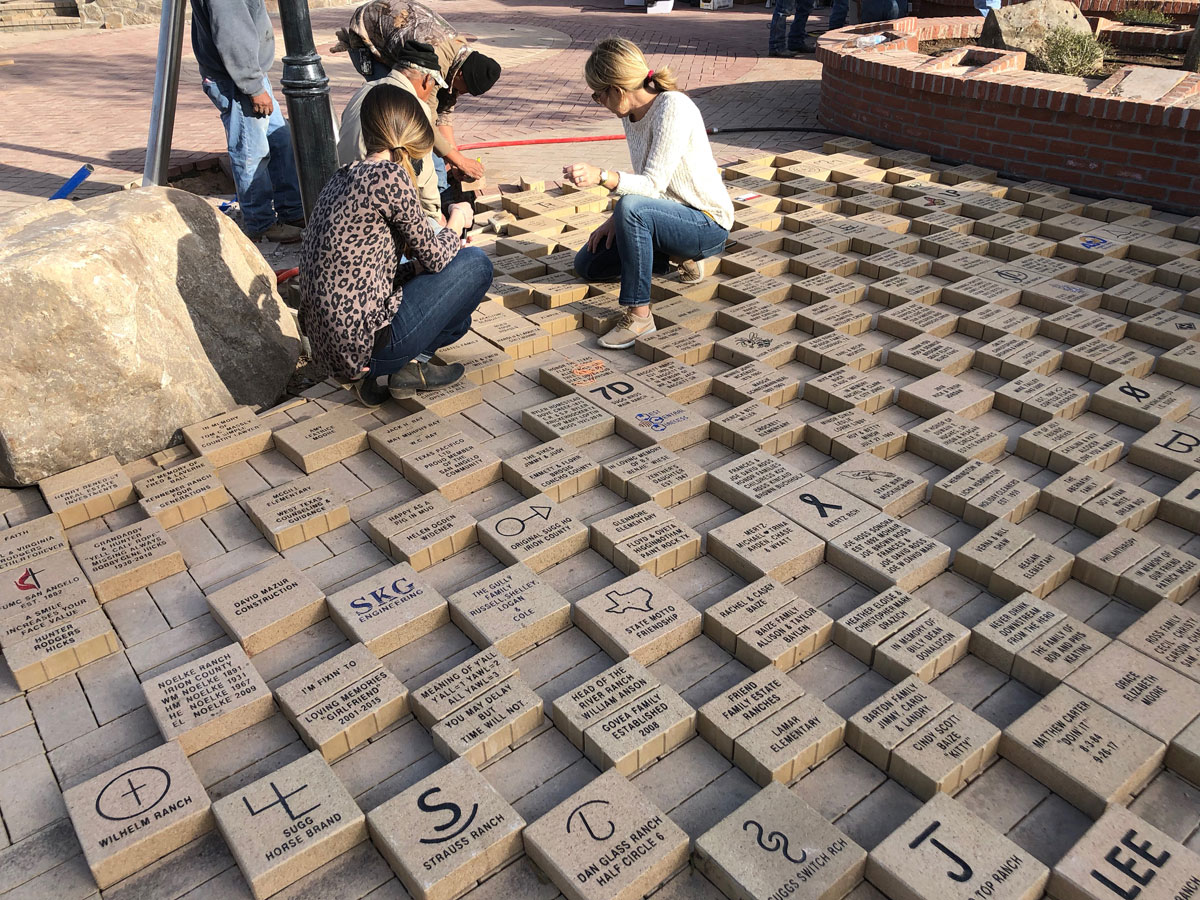 Above: Placing bricks purchased by donors to finance the park. (LIVE! Photo/Joe Hyde)
Honorees' families ,school district representatives and Frank Gray, Team leader for the 1992 RUDAT effort will also will be on hand for the festivities which will include musicians and a Monarch butterfly release.
Pfluger has been assisted by a park committee comprised of local artists, builders, historians, horticulturalists and philanthropists. Henry Schmidt, the architect in San Angelo who has accomplished much for the revitalization of downtown San Angelo, designed the park.  David Mazur has been in charge of park construction.
Personal stories of Concho Valley ranching families will feed into a video loop designed to educate tourists and school children who'll be encouraged to tour the site. Sculptures by Scott Sustek and Raul Ruiz, plus native plants, Wifi technology and a rainwater catchment structure also will enthuse visitors.
Among the pioneering honorees are Joe Bean, Dan Glass, J. Willis Johnson Sr., W.C. Jones Sr., Sol Mayer, Double M Ranch, Joe and Mort Mertz, Elta Teola Murphey, Ferdinand Noelke, August Pfluger, Bill Schneemann, Jr, Virgil Powell, Phillip Lee, Joseph Tweedy, Theron Weatherby and Johanna Wilhelm.
Families and ranches donating to complete the project are the family of... :
Joe Bean
Dan Glass
J. Willis Johnson, Sr.
W.C. Jones Sr.
Sol Mayer
Double M Ranch
Joe and Mort Mertz
Elta Teola Murphey
Ferdinand Noelke
August Pfluger
Bill Schneemann, Jr,
Virgil Powell
Phillip Lee
Joseph Tweedy
Theron Weatherby
Johanna Wilhelm
Jess and A.D. Neal
Coralina Ranch
Dr. Lloyd Vincent
Richard Franklin Tankersley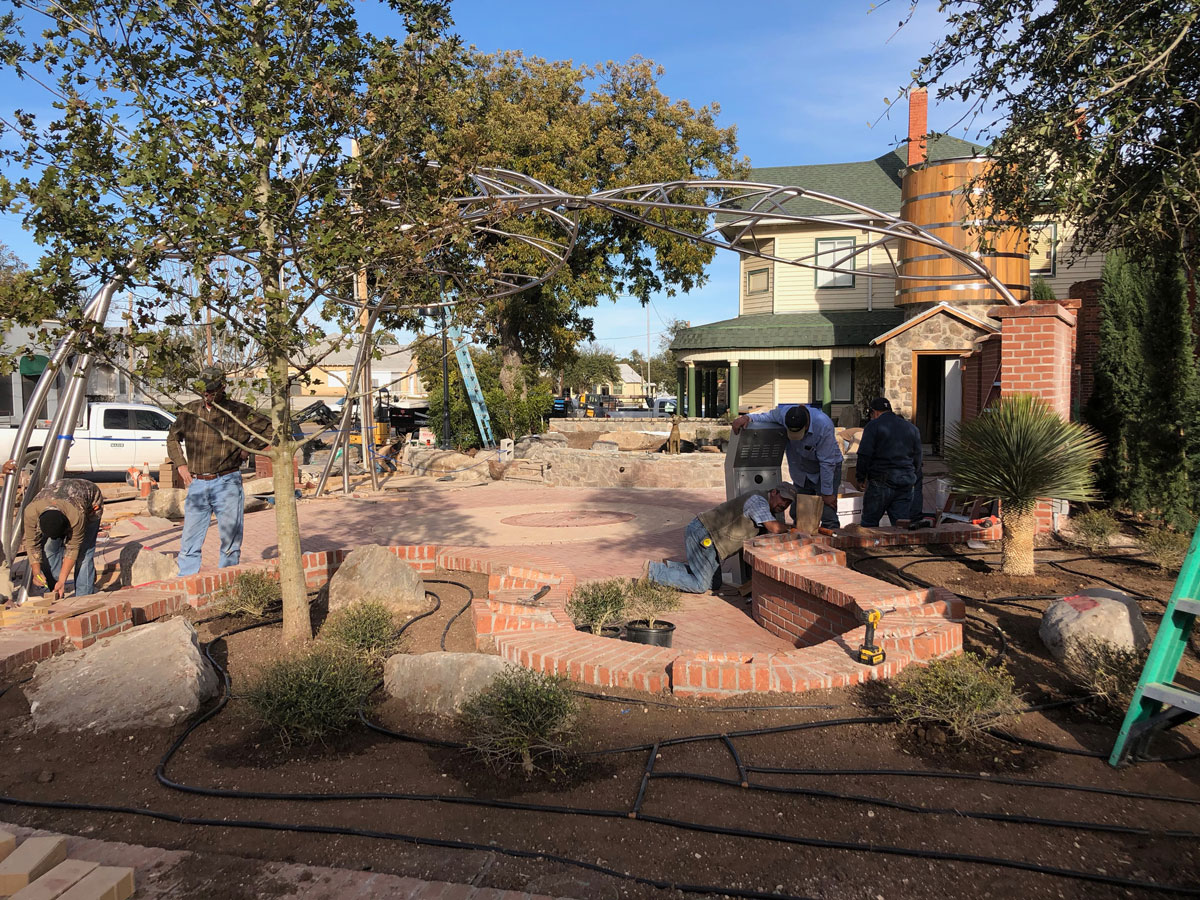 Above: The statue of the cowboy had not been placed yet on Thursday afternoon. (LIVE! Photo/Joe Hyde)
"It's going to be a game-changer on the scale of Celebration Bridge," Pfluger said, as he showed the park's architectural drawings last year.
For more on Heritage Park, see their website.
Get more stories like this by signing up for our daily newsletter, The LIVE! Daily.