SAPD Graduates 10 New Officers, With Several Surprises Along the Way
SAN ANGELO, TX – Ten new officers have joined the San Angelo Police Department this afternoon after graduating from the Police Academy. Their graduation ceremony took place at San Angelo's McNease Convention Center. 
San Angelo Police Chief Frank Carter welcomed the graduates to the police force with some inspirational advice. 
"I'm very proud of each one of these [graduates]," Chief Carter stated, "[for] the amount of time each of them put in from the start of the application process to actually going through the academy training."
Each graduating police officer completed 1,070 hours of training, which is just over six months.
"I've been where they are now, and I know what they're feeling right now," Chief Carter explained. "They want to apply that knowledge to the streets by helping the citizens of San Angelo."
Chief Carter stressed the importance of serving the community, but also asked them to be active members in the community they serve.
"The best advice I can tell [these graduates] is to be a part of the community," Chief Carter elaborated. "Every citizen will want to see them in uniform, but they also want to meet them as a citizen and know they are just like them."
One of the graduates, Officer Porsche Potts, made history today as the first African American female to join the SAPD. Potts moved to San Angelo from Chicago to join the SAPD after seeing how friendly everyone is and how dedicated the police are with serving their community.
"I feel very blessed to be here," Potts said. "It's been a blessing getting to know everyone, and having the chance to develop a strong connection to the community."
Potts was a little overwhelmed to know she had just made history by being the first African American female officer in San Angelo.
"I never saw this coming, and never [expected] it to happen in my life," Potts explained. "Nobody treats me any different, and everyone's really nice."
She looks forward to learning more about police patrol and wants to do her best everyday with serving the community.
Another graduate, Officer Richard Swanson, is also excited to achieve his life-long dream of being a police officer. His long term goal is to eventually transfer to SAPD's Traffic Patrol Division. Part of this comes from his passion to help comfort those who are impacted by vehicle accidents and to help them understand what caused the accident.
Swanson looks forward to working alongside Chief Carter who he sees as a man who leads from the front lines.
"[Chief Carter] would never ask us to do something that he wouldn't do himself," Swanson explained. "He carries himself in a way that shows all the (SAPD) officers how to care and protect the community we live in."
Swanson's girlfriend, Auriel Walsh, helped pin on his ranks at Friday's graduation ceremony.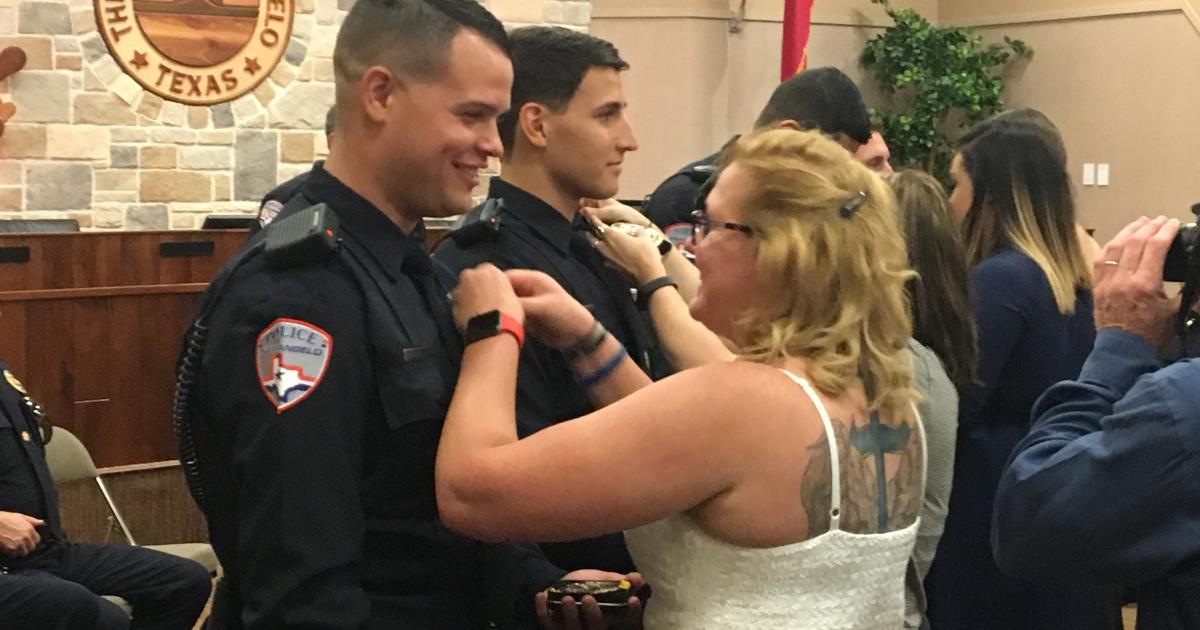 Above: New SAPD Officer Richard Swanson has his ranks pinned on by his girlfriend, Auriel Walsh. 
"We've been together for about a year, and I wouldn't have anyone else here to do it."
He added that having the support of Walsh and his family through the course of his training helped him be successful.
During the post-graduation celebration, there was one graduate who took the opportunity to share his special day by asking his high school sweetheart to marry him.
Officer Jacob Beckwith got down on one knee and asked his girlfriend, Baylie Newton, to marry him in front of their friends and family. Newton said, "yes", before Beckwith even began opening the box carrying her engagement ring.
Newton had no idea that Beckwith was going to ask her after the ceremony. She was excited to know they'd be moving into their new home, with plans to get married in the future.
The other graduates include Dustin Bilyeu, Mark Calvert, Larry Hogeda, Austin Howell, Daniel Jones, Raydale Kelly, and Bobby Salcedo.
The advice of Chief Carter was already being taken in strides as the graduates went to be with their loved ones.
"They need to surround themselves with [good] officers, role models, and loved ones, while on-and-off duty," Chief Carter stated.
He added that each new graduate still has 15-weeks of riding with another officer before they fully complete their training. He is thrilled to know the new generation of officers answered the call to serve and protect the San Angelo community. 
Get more stories like this by
signing up for our daily newsletter, The LIVE! Daily
.