Central High School Graduate Ranks First in National Shooting Sports Tournament
SAN ANGELO, TX – A recent graduate from Central High School placed first in Individual Shotgun Shooting at the 2017 4-H youth Shooting Sports National Championship Tournament in Grand Island, Nebraska held on June 25 through 30.
The competition is comprised of numerous four-person shooting teams, each team represents one U.S. State, who compete in various disciplines such as compound archery, air rifle, .22 rifle and .22 pistol, and shotgun shooting. 
Gregg Garrett, 18, was one of the shotgun team members representing Texas and helped bring home the Sweepstakes Award in placing Texas as the No.1 shotgun team at this year's competition. Furthermore, Greg made the highest overall score in the National Shooting Sports Championships Individual Shotgun event and ranked first out of 115 other shooters.
His teammates, Tyler Birkner, Kaleigh Lawson, and Joyce Hunsaker, placed second, fourth and 14th respectively. The events Garrett's team participated in were sporting clay, skeet, and trap shooting.
Texas teams across all shooting disciplines contributed to taking home the Sweepstakes Award for the entire national competition. There were 36 participants representing Texas.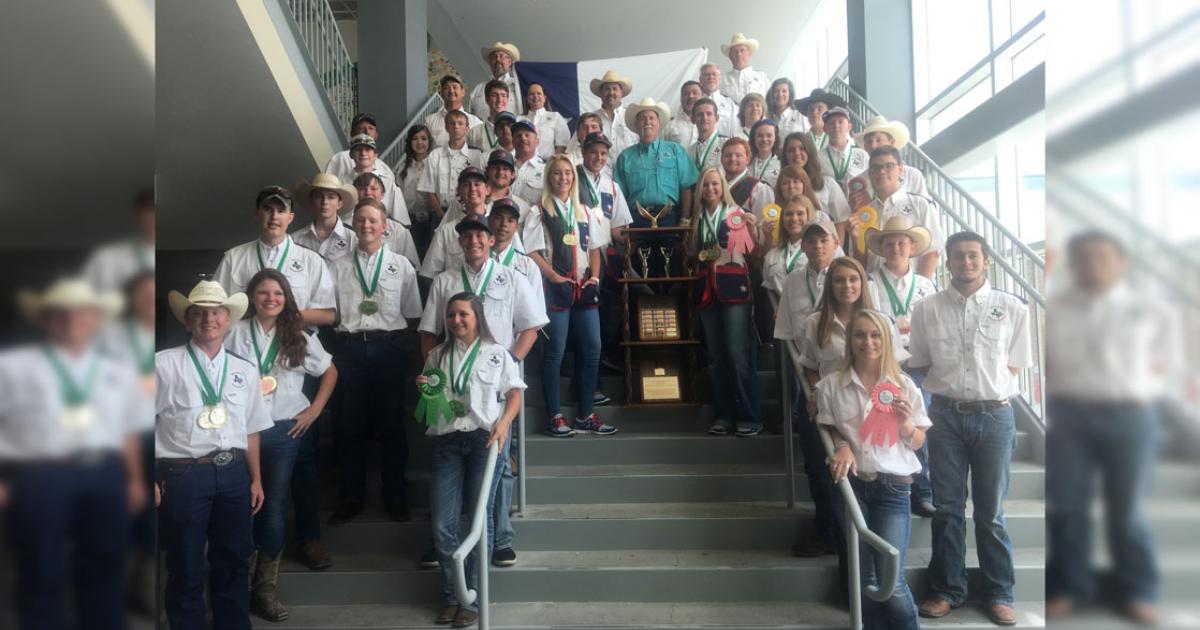 Above: The entire Texas team takes home the Sweepstakes Award for the entire national competition (Photo courtesy of Greg Garrett) 
"It feels incredible, and I truly feel blessed that I had the opportunity to go and show the U.S. what Texas is all about," Greg Garrett said.
Jay Garrett, father of Greg and Greg's lifelong coach, said the "disciplined shooting team" from Texas was prepared and ready to take home the Sweepstakes trophy.
The Texas team placed first in shotgun shooting with a combined total score of 8.7 percent throughout the three-day competition. The team scored almost 3 percent higher than the Georgia and Louisiana teams, who placed second and third respectively.
Larry Perez, Program Coordinator for the 4-H Shooting Sports, said the national championship has been in existence since the year 2000. In the 18 years of competition, Texas has won the Sweepstakes Award 15 times. 
"What people don't realize, especially in San Angelo, is that we have some of the best shooters in the state," Jay Garrett said.
Greg Garrett recently graduated from Central in May and was also a member of the Central Bobcat's Football team. He will begin attending Texas A&M in the fall, and will continue his competitive shooting career with the trap and skeet team at A&M. Garrett has been shooting for about nine years.
"I'm looking forward to getting to practice with [the A&M team]," Greg stated. "It will be a great opportunity shooting at the college level."
"He gave up a lot of fun times to go out and practice [shooting]," Garrett's father said. Being a part of the Central Bobcat's football team's success last season also took time away from Greg's practice at the shooting range.
Leading up to the national competition, Greg shot about 500 rounds a day equal to 9 flats a week with ten boxes of shotgun shells per flat.  
"We went through a lot of targets and a lot of shells," Greg said.
A family friend of the Garretts Clay Childress, mentioned that over 1,400 shooters tried to make the state team for the 4-H national competition. Childress believes that the  large try out number further proves the skill of the participants from Texas.
Greg and his teammates traveled back to Texas holding the first place trophy just in time for the 4th of July weekend.
Starting July 6-8, Greg will participate at the Larry Ratheal Scholarship Fund: Texas 4-H Shotgun Shootout in San Angelo. This event brings in the best shooters in the country, Jay Garrett stated.
The San Angleo Shootout is a three-day event and participants will shoot in six disciplines. Both Greg and Jay Garrett will also attend the Texas 4-H Sate Games in San Antonio from July 18-22.
All the results from the 4-H national championship can be read here.
Get more stories like this by
signing up for our daily newsletter, The LIVE! Daily
.