San Angelo Ranks Number 12 in Best 24 Unemployment Rates for January
SAN ANGELO, TEXAS – The Texas Workforce Commission released January's Texas Labor Market Review highlighting the most current labor market happenings across the Lone Star State. In the January review, the workforce commission includes data on non-agricultural job trends, the labor force, job postings, and other relevant indicators for both the state and sub-state areas. Despite numerous individual achievements by businesses, employment rates, as well as unemployment rates in the first month of 2017 have continued to struggle.
Across Texas, the employment rate since January 2016 has increased from 12,521,460 to 12,697,121. The Nonagricultural Wage and Salary Employment increased by 225,300 positions over the past year. The total Nonfarm Employment grew by 225,300 positions over the year for a 1.9 percent annual growth rate, as well as the fastest pace of annualized job growth in Texas since September 2015. Despite major job growth in several areas, the Wholesale Trade and Transportation, Warehousing, and Utilities all had monthly losses in job growth.
The steady growth in jobs has also allowed for the unemployment rate of Texas to remain unchanged, leaving Texas with an unemployment rate of 4.8 percent. Even though the current overall U.S unemployment rate is at 4.8 percent, the U.S. has seen an increase of one tenth of a percent.
Within the past year, unemployment rates have also seen a change within in various demographics.Over the past year, the unemployment rates for females remained unchanged at 4.3 percent. The unemployment rate for males, however, increased from 0.4 percent to 4.9 percent.  Furthermore, the unemployment rate for those of white ethnicities saw a 0.1 percent increase, while those of color, such as Black and Hispanic, stayed consistent.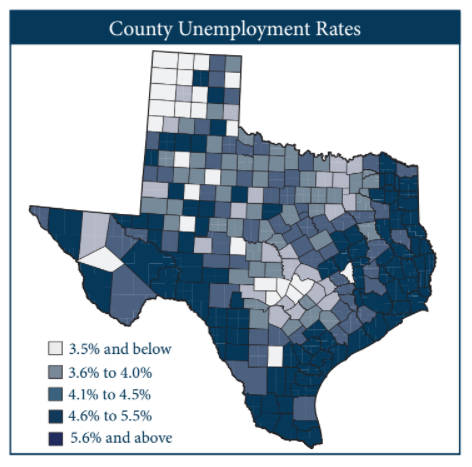 Locally, San Angelo ranks number 12 in the top 24 Texas areas ranked by unemployment at a 4.6 unemployment rate. Amarillo, Lubbock and Austin-Round Rock areas ranked in the top 3 consecutively with rates of 3.4,3.4, and 3.5, also consecutively.
Across Texas, 205 of 254 counties experienced an over-the-year increase in the number of unemployed.  The largest over-the-year decrease in the unemployment rate was 1.6 percent in both Crockett and Cottle Counties. 
Get more stories like this by
signing up for our daily newsletter, The LIVE! Daily
.