All School Bonds Fail, Republicans Sweep Tom Green County
SAN ANGELO, TX – This is a real-time election night coverage from San Angelo, Texas. It is updated about local, statewide, and national election returns by LIVE! Publisher Joe Hyde and Editor Yantis Green. The newest news bits are first. Text or email election news tips to (214) 893-6791 or [email protected]. And your comments below are welcome.
Next update at 11:00 p.m.
11:20 p.m. — Superintendent of Schools Dr. Carl Dethloff issued a statement on the failure of both bond initiatives:
We continue to be respectful of our community's voice and learn from the many differing viewpoints that make our city strong. We have all learned from recent elections that your vote truly counts and can make an impact on local decisions. Both proposition "A" and proposition "B" on the SAISD bond did not pass. Thank you to everyone who took time to be informed about San Angelo ISD's bond referendum and who exercised their right to vote in our November election. Although our bond election failed, we remain committed to providing our community's children a learning experience that is academically robust and builds on the learning attributes necessary for our students to experience success in the modern era. Irrespective of your stance on our recent bond, it is now time to reestablish the unity and support for our school system that makes San Angelo a great place to live and work.

I would like to acknowledge the work of our long-range facilities planning committee for listening to our constituents and redesigning a bond package that truly prioritized and planned for the needs of our students and staff. Their advocacy will translate to a flourishing public education experience for all of our students in the years to come. Also, I would like to thank our school board for setting the conditions for success in our district and casting the vision to provide facilities that meet the needs of our next generation of learners. Our board's determined efforts to provide updated facilities for our students does not go unnoticed. Although our facilities continue to age, it is time to pause, take a hiatus on bond elections, and focus on the many wonderful gifts our students bring to us daily in San Angelo.

Carl Dethloff, Superintendent, San Angelo ISD
10:45 p.m. — Local final election results at a glance. The county has a *pdf of the results online here.
County Commissioner Pct 4
Bill Ford (R-Incumbent)
7,275
89.08%
Gilbert Gallegos (write-in)
892
10.92%
Justice of the Peace Pct 1
Susan Werner (R-Incumbent)
3,153
59.46%
Sally Ayana (D)
2,150
40.54%
San Angelo ISD Bond Prop 1
Against
14,474
55.66%
For
11,528
44.34%
San Angelo ISD Bond Prop 2
Against
14,985
57.62%
For
11,021
42.38%
Christoval ISD Bond Prop A
Against
701
57.41%
For
520
42.59%
Water Valley ISD Board of Trustees (top 3)
Janna Sears Naylor
263
21.02%
Justin Herman
272
21.74%
Wes Sutton
231
18.47%
10:30 p.m. — Incomplete results from Tom Green County (with several boxes still to be counted from Christoval and Veribest):
Pct 4 County Commissioner: Bill Ford 88.74%; write-in Gilbert Gallegos 11.25%.
JP Pct 1: Susan Werner 60.3%; Sally Ayana 39.7%
San Angelo ISD Bond Prop 1: 55.87 against; 44.13 for.
San Angelo ISD Bond Prop 2: 57.82% against; 42.18 for.
Christoval ISD bond Prop A: 57.82% against; 42.18% for.
Water Valley School Board: Carl McCoy received just 5.95% of the vote. Angela Bloss received 15.16%. The remainder received 17.00% to 21.84%.
The count is not final. So far 31,708 ballots counted.
10:15 p.m. — Official Tom Green County official results. These are all votes counted except ballots in some boxes still out in Christoval and Veribest.
Gov. Greg Abbott thanks supporters for overwhelming win:
I'm about to go through those doors to accept victory tonight. But first I want to thank my Twitter followers from Texas for all you did to help my re-election. God Bless Texas. pic.twitter.com/uZZIt6dbLg

— Greg Abbott (@GregAbbott_TX) November 7, 2018
10:00 p.m. — Pollster Frank Luntz said, "Democrats have now flipped 17 seats to blue tonight. They need 24 to win the House majority." Or, 216 seats. The current count is 158 R 156 D.
It's Senator Mitt Romney of Utah!
Humbled by the support and trust of Utahns. I endeavor to represent you with dignity, integrity, and in a manner that will make you proud. pic.twitter.com/sVARvsIlRC

— Mitt Romney (@MittRomney) November 7, 2018
9:45 p.m. —  U.S. House 155 R to 153 D, but major news networks are calling it as a Democratic Party takeover of the House. In Texas, Pete Sessions wins Texas' 32nd congressional district, predicts Bloomberg. Strike that. Democrat and former NFL player Colin Allred is projected to beat longtime GOP Rep. Pete Sessions in Texas TX-32
Major networks NBC, Fox News call the race for Cruz. Beto is toast, they predict. Texas Tribune has the race at 51.4% Cruz to 48.0% Beto with about 6 million votes counted.
Under fire for calling the U.S. House for Democrats, Fox News explains why they made the call:
colleague @ChrisStirewalt joins us to explain why @FoxNews made the call for the house #foxnews #Midterms2018 pic.twitter.com/KBdahLKB03

— Bret Baier (@BretBaier) November 7, 2018
9:30 p.m. — Democratic state Sen. Laura Kelly will win the gubernatorial election against Kansas Secretary of State Kris Kobach, NBC News projects.
Ted Cruz seems to be pulling away from Beto 51-49 percent. 
Absentee election results for Tom Green County were just released.
Commissioner Bill Ford is running away with it with 87.93% to 12.07% over write-in challenger Gilbert Gallegos.
Susan Werner is winning JP Pct. 1 60.58% to Sally Ayana's 39.42%. Werner was worried before the election.
Approval for the San Angelo ISD school bond is catching up mildly: 44.67% for to 55.33% against for Prop. A; 57.75% against to 42.25% for Prop. B.
9:15 p.m. — Socialist Democrat Alexandria Ocasio-Cortez is projected to win election to the House of Representatives in New York's 14th congressional district, according to the AP. But the Republicans still lead the U.S. House race 150-147. 216 are needed for control.
Meanwhile in Tom Green County, Beto is losing badly to Cruz, 73% to 26%. Over 21,000 Tom Green County citizens voted in the U.S. Senate race. Greg Abbott received over 75%. Only early voting totals are in as of right now.
Right now, the Tom Green County Republican Party has gathered at Los Ponchitos at the Paseo to celebrate. JP Susan Werner (R) posed for a photo with the first couple she married as a JP. This is Judge Susan Werver in the center with Graham and Lylanie Smith. They've been married for 1.5 years.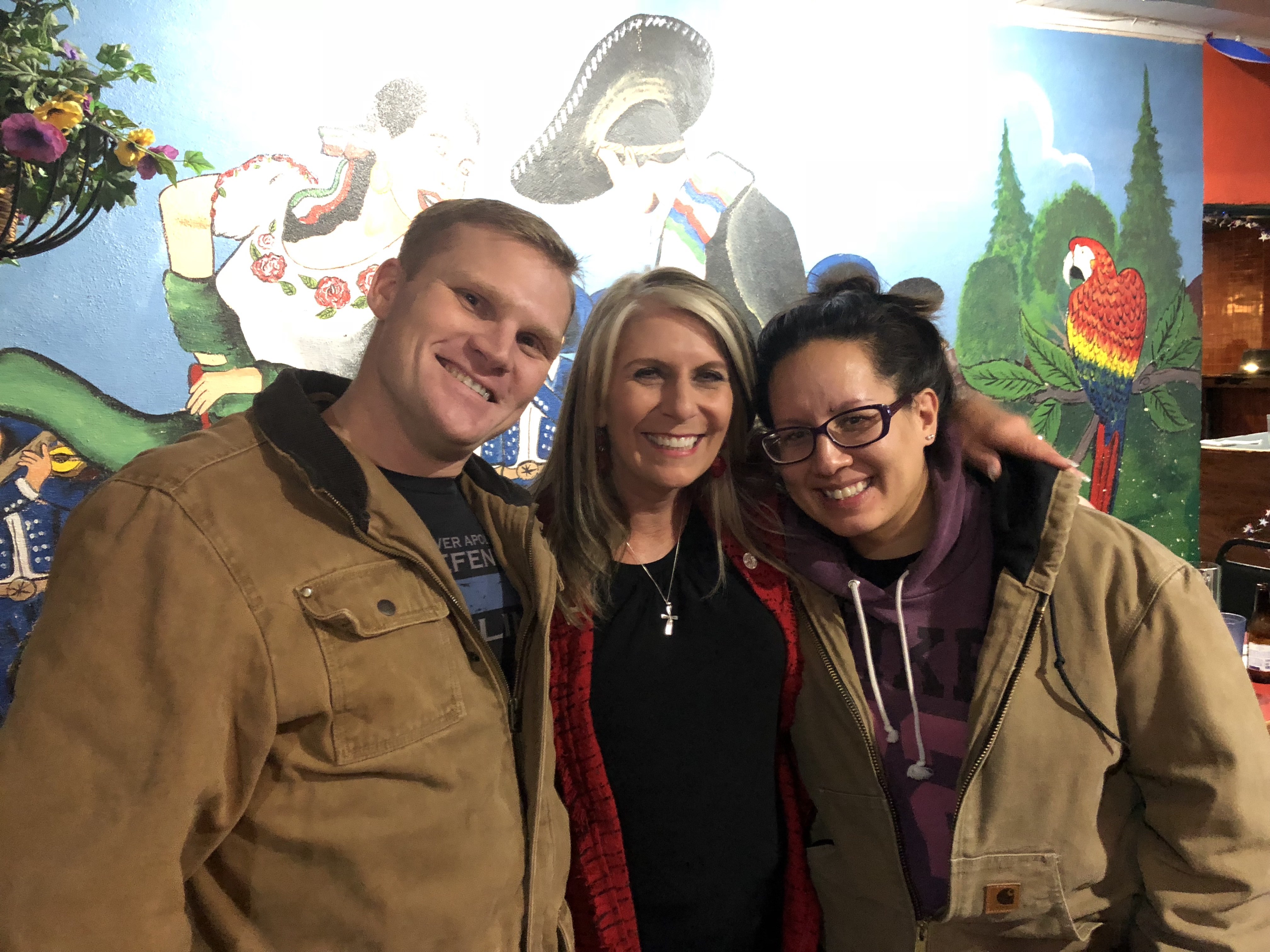 9:00 p.m. — 23 minutes ago, Fox News projected Democrats will gain control of the U.S. House. Current count: 141 D to 143 R.
Michael Barajas at the Texas Observer: Texas Dems could pick up two state senate seats in the Metroplex. They'd still need a third to break Dan Patrick's supermajority in the chamber. If they manage to pull it off, that changes the dynamic of the next session.
Cruz vs. Beto is tied at 49 percent with 5.1 million votes counted.
8:55 p.m. — The Christoval ISD bond failed so far with all early voting an mail-in ballots counted 57% against, 42% for.
8:50 p.m. — Both San Angelo ISD bonds were clobbered into defeat during early voting, the only results released so far in Tom Green County. The San Angelo ISD reacted just now.
"We are very optimistic because a lot of people voted today. Although the early voting didn't go the way we planned, we are still thinking the door is still open for the bond to pass," said the spokesman for the San Angelo ISD Derrick Jackson.
If the bond does not pass tonight, Jackson said that it will probably be a couple of years before they attempt another bond.
"We want the support of the citizens on our side for any large bond like these proposed," he said.
8:34 p.m. — US House: NBC projects Democrats take control. ABC is less sure. Reported 54 percent chance.
In Tom Green County early voting with 21,158 votes counted so far, Commissioner Pct 4 Bill Ford has 4782 votes with 1789 undervotes. The undervotes could be write-ins for Gallegos.
8:15 p.m. — U.S. House: MSNBC estimates that Democrats will have 216 to 225 seats by the end of the night! But they keep lowering their projections. Current count is 134 D to 141 R. 
Republican Marsha Blackburn is on track to win the senate seat in Tennessee, defeating the Democrat endorsed by Taylor Swift. Her silence on the Tennessee Senate result is deafening.
Betting markets just shifted to Rs holding the House, according to polls watcher Larry Schweikart.
Official counts from Tom Green County: 24,311 voted early.  67,007 are registered to vote.
8:00 p.m. — 98 R to 86 D for control of the U.S. House. Cruz is losing to Beto 52-48% with nearly 4 million votes counted.
Early returns from Election office: JP Susan Werner is up 62 percent to 38 percent in early voting. The Precinct 4 commissioner's race isn't counted yet.
School bonds - 58 percent against Prop A, 59 percent against Prop B.
There were 77 percent voting straight Republican in early voting, which bodes well for Commissioner Bill Ford.
7:45 p.m. — Beto is ahead of Cruz with some urban and border counties reporting in. About 1.4 million votes counted 52-47 Beto.
A liberal public radio KUT reporter hears chanting in the downtown streets near the Beto election watch party in downtown El Paso. They won't let her in yet.
Folks hoping to attend the O'Rourke event aren't allowed in yet, but oh man can you hear them chanting on the street in downtown El Paso.

— Ashley Lopez (@AshLopezRadio) November 7, 2018
My sources say Ron DeSantis and Rick Scott will win their races in Florida. Both are Republicans for Governor and U.S. Senate respectively.
Tom Green County Elections Office said early voting or mail-in counts will be available "within minutes." That was seven minutes ago.
7:30 p.m. — The U.S. House is 86 Democrat and 96 Republican so far. 218 needed for control. Democrats chances to take the House have dropped to 54.4 percent.
Good news for Texas Republicans: Congressman Will Hurd (R) leading Gina Ortiz Jones (D) in Bexar County early vote, 52-46 for TX-23. But that district stretches for miles west, through Del Rio to Alpine.
With less than 10,000 votes counted in rural counties, Sen. Ted Cruz leads Beto O'Rourke 77-78 percent to 22-23 percent. But Beto is ahead in Brewster County of all places.
According to the elections office in Tom Green County, some polling locations still have citizens in line to vote.
7:15 p.m. — It's trending towards Republicans losing control of the U.S. House unless there's some luck in the winds, according to national Republican sources. "Based on how close KY-6 is right now and VA-10 going Democrat easily, Republicans need a little luck to keep the House."
Democrat Julian Castro on Beto O'Rourke: "I believe that he's going to win, that the dam is going to break". If he doesn't win? "He's laid the foundation for Dems in the future — created the blueprint"
Below: Republican activist and leader of the Pachyderm Club Fred Contreras reminds crowd of his club's endorsement. Saying Susan Werner is the only JP candidate they know of to ever have ten years experience as a first time candidate.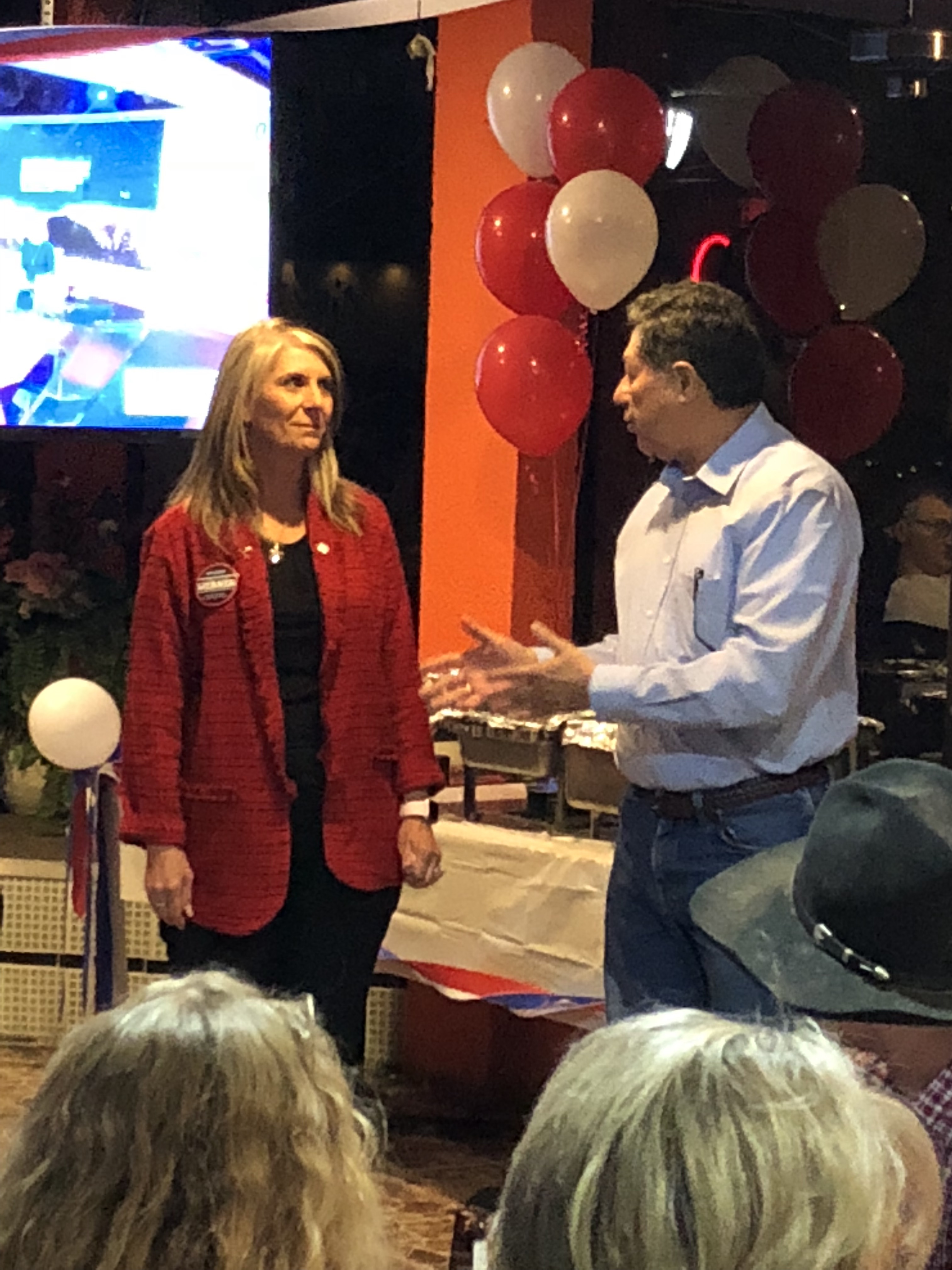 7:00 p.m. — VA-10: Jennifer Wexton (D) defeats Rep. Barbara Comstock (R). Dem pickup. This district voted 52%-42% for Clinton in 2016.
Reuters tweeted "Win or lose, Beto O'Rourke set to emerge victorious." and conservatives like Breitbart's Brandon Darby responded, "They [the media] doesn't even try to hide it anymore."
Win or lose, Beto O'Rourke set to emerge victorious. Follow #Midterms2018 coverage here: https://t.co/qPjdTAYp6q pic.twitter.com/LXOxA0Kfwu

— Reuters Top News (@Reuters) November 6, 2018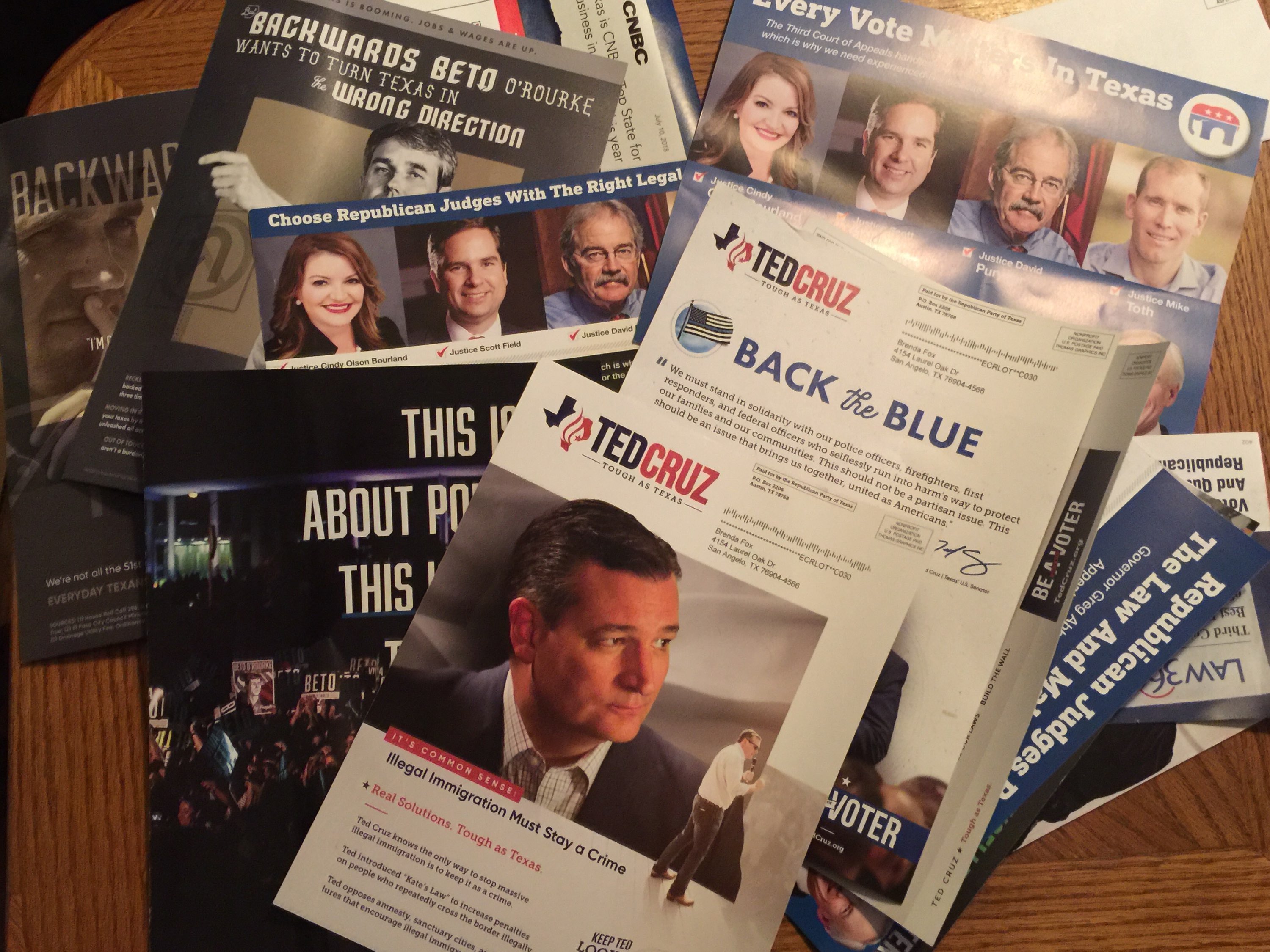 Above: Nov. 6, 2018 election direct mail pieces. If you were asking, "Where'd all the money go?" (LIVE! Photo/Yantis Green)
According to Currie, there are complaints that the person leading the polling location at West Texas Rehab kicked pro-bond retired teachers and their table out while she still had her pickup parked 51 feet away from the door there. The law is that all campaigning cease within 100 feet of a polling location. The volunteer election judge at West Texas Rehab was no one other than Kat Rowoldt, the fiery publisher of the Tea Party website, Christian Reporter News. She is very anti-San Angelo ISD bond. Currie said he will file a complaint with officials tomorrow.
Pic!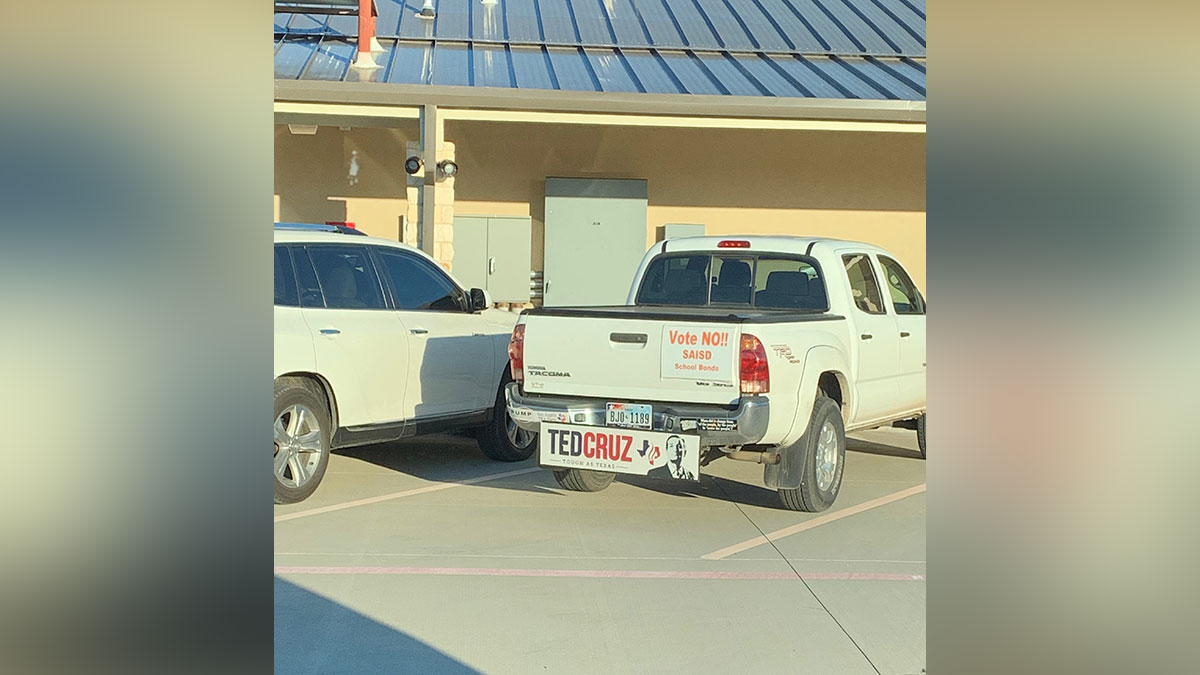 At Los Ponchitos Restaurant, already, about 40 supporters of JP candidate Susan Werner are gathered, including members of the San Angelo Pachyderm Club, several elected officials, and several young families in bright red "Keep Judge Werner" t-shirts. A Werner campaign worker said, "We think she is going to do great! But the waiting does make me nervous!"
Harris County (Houston DMA) has been ordered by a judge to keep nine of its polls open until 8 p.m. according to the Texas Tribune.
Guam flips its governorship to Democrat and these are the first results of the night. More at Guam newspaper.
6:15 p.m. — Tom Green County commissioner candidate for Pct. 4 Gilbert Gallegos had two poll watchers keeping tabs on write-in ballots. So far, Gallegos has nothing to report that was done improperly. He is running against Commissioner Bill Ford. We contacted Ford who said he is optimistic but nervous. A party is planned for JP Susan Werner later tonight at Los Panchitos near the Paseo.
Watch:


5:44 p.m. A must-read on the phony pitch by Democrat Beto O'Rourke by John Daniel Davidson at The Federalist – "The use of Spanish and the soaring unity rhetoric were both part of a performance of sorts for the white progressive Democrats gathered in the park. O'Rourke was giving them what they wanted: the illusion that he has broad appeal among both Hispanic voters and moderate Republicans in Texas, and that he is above the fray of our debased national politics.
"Once this illusion was conjured and dispensed with, O'Rourke pivoted to the other things white progressive Democrats in Austin wanted to hear from him: a call for universal health care, protections for abortion, amnesty for illegal immigrants, and a litany of reasons Texas isn't as great as Republicans say it is. These he offered to mounting applause, both crowd and candidate unfazed by the glaring contradiction of an appeal to "all Texans" in one breath and a rallying cry for ultra-progressive policies in the next."
For all the hype about turning Texas blue, Beto O'Rourke represents nothing so much as the deeply myopic state of the Texas Democratic Party.https://t.co/MLp223HFn6

— The Federalist (@FDRLST) November 6, 2018
The next update at 6:30 p.m.
Get more stories like this by
signing up for our daily newsletter, The LIVE! Daily
.