Neighbors Emergency Center, a Standalone ER, Died in San Angelo Not Articulating the Right Message or Knowing How to Spread It
Opinion
OPINION (SAN ANGELO, TX) — Friday, Neighbors Emergency Center completed its retreat from the San Angelo market. The standalone emergency room opened here Sept 24, 2016. The very next month, Neighbors bragged to our reporter about their influx of business, an impressive "267 patients," they told us.
In September this year, Neighbors' PR folks told us they were "honored to serve San Angelo in the first year." By then, the patient count had topped 2,500, they stated.
The momentum didn't last, or the PR folks were lying. Just a month later, Neighbors admitted their pending closure of its San Angelo location. But they did so only after San Angelo LIVE! inquired to confirm rumors we heard that the Pearland headquarters ordered a corporate retreat from San Angelo.
Friday, we asked their San Angelo manager there if she had any closing remarks. She wouldn't identify herself and told us she didn't have anything else to say.
In all, according to past PR reports, Neighbors employed 30 San Angeloans, most of whom are seeking new jobs today.
Neighbors' corporate headquarters failed to understand the marketing battleground in both message and reach. Let me explain.
Standalone ER companies are facing a spat of bad news about large bills hitting their customers when the patient's insurance wouldn't cover a standalone ER considered out-of-network.
WATCH this West Warwick, RI news report:
The Washington Post piled on May 7 with a devastating headline, "Free-standing ERs offer care without the wait. But patients can still pay $6,800 to treat a cut."
The federal government doesn't recognize Neighbors, so not only is Medicare not accepted, they cannot even accept Tricare, the managed health insurance for active duty and retired military.
Neighbors PR effort did little to explain how to use their services economically in a city with a large retired military population, Medicaid recipients, and retirees on Medicare.
And then, there was this article in Cosmopolitan that claimed a freestanding ER in Houston turned away a victim of sexual assault when she requested a rape kit. The woman was uninsured. The standalone ER was legally required to offer forensic evidence collection—a rape kit—according to Texas law. Since the article, the offending ER has since closed.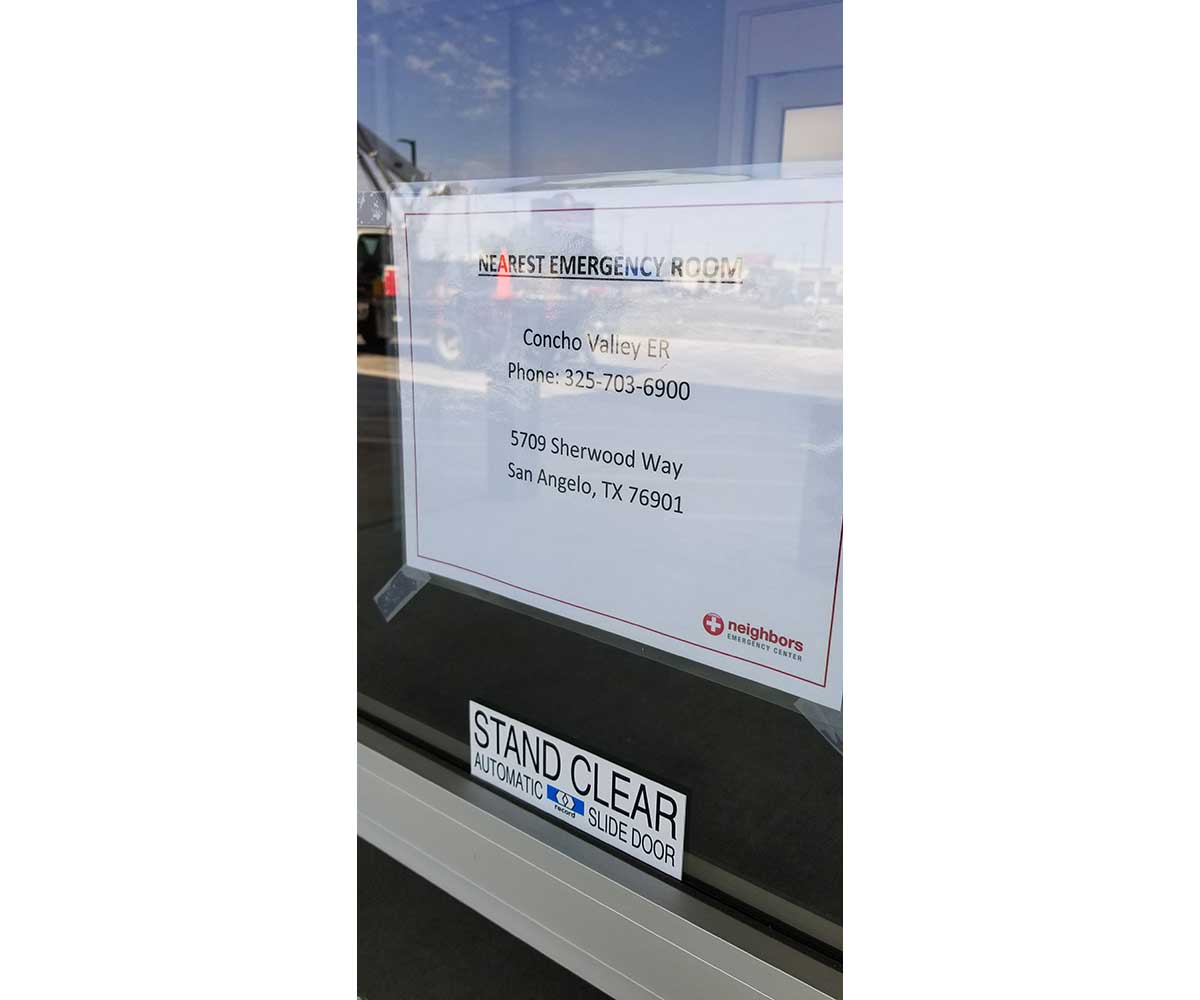 Above: The sign on the door of where Neighbors Emergency Center used to be in San Angelo on Oct. 27, 2017. (LIVE! Photo/Janessa Nunez)
That Houston ER wasn't Neighbors, but the news had already settled in many potential patients' consciousness. Neighbors promised to screen all patients, stabilize them, and then if there was no means to pay like insurance or cash, refer them to one of the two local hospitals. San Angelo hospital officials told us they were treating the freestanding ER with kid gloves because they wanted their referrals of patients with insurance Neighbors didn't accept, like Medicaid, Medicare, or Tricare.
The area school districts are combined the largest employers in the Concho Valley. Even their insurance warns that freestanding ERs are out of network. "Most hospital-affiliated ERs are in-network, while freestanding ERs are largely independent and not in your network. You may pay significantly more in out-of-pocket medical costs by visiting a freestanding ER," states the TRS website.
Meanwhile, industry groups have been lobbying the Texas Legislature and the U.S. Congress to pass a law that recognizes freestanding ERs are legitimate emergency care centers. That will give them the ability to accept Medicare, Medicaid, Tricare, and maybe even the TRS.
Despite the industry lobbying, the Texas Legislature this year passed a law that required more transparency about billing from freestanding ERs. That news in itself is feeding the idea that these types of medical treatment facilities are rip-offs. Worse, a picture of Neighbors is the cover photo for the Tribune's online article.
With this bad publicity, Neighbors operated for a year in San Angelo. Their public relations failed to address the suspicions about industry price gouging and the in- or out-of-network problem. Instead, they harped on expertise and convenience.
I don't know about you, but whatever convenience there is, it would always be overridden by an inconvenient medical bill for thousands of dollars when most people are already strapped with $500-$1500 per month family health insurance premiums.
Even if Neighbors had the right message, their corporate office didn't understand the dynamics of the San Angelo media market. They bought expensive radio no one listens to and even more expensive broadcast TV that few watch. What is worse, particularly with radio, they financed media that could do them no good in projecting any voice of journalism to tell their story. No news platform will devote precious resources to tell the story of good outcomes for a company that spends all of their advertising dollars on competing out-of-town media giants who have gutted local journalism to boost C-level salaries of executives living afar in NFL cities.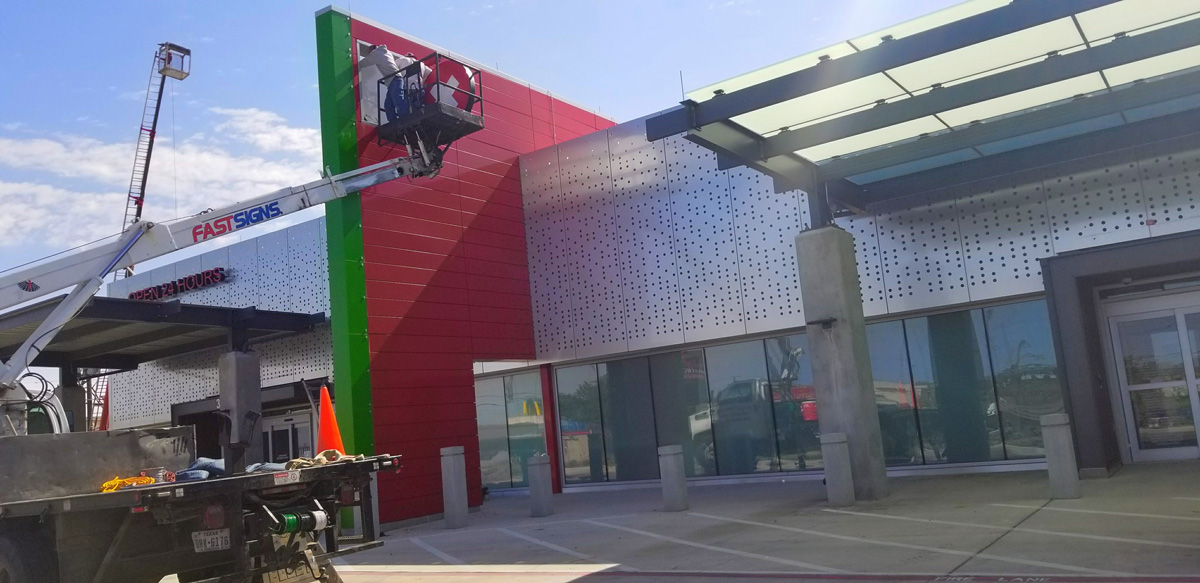 Above: The signs were seen being taken down at the Neighbors Emergency Center in San Angelo on Oct. 27, 2017. (LIVE! Photo/Janessa Nunez)
A few months ago, a C-level executive from a big box retail chain expressed to me surprise of how "digital first" the San Angelo market was. "I just can't explain it, but we get more website traffic from San Angelo than we do from larger cities out here like Midland or Abilene," he said.
People generally will be where the action is.
I smiled. And I tried to explain what 100 percent market penetration looks like. In San Angelo, a metro area of around 100,000 in population, San Angelo LIVE! reaches 70,000 unique visitors, all digital. Those who aren't reading LIVE! are either too young to read or in hospice care.
Some of these companies hire the former reporters and ad people the corporate-owned newspapers have laid-off.
Big city PR folks and their ad buyers are generally unaware of the rise of local indies, and the benefits companies like ours can provide big chains, so they pass us over and struggle. Just like Neighbors did.
The executive I spoke to a while ago didn't believe me and passed on my proposal. He bought from corporate media instead.
When we do, everyone will know. 
Get more stories like this by signing up for our daily newsletter, The LIVE! Daily.