SACMC Physician Honored for Treating 600th Chronic Reflux Sufferer
SAN ANGELO, TX – When Dr. Glenn Ihde, MD, a general surgeon and physician at West Texas Medical Associates and San Angelo Community Medical Center, got out of medical school in 1998, the procedures in place to treat reflux sufferers had reached its peak, and he found himself well-trained for something no longer used.
However, taking what he did know, and after going to a conference in Colorado, he started looking into other ways to treat people who suffer from Gastroesophageal Reflux Disease (GERD), specifically through the Transoral Incisionless Fundoplication procedure, or TIF.
Since 2007, doctors have treated patients with GERD symptoms using this procedure, and Dr. Ihde joined in the process in September 2009. Thus far, he has performed more procedures than any other trained physician in the U.S.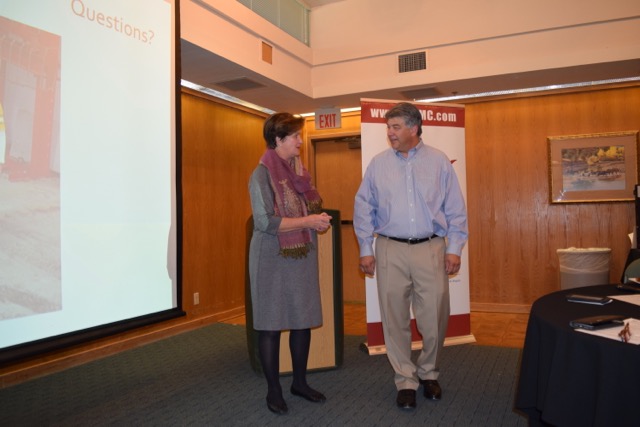 Therefore, colleagues, family and friends joined together yesterday at the San Angelo Community Medical Center to honor Dr. Ihde for reaching this 600th milestone. Since coming to San Angelo from the Dallas/Ft. Worth area, he has treated 40 patients locally.
"I've been using the TIF procedure to treat GERD patients because it doesn't involve any incisions and often means faster recovery," said Dr. Ihde. "My patients report similar outcomes to published data—most are off their daily medications and have improved quality of life."
The Problem of Reflux
SACMC pointed out that over 80 million people suffer pain and discomfort from acid reflux at least once per month in the U.S. GERD is a longtime problem, and since the 15th century, reflux was present but not defined, said Dr. Ihde. It wasn't until the 1940s and 50s when doctors finally understood what was going on.
Dr. Ihde said reflux consists of fluid in the stomach that does not belong in the esophagus. The acid, bile and digestive enzymes come up from the stomach into the esophagus and injure the esophagus lining, so people experience pain, which we know as heartburn.
"They end up having trouble swallowing and get scarring of the esophagus," Dr. Ihde said. "Then, of course, there's been progression of cancer."
For the past 30 years, the number of esophageal cancer cases has increased 900 percent.
It's one of the only cancers in the nation that is increasing exponentially, so it's actually a pretty serious problem," Dr. Ihde stated.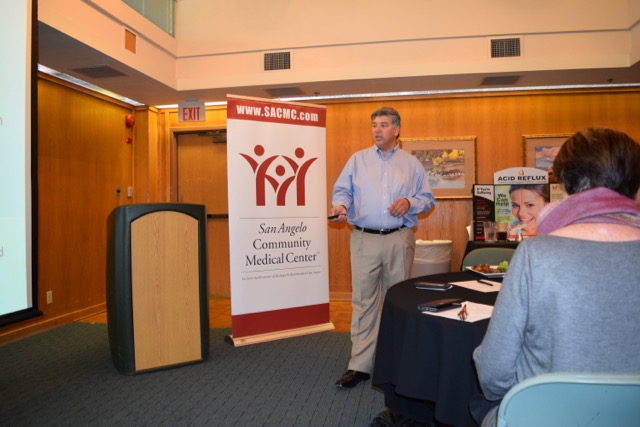 Other issues that develop with chronic exposure and changes in the lining of the esophagus include:
Esophagitis
Metaplasia
Dysplasia
Symptoms of Reflux
Dr. Ihde said the typical symptoms of reflux are heartburn, regurgitation, chest pain and dysphagia. Some atypical symptoms include a chronic cough, hoarseness, painful swallowing, asthma and dental caries.
When people think about reflux, they think it's due to a little bit of heartburn, but about 20 percent of the population has severe, debilitating reflux, explained Dr. Ihde.
"They can't eat and lose weight, and they regurgitate constantly at night, so they're fatigued," he added.
For people who are more sedentary and have more weight on them, reflux may be more of an issue, Dr. Ihde also said.
Treatment of Reflux
Dr. Ihde explained that there are three phases for treatment of reflux: lifestyle changes, medical therapies and surgical therapies.
For the first phase, reflux sufferers are encouraged to modify their diet, lose weight, avoid trigger foods, elevate their head off the bed when they sleep, and to not eat late.
Early changes can help reflux sufferers, but if people are suffering from heartburn and regurgitation more than twice a week, they're in need of medical therapies.
Medical therapy is the chemical alteration of fluids. The medicines help change the acid fluid to a non-acid fluid.
Patients start with antacids to act as buffers in the esophagus, and H2 Antagonists block the histamine signal to produce acid, which helps reduce production of acid by 6o percent.
PPIs, or proton pump inhibitors, which are more effective, block the ability of the cell to create acid, which helps reduce production of acid by 90 percent.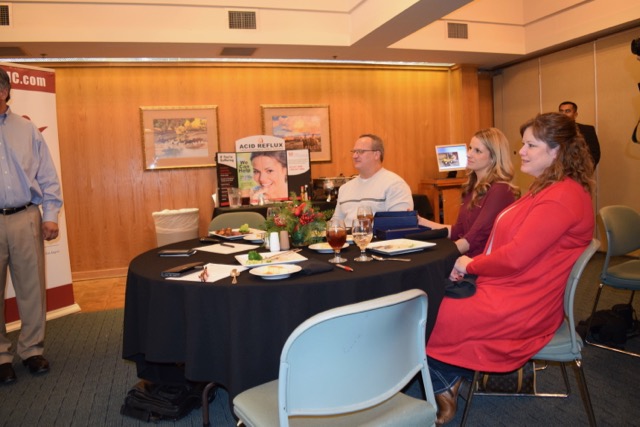 However, Dr. Ihde said the problem with medications is that they mask the system rather than fix it.
"So they're very effective at controlling symptoms, but they do not treat the base cause," he noted.
About 79 percent of reflux sufferers still suffer at night and have problems during the day because they are chronically fatigued. Also, about 45 percent of the time, they have breakthrough symptoms.
Dr. Ihde said when medicines for reflux first came out, they were figured very safe, but soon problems started to arise, including risks to kidneys. People who have stints can also have heart attacks.
For people who do engage in medical therapies, they should not do so for more than six months. If problems persist, surgery is necessary. 
Surgical therapies alter the anatomy to change the mechanics; place the GE junction in a positive pressure environment; repair a hiatal hernia; and create a flap valve system.
"Surgery looks at the root cause of [the symptoms] and attempts to repair [them]," said Ihde.
The primary reason people go to Dr. Ihde for surgery is because they stay awake at night and are fatigued.
TIF is one of the most successful options in treating GERD. Dr. Ihde said the procedure has been out on the market now for 10 years now.
"But it takes about 10 years for something in medicine to become common knowledge," he added.
A Procedure of Success
As stated, Dr. Ihde started doing the procedure in the Dallas Metroplex area, and early on, became one of the more frequent users of it. Now he's reached 600 patients with a high rate of success.
"I still have patients in Dallas who still call me who want to get a check-up," he said with a smile. "I've been very pleased with the procedure."
Dr. Ihde said he has also been very pleased in San Angelo and bringing the procedure here. SACMC has been very supportive, he noted.
"We continue to have similar success here," he said.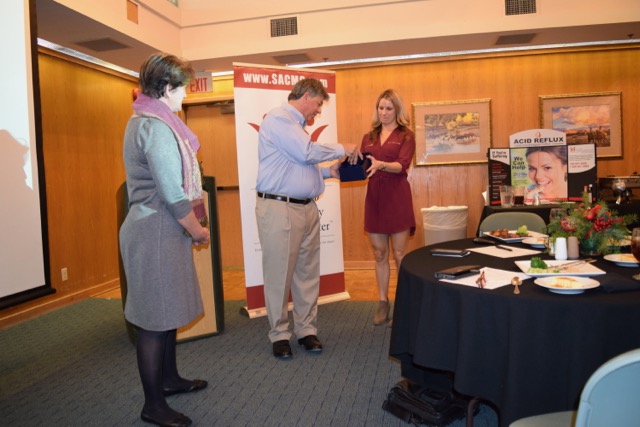 Sheryl Pluger, director of Marketing & Business Development at SACMC, congratulated Ihde for reaching his 600th procedure.
"And we're glad we snatched you from Dallas," she added as Dr. Ihde accepted a glass plaque with his honor inscribed on it.
According to Pluger, Dr. Ihde has participated in several clinical research projects and has published seven peer reviewed papers, which include the TIF procedure, gastroesophageal junction assessment, hiatal hernia measurement and repair.
Patients who are suffering from reflux symptoms can contact SACMC's heartburn center at (325)947-6888, or visit www.sacmc.com/heartburn.
Get more stories like this by
signing up for our daily newsletter, The LIVE! Daily
.