WATCH: Dalton Domino Draws Huge Crowd to Blaine's Pub and Announces Local Pop-Up Concert
SAN ANGELO, TX -- The Texas Country Star out of Lubbock, Dalton Domino, packed Blaine's Pub on Saturday Night.
Dalton Domino has been on the Texas County Scene since 2015 and has been at bars all around the country. For obvious reasons though, he constantly makes Blaine's Pub in San Angelo one of his favorite stops.
On November 9, Domino and another Red Dirt artist, Brandon Adams, took the stage with two acoustic guitars and played a set that included older music as well as stuff from Domino's new album "Songs from the Exile."
Here is a video of Domino performing Jesus and Handbags live at Blaine's:
The guys played on stage until close and then according to Domino's twitter the two "stayed up all night either writing songs or driving around throwing eggs at drunk people at patio bars." Domino even gave the San Angelo Police Department a heads up by tagging them in the post.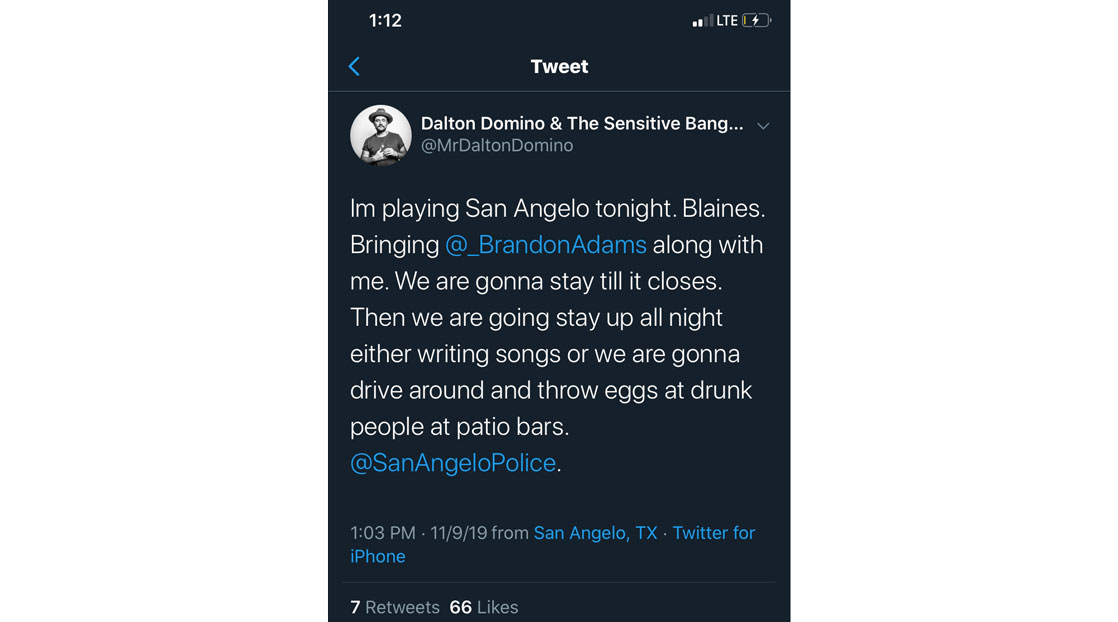 Domino isn't finished in San Angelo just yet though. Sunday Domino put out a letter to his fans that said the following:
"Last night I got to talking with Cody at Blaine's Pub and I've always wondered "why does Blaine's open at 7 a.m.?" And he said in his very natural booming dad voice it was for the nurses and other people who work night shifts around town. Nurses. Cops. Road Crews. Etc etc.
"So we got to thinking, the night shifts need tunes also. And I'm going to be in West Texas ll week. Why not make the night shift folks breakfast, get them a little shaaamaaaamered, and play some songs? Anyways. So that's what I'm gonna do. 7:30 a.m. Tuesday morning. Blaine's Pub. Open to the public. I'd like to shake yall's hands and Play y'all some tunes and say thanks!
"Most folks consider a 7:30 a.m. gig in San Angelo on a Tuesday the end of ropes. I call it a matinee show. See y'all there," Domino wrote.
Domino's pop-up concert will be held Tuesday November 12 at 7:30 a.m.
Get more stories like this by signing up for our daily newsletter, The LIVE! Daily.