Report: "Coronavirus" Poster Prank Led to Armed Confrontation in Dorm Room at Angelo State University
SAN ANGELO, TX – New details have emerged about a prank said to be racist that led to an armed confrontation during a dorm room brawl at Angelo State University.
As exclusively reported by San Angelo LIVE! on March 27, officers with the Angelo State University Police Department were dispatched to Texan Hall on campus for the report of a fight. That day, two men were arrested but now Tom Green County Attorney Chris Taylor said both parties refused to press charges.
According to the police report provided by the county attorney, the fight started when Jihan Kim, 23, returned to his dorm to find a number of posters that informed what the symptoms were for COVID-19 taped to his door. Kim quickly found out that his roommate, Michael Luna, and another person in the dorm, Shane Stumpf, 20, had placed posters on his door. 
Kim is an international exchange student from South Korea. Asia is the epicenter of the COVID-19 pandemic and the multiple "coronavius" signs could be interpreted as an attack on Kim because of his nationality and race. Apparently it enraged Kim.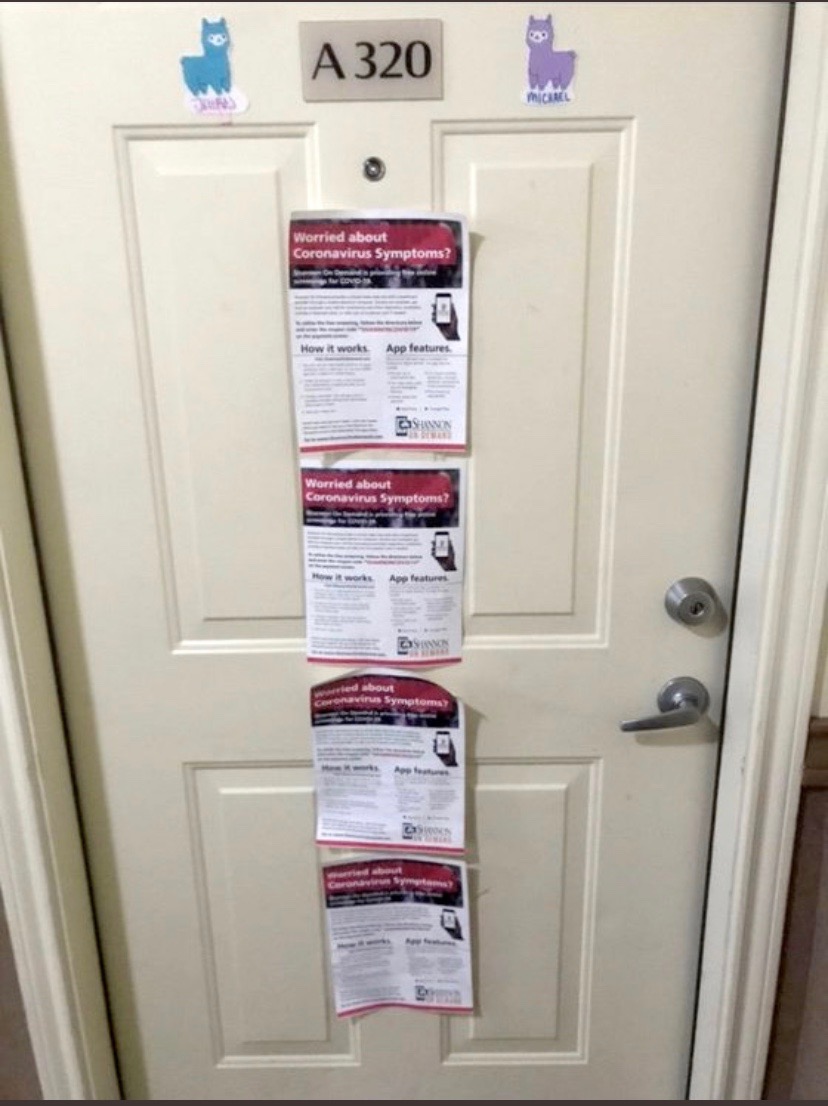 Above: Multiple "Coronavirus" warning signs were taped to an international South Korean student's door, enraging him. (Twitter)
Kim went to confront Stumpf, who was in his own dorm room with his girlfriend. Upon Kim's arrival, the initial fight ensued. To end the fight, Stumpf was able to push Kim out of his dorm room and lock Kim out. Kim returned minutes later and kicked in Stumpf's door. The police report accused Stumpf of pointing a loaded 12-gauge shotgun at Kim as he gained entry in Stumpf's dorm room. Kim quickly left the room at this point.
 "The threat from the gun was too scary," Kim told a Korean newspaper.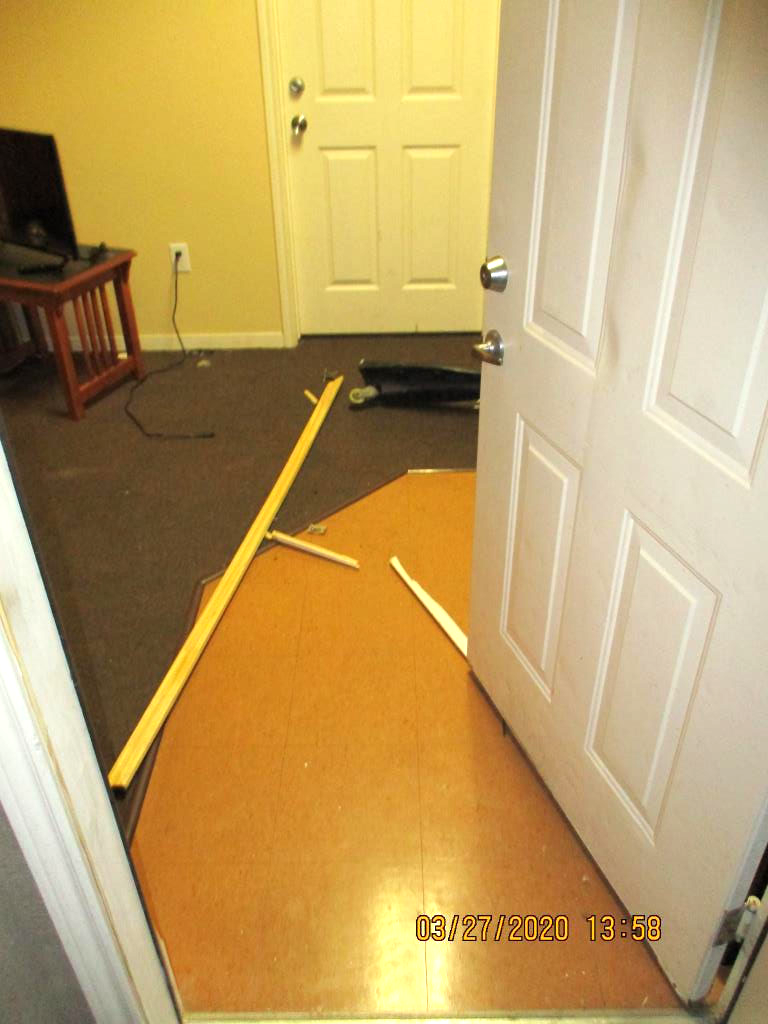 Above: Pieces of the broken door frame where Kim broke in Stumpf's dorm room was shown in evidence photos. 
Stumpf's roommate, Luna, was the first to call police to notify them about the fight. He met them in front of Texan Hall as police arrived. Police learned from him that the fight happened in Stumpf's room inside of Texan Hall and that a firearm had been used. When officers approached Stumpf's room, "with firearms at a low ready position," they discovered Stumpf was inside with his girlfriend Sarah Bridges. Stumpf did not have a shotgun drawn when police saw him. 
Police ordered the two to put their hands in the air and to slowly exit the room. A search or Stumpf and Bridges uncovered two pocket knives that were found in Stumpf's pockets. Police called an ambulance in to treat Stumpf who was bleeding from his nose.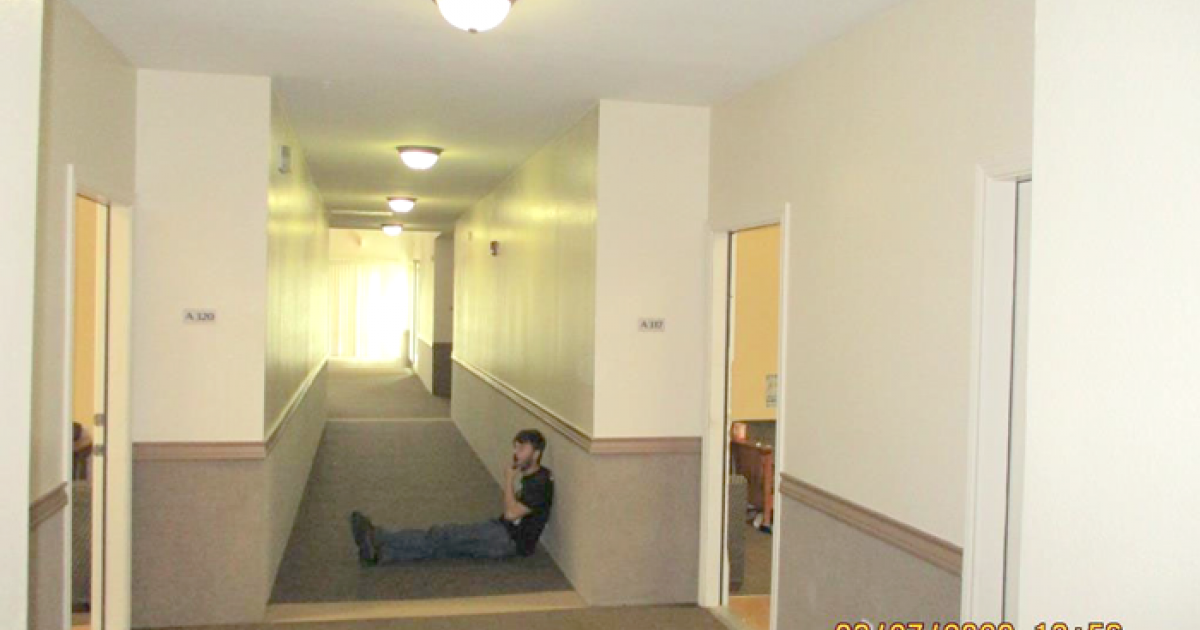 Inside Stumpf's room, officers located a loaded Winchester 1300 12-gauge shotgun. Police unloaded the shotgun and secured it. During the search of the room, officers also found an empty pistol holster. They later found the .22 cal pistol that was usually holstered in it in Stumpf's jacket pocket that was left inside Bridges' dorm room on another floor of the same building. 
Another piece of evidence found in Stumpf's room was a drawing of a KKK figure with a burning cross and in front of a Confederate flag with the text stating, "I go for Jim Crow."  Officers also found a confederate flag hanging on a wall inside Stumpf's room. 
Police located Kim in the Residents' Assistant (RA) office. Officers searched him, checked his injuries, and then detained him. All four subjects, Kim, Stumpf, Luna and Bridges, were then taken to the ASU police station for questioning. 
Following the interviews, Kim and Stumpf were booked into the Tom Green County Jail for assault that causes bodily injury. Kim was also charged with criminal trespassing of a habitation. Both were released on bond the same day.
The Texas Legislature passed a law allowing concealed carry of handguns on public university campuses in Texas in 2016.
Angelo State University's most recent revision of the rules of having a firearm on campus was made in June 2019.
"Angelo State University requires that students living in university residential facilities who possess a valid CHL or LTC [License to Carry] and who possess a handgun in that facility must secure, at the permit holder's expense, the firearm in such a manner that it is not readily available to anyone except the permit holder," the policy states.
The minimum age to have a LTC in Texas is 21. Stumpf is 20 years old.
State law allows a person to defend one's self with a firearm in self defense if the other person, "unlawfully and with force entered, or was attempting to enter unlawfully and with force, the actor's occupied habitation, vehicle, or place of business or employment."
Angelo State University would not comment on the incident Wednesday when this story broke.
Friday, ASU spokeswoman Rebekah Brackin said, "Angelo State University is proud of our diverse student body and seeks to ensure that everyone in our community is treated with dignity and respect. We have zero tolerance for violence or discrimination. We know that the vast majority of our students are committed to the university's values—including creating a safe and secure environment for every member of our campus community, regardless of their backgrounds or beliefs."
 
"While we cannot comment on this case, the university has in place a disciplinary process for student conduct matters," she said.
The matter will be settled internally at Angelo State. "Both parties to the incident have been contacted and do not wish to pursue charges," County Attorney Chris Taylor said.
Get more stories like this by signing up for our daily newsletter, The LIVE! Daily.