Racist 'Coronavirus' Posters Plastered on Dorm Room Door Led to Angelo State Brawl, Some Say
SAN ANGELO, TX – A dorm brawl has caught global attention after the Korean international student at Angelo State University claimed he was jailed after being racially discriminated against and attacked.  
As first reported by San Angelo LIVE!, on Friday, March 27, officers with the Angelo State University Police Department were dispatched to Texan Hall on the campus for a report of a fight in progress. As a result of the fight, police arrested two men. Jihan Kim was arrested for assault causing bodily injury and criminal trespassing. Shane Stumpf was arrested for assault causing bodily injury. Both were booked into the Tom Green County Jail Friday and were released shortly thereafter. 
The incident has garnered worldwide attention after being reported on San Angelo Live!.
Much speculation has spread around social media regarding why the fight took place. A report in a Korean newspaper, 국제, claims the Korean student was a victim of racism. The paper claims that on Friday, Kim returned to his dorm where he found multiple "coronavirus" posters taped to his door. The photo of Jihan Kim's dorm room door showed multiple signs that warned of COVID-19.
South Korea, close to the pandemic epicenter in China, felt the impact of the novel coronavirus COVID-19 pandemic sooner than the U.S. and certainly sooner than Tom Green County where only nine cases have been detected. One can decipher why taping multiple coronavirus warning posters to a Korean international student's dorm room door could be offensive.
According to Korean reports, Kim suspected Stumpf to be the sign prank culprit and so he went to confront him. During the confrontation, Stumpf is alleged by the paper of pulling out a long rifle, and pointing it towards Kim as well as assaulting him. 
"The threat from the gun was too scary," Kim told the Korean paper. 
A Korean reporter researched Kim's opponent online and found that Stumpf was an aspiring country music singer who publishes a YouTube channel where some videos display Stumpf singing with the Stars and Bars, the Confederate Battle Flag, in the background. This heightened the paranoia in the Korean community about anti-Korean racism at Angelo State University.
"The white boy posted a video of his guitar and singing on his YouTube account, with the Southern Allied flag appearing in the background each time. The Southern Union Flag is considered a synonym for racism in the 20th century. With the frequent use of KKK's clan (KKK) and the like, the meaning of the Southern Allied Forces has become synonymous with far right and discrimination," the Korean newspaper reported. This is a rough translation of the report from Google Translate.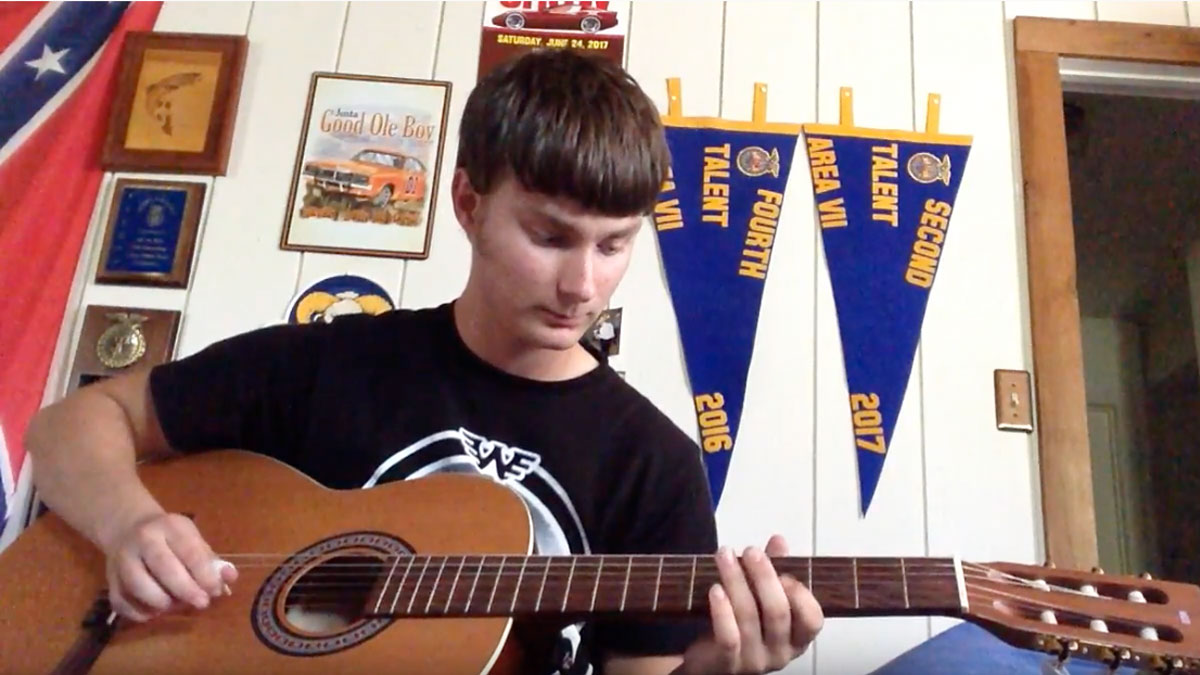 Above: Shane Stumpf sings in front of the Confederate Battle Flag. (YouTube)
While our reporter was at the scene on Friday, ASU police rounded up several subjects and transported them to the ASU Police Station presumably for investigative interviews. During the course of those interviews, the two students were booked into the Tom Green County Jail. 
According to the Angelo State University Housing Handbook, "Texas state law prohibits weapons on all state property including Angelo State University. In the residence halls, weapons are defined as but not limited to: handguns, shotguns, rifles, stun guns, air soft guns, paint guns, pellet guns, darts, switchblades, knives (excluding standard pocket knives), bows and arrows, explosive devices, and designated martial arts equipment. Ammunition for any type of firearm is also prohibited." 
From jail records, Stumpf was charged with assault causing bodily injury, a Class A Misdemeanor that carries with it a maximum penalty of a year in jail and a $4,000 fine. Kim is also charged with assault by causing bodily injury as well as criminal trespassing, a Class B Misdemeanor with a fine up to $2,000 and a jail term up to 180 days.
Angelo State University claimed they are aware of the situation but are not willing to comment on an open investigation.
No arrest affidavits have been released. County Attorney Chris Taylor refused to release any documentation on the arrests, asking us to check back tomorrow. The Tom Green County Clerk and District Clerk did not have any information about the arrests made on Friday.
In late 2011, Angelo State University and Sejong University in Seoul, South Korea, signed an agreement establishing a program that at the time was designed to attract 100 new Korean students a year to the Angelo State campus to complete their undergraduate degrees. The program began in the spring of 2012. Today, there are approximately 260 international students attending Angelo State University, according to CollegeData.com. A large portion of those students are from South Korea.
Get more stories like this by signing up for our daily newsletter, The LIVE! Daily.