Fights, Debauchery, and Gunfire Plague Neighborhood, say Business Owners and Residents Near Notorious Bar
SAN ANGELO, TX — Witnesses are unwilling to publicly go on record because the 20-something-year-old proprietor of Club Studio in the 2400 block of Vanderventer Ave. is intimidating them, they said.
"The owner came to me to told me to back off because I was hurting his business," one witness said. The witness is a manager at a nearby business and said she felt intimidated during the confrontation. "I have it all on video," she said. But there was no sound.
Every Saturday night for the past two weekends, Club Studio held "fight night." The MMA-style live fights are quite a hit, according to business owners and residents living and working nearby. Both nights these past two weeks were punctuated with gunfire in the parking lot, according to multiple witnesses.
"At about 12:45 a.m. after several previous fights, there were about 50 people in the middle of the parking lot near the ATM in front of Asian Market. A large fight broke out. And I called 9-1-1," one witness said. "While on phone, shots were fired. Seven police officers showed up here in seconds."
The complaints are made to authorities, but those complaining say authorities are doing little. Police didn't arrest anyone for firing a handgun that night. But the next morning, you could see a blood stain in the parking lot.
WATCH: Police investigate Saturday night at the Club Studio parking lot
At the other end of the shopping strip center, where La Chilanga's went out of business months ago, Bekim Zeka is investing money remodeling the former Mexican food place to be a sports bar that will serve pizza. He said he has applied for a liquor license.
"I'm really scared it's going to affect me and my investment. I have over $120,000 invested here, " Zeka said.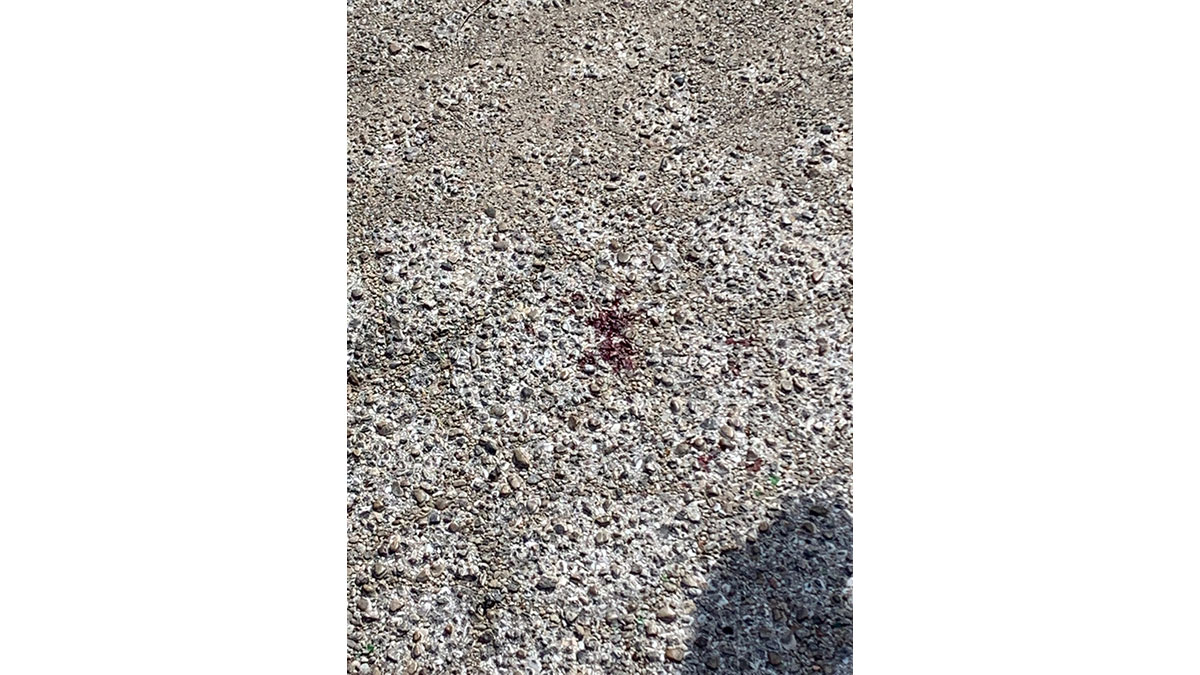 Above: Witnesses say this is a blood stain in the Club Studio parking lot as seen Sunday morning. (LIVE! Photo/John Basquez)
He claims the party next door included debauchery in the parking lot. "We find thongs, we find bras, and we find everything. I could video record people having sex in the middle of the parking lot," Zeka claimed. He wondered aloud if it was prostitution going on.
"What is disturbing is we have college students. These are people coming here from all over the country to attend Angelo State University. I think we should provide them with a better education than what is happening right here, right across the street from the main campus. It's right in front of the college, in front of their living facilities. This shouldn't happen," Zeka continued.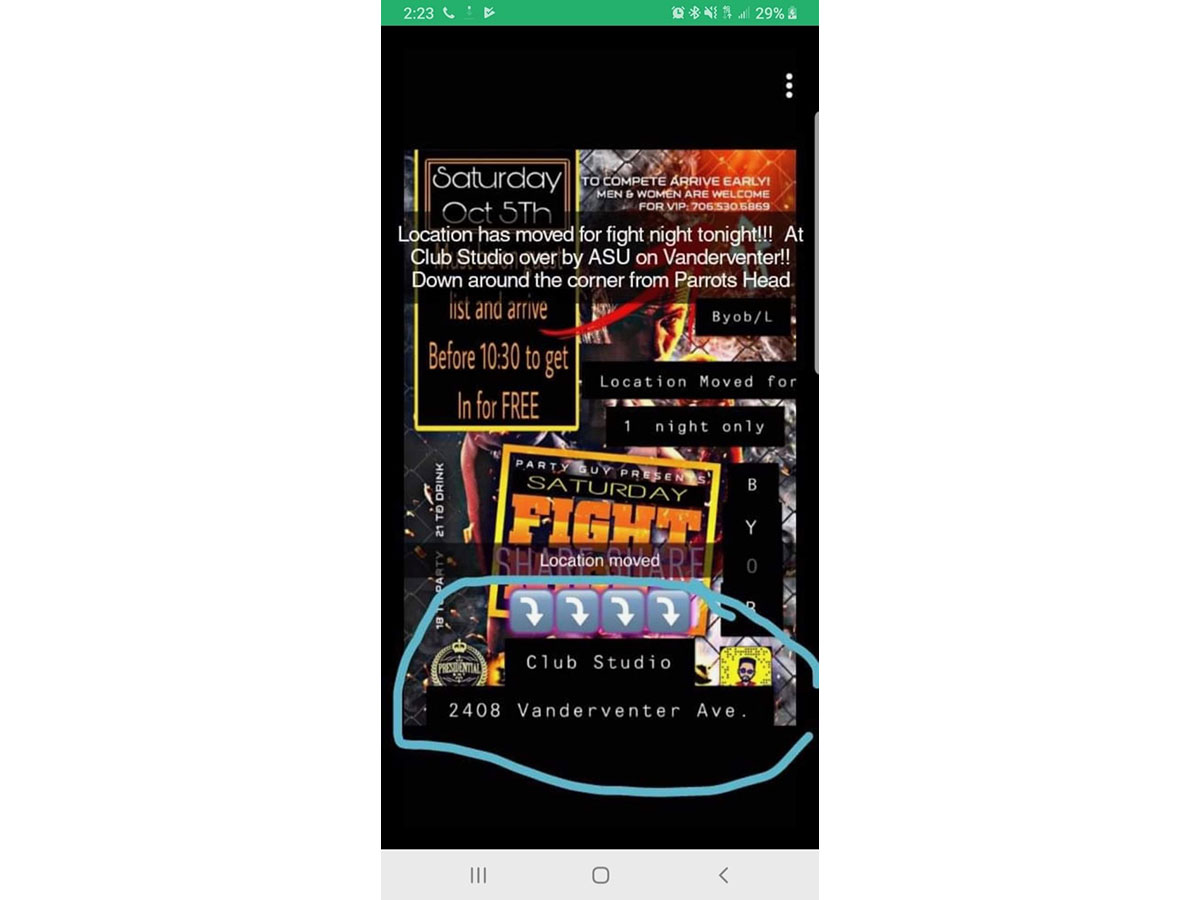 Above: The fliers as seen on Snapchat promoting the fight night. 
Residents at the apartments next door claimed the revelers take their parking spaces during the "fight nights." Last Saturday, the apartments next door hired Dusty Thompson to tow unauthorized vehicles from the apartment's premises. We couldn't verify if any vehicles were towed. Wrecker operator Thompson told us his attorney advised him not to talk to San Angelo LIVE! reporters. Thompson is in under indictment for an unrelated incident involving cattle rustling.
The apartment residents we talked to said the music is so loud that it vibrates their windows. "We've made multiple complaints to San Angelo police and they do what they can," one resident said. But as of now, the problem continues unabated.
Angelo State University Police referred us to the ASU public information office that said they are aware of the problem.
The San Angelo Police Department said they responded to two calls Saturday night and early Sunday morning at Club Studio. It was formerly known as Club Masquerade. The first call was for a hit-and-run vehicle accident at 11 p.m. Police said they finished their investigation and departed the location by 11:41 p.m.
A second call to police was made at 11:59 p.m. Saturday night for an intoxicated subject. Police said they cleared the scene by 12:59 a.m. Sunday morning, one hour later. They arrested Ronald Roberts for public intoxication.
The owner of another bar around the corner, The Parrot's Head, said police were stationed outside his door for a while early Sunday morning. "I believe they were looking for someone," said owner Brad Van Zandt.
Van Zandt said once he heard there were shots fired in the Club Studio parking lot Saturday night, he put a bouncer at the door to deny entry to his club and notified everyone inside what was going on outside. Van Zandt is weary of what is happening behind his establishment. He said there have been at least two Saturday nights when gunfire was heard coming from the Club Studio parking lot.
"It's drama, drama, drama," he said. "Junk and drama."
Van Zandt said he believed the 18-and-up door policy at Club Studio is leading to under-aged drinking. "There's probably 16 year olds drinking there, too," he said.
Bars and establishments serving liquor, beer and wine often bristle about the uneven enforcement capabilities of the Texas Alcoholic Beverage Commission, or the TABC. Van Zandt didn't tell us this, but because of his bar's popularity and proximity to the university, he is likely highly scrutinized for serving minors by the TABC. Texas law sets the drinking age at 21 years old and up and most college students are too young to drink legally. Parrot's Head has not had a violation reported this year, according to a TABC records search.
Over at Lillie's Pizza, Zeka frets over what impact Club Studio will have on his prospects for obtaining and retaining a license to sell beer.
"When the bar is open, it takes over the entire parking lot. And then the next morning you have a giant mess everywhere. It's empty liquor bottles. And what about my ability to get approved for a liquor license? What if the TABC finds liquor bottles with no tax stamp on my side of the parking lot?" Zeka asked.
Zeka and others said they see attendees of the "fight nights" entering Club Studio with ice coolers, presumably containing alcohol. The fight nights are advertised as BYOB.
A former Angelo State basketball player named Kiair Crouch promotes Club Studio. He is not currently enrolled at Angelo State but was listed as a senior guard for the 2018-19 college basketball season. The strip center is managed by Van Winkle and Womack Real Estate. Zeka and others said they have told the landlord about the problem. So far, nothing has been done.
Mollie Van Winkle said she is aware of the complaints and is attempting to find a solution. She said she is in contact with the attorney of the party that owns the property.
"If anyone sees any illegal activity, please report it to police to help us. We don't condone any illegal activity," Van Winkle said. Police reports will help her, she said. "We want to be good neighbors."
"We are attempting to remedy the situation in a timely manner," she said.
Get more stories like this by signing up for our daily newsletter, The LIVE! Daily.