San Angelo Woman Who Hinted What She'd Do, Indicted for Capital Murder
SAN ANGELO, TX — Courts in two west Texas counties have now indicted Kristen Jennings, accusing her of capital murder in Tom Green County and Burglary of a habitation in Taylor County.
Kristen is identified by her maiden name, Dean, in Taylor County, and by her married name of Jennings in Tom Green County. Her legal trouble involves a custody dispute over her daughter. She shared custody with her ex-husband Eric Torrez. Torrez went missing July 21 and was found dead days later with a gunshot wound in the head.
Kristen hinted to her friends what she was going to do through a series of Facebook posts throughout the summer where she seemingly was crying out for attention because the custody dispute and what she called abuse by her ex-husband.
She claimed Eric Torrez was abusive, and had assaulted her last October. She claimed he was keeping her daughter away from her and that she was only attempting to get her daughter back when Torrez assaulted her.
"The abuse case with my ex that happened in October is coming up for trial on the 18th…. with that weighing on my mind and the possibility of getting my daughter back the suspense is killing me can't sleep at night so sleep," Jennings wrote on Facebook July 12. Her Facebook profile has been taken down since her arrest in August for murder of her ex-husband.
Two days before Torrez went missing July 21, Kristen Jennings posted that she was "seriously done with the 'legal' way of doing this" and that she was "Just done done done!!!!!"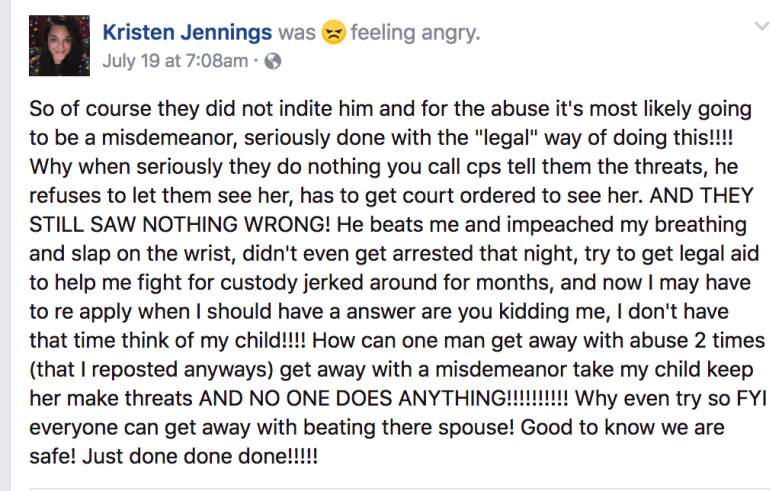 Above: Kristen Jennings' Facebook rant on July 19, two days before Eric Torrez went missing.
Kristen Jennings was served her indictment from Tom Green County in an Abilene jail Oct. 12, where she facing charges there, too. She is indicted for Capital Murder by Terror/Threat in Tom Green County for the death of Torrez. She is also facing charges of Aggravated Kidnapping, a first-degree felony for luring and then keeping Torrez tied and bound here.
In Taylor County, where Jennings showed up at Torrez's mother's home to reportedly take her daughter back July 21, she is indicted for burglary of a habitation. The Taylor County indictment states Kristen forced herself into Torrez's mother's home, and began to argue about her daughter. During the course of the argument, Kristen Jennings pushed her daughter's grandmother to the floor, "causing her arm and knee to strike the floor, causing pain."
John Best, the 119th DA, is prosecuting this case. Her court-appointed attorney, Kirk Hawkins, represents Kristen Jennings.
For more details on the others indicted in this case, click here.
For details on the crime itself, see "Details on How Five Individuals Conspired To Commit the Murder of Eric Torrez "
Get more stories like this by
signing up for our daily newsletter, The LIVE! Daily
.