Texas Rangers Arrest Two Wanted Fugitives
Press Release
SAN ANGELO, TX - This evening, Sgt. Justin Baker with the Department of Public Safety officials announced the arrests of two fugitives arrested in Bronte: Eric "Sleepy" Estrada and Sabrina Garcia.
Estrada, 35, of Bronte, was wanted in connection with a Feb. 4 aggravated assault with a deadly weapon case in Menard County. Garcia, 32, of San Angelo, was wanted in Tom Green County for probation violation, said Baker.
"Based on investigative information, DPS located Estrada at a residence in Bronte. Estrada surrendered and was taken into custody by Texas Rangers," he said. "Later, a search warrant was obtained for the residence, which led to the arrest of Garcia, who had refused to come out."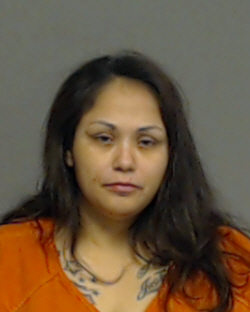 Above: Sabrina Garcia
Baker added that both Estrada and Garcia were arraigned in Coke County.
"Estrada was transported and booked into the Menard County Jail," he said. "Garcia was transported and booked into the Tom Green County Jail."
This is Garcia's 4th arrest in Tom Green County, and her bonds total $45,000.
Get more stories like this by
signing up for our daily newsletter, The LIVE! Daily
.