The Man Who Lost His Leg in Horrendous Lake Nasworthy Boating Accident Faces Long Road to Recovery
SAN ANGELO, TX — It was the afternoon of July 4 at Lake Nasworthy. The day at the lake was winding down for friends on a powerboat. Jeremy Amenta remembers standing on a platform near the stern as the boat approached the shore. Then the boat reversed its direction causing Jeremy to fall into the water underneath the boat near the engine. His leg was caught in the boat's propeller.
What happened is still murky in Jeremy's memory so we pieced together his recollection with what the Texas Parks and Wildlife reported. Jeremy does know that when his leg was severed off just above the right knee, his life changed forever.
Jeremy said he doesn't blame the boat driver or anyone else for the events of that tragic afternoon on July 4 but he does credit three friends for saving his life that day. Dustin and Jeremy Gilbert, and Ronn Jenkins pulled him out of the water and onto the shore that afternoon. They then worked hard and fast applying a makeshift tourniquet to slow the bleeding. Their quick reaction likely saved Jeremy's life.
Above: Jeremy Armenta had just been loaded into the ambulance for a fast ride to Community Medical Center on July 4, 2018. (LIVE! Photo/Sam Fowler)
"These men are my heroes," he said, still standing on one leg in a hospital room at Community Medical Center. Dr. Michael Keezy Boyd and Dr. Robert Alexander worked tirelessly in surgery patching the wound. The severed leg was found a day later in the water and there was no hope of re-attaching it.
Right before Jeremy's friends applied the tourniquet, Jeremy remembers looking down at where his leg once was. The severity of the injury was shocking, he said.
"I thought, this is it, this is the end, and then I passed out," he recalled.
His doctors put him to sleep in an induced coma for a few days. "I woke up hearing the docs asking if I can hear them," he recalled. Then one of the doctors asked him to raise a finger. "I flipped him the bird," Jeremy laughs.
Jeremy said he is no longer in shock and still has a good idea of what happened. He remains on a pain regimen, and his blood pressure is a bit high. However, he did not need as much blood as the experts thought he would. He has since been up and walking around with the aid of crutches.
During our interview, Jeremy reached down to where is leg once was to scratch. "It's a phantom limb," Jeremy explained what his doctors told him. "It's definitely a real thing."
Jeremy's doctors explained to him that many of his nerves believe his missing leg is not yet gone. Nor have his remaining nerves coordinated with his brain that his leg that had been there for 45 years is now gone. The doctors advised him to go ahead and scratch it and act like its there anyway.
"I can still feel my foot, and my foot has pins and needles right now. I've heard of phantom limbs and read about it, but I had never fathomed that it would be this real! My leg really feels like it's still there," Jeremy said.
Now that the trauma portion of his recovery is winding down, Jeremy is looking towards his rehabilitation. He is an electrician by trade and works for Socha Electric. He wants to eventually return to his job, but he is realistic that he faces a long road to full recovery.
Today, Jeremy is interviewing with a rehabilitation center in Abilene to see if they will take him. The facility will require Jeremy to undergo very aggressive physical therapy. Then there is the task of getting a prosthetic leg fitted for him.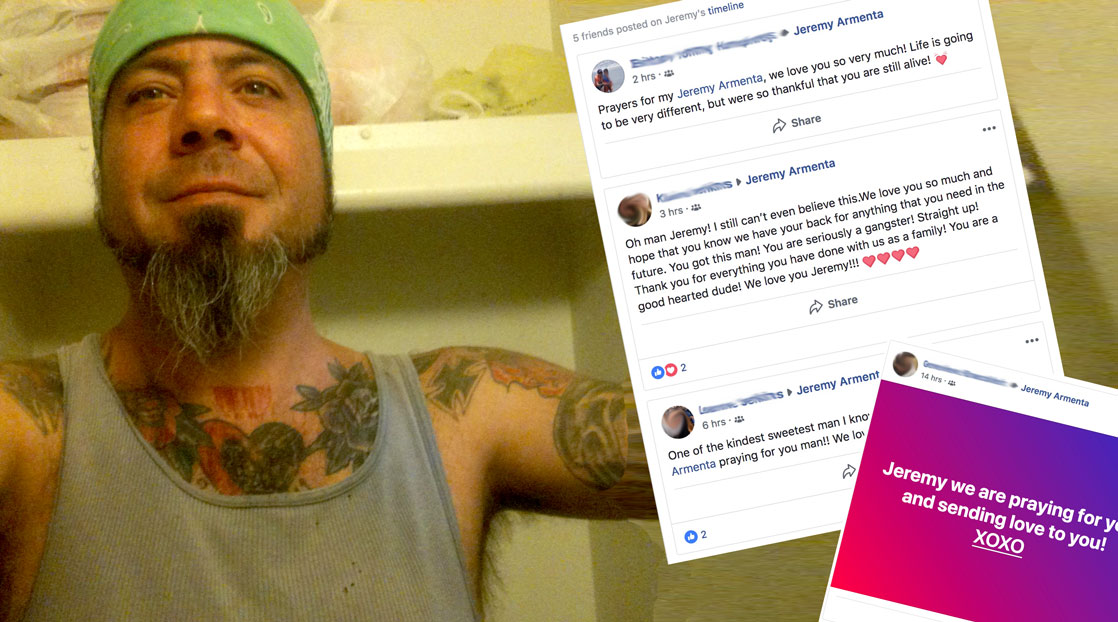 Above: Jeremy Armenta (Facebook)
However long it takes him, he will be out of work for a long time. Meanwhile, therapy and prosthetics are expensive. To aid, friends and families have announced fundraisers and benefits to help get Jeremy back to work where he wants to be.
A GoFundMe webpage is active and as of the date this article had raised $5,585 of its $25,000 goal. You can view the page here.
On July 14, at Lone Wolf Pub, 115 Paint Rock Rd., all bartenders there promise to contribute 100 percent of their tips to Jeremy for his treatment.
On Saturday, Sept. 29 at noon, a benefit is planned at the Knights of Columbus Hall, 3636 N. Bryant Blvd.
Jeremy said he is overwhelmed by the friends and acquaintances who have provided him a support system. These are friends genuinely concerned for Jeremy's well-being and his future and they all keep Jeremy's spirits high.
"Everyone, cherish every moment because you never know when it will be your last day, or when something like this will happen to you," Jeremy said.
Janessa Nuñez contributed to this report.
Get more stories like this by
signing up for our daily newsletter, The LIVE! Daily
.