Motorcyclist Seriously Injured After Being Sandwiched Between a Prius and Freightliner
SAN ANGELO, TX — A 55-year-old man was rushed to the hospital this morning after getting pinned by a Toyota Prius against a Freightliner truck tractor.
The San Angelo police Crime Scene Investigation unit is present at the site of the crash, Bryant and 19th, because the motorcyclist may have extensive injuries, but is expected to live. "He didn't look good, but he was talking," said SAPD Traffic Investigator Stephen Quad, who is heading the crash investigation.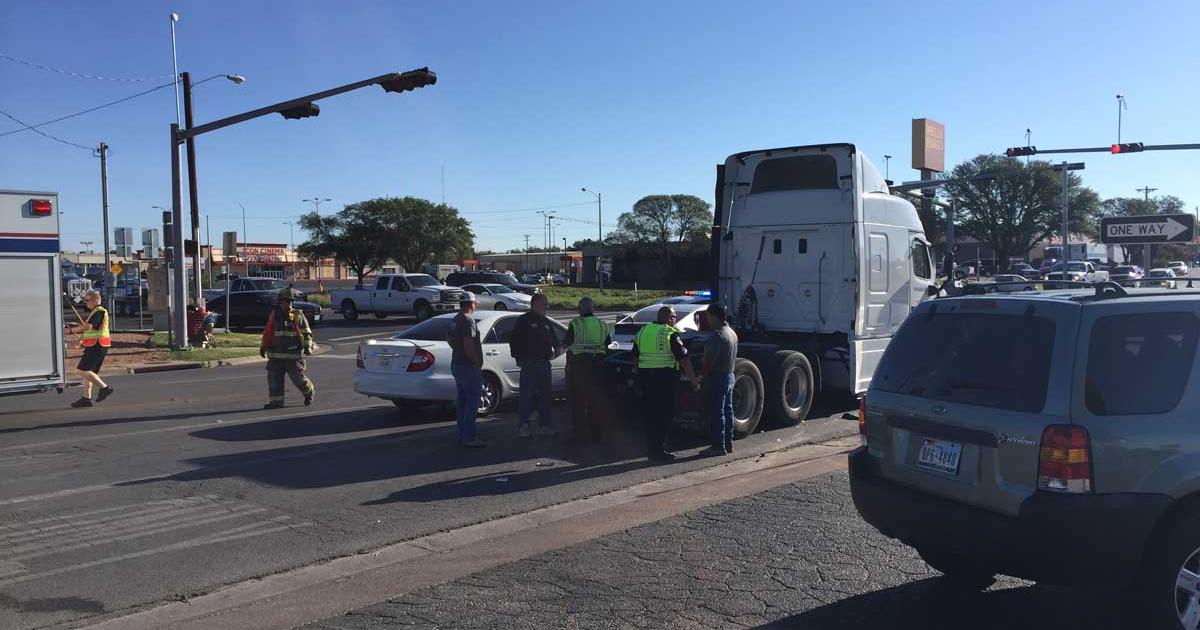 According to Quade, the motorcyclist was southbound on Bryant passing through the 19th St. intersection when a driver of a westbound Toyota Prius ran the red light there and T-boned the motorcycle that was towing a small trailer, and pushed the motorcyclist against a Freightliner truck tractor. A second Toyota was also hit.
The driver of the Prius was cited for running the red light, Quade said.
There were no other injuries. The crash happened just after 8 a.m.
UPDATE: 11:50 a.m.
In a press release issued a few minutes ago, the SAPD released the following preliminary investigation notes: 
"[A] 2010 Honda motorcycle was traveling southbound on N. Bryant when it entered the intersection at 19th Street with a green light.  The driver of a 2011 Toyota Prius that was traveling westbound on 19th ran a red light at the intersection and T-boned the motorcycle, which was towing a small trailer.  The force of the collision caused the motorcycle and it's trailer to spin around and collide with a 2016 Freightliner tractor truck that was stopped at the southwest corner of the intersection.  The Prius then spun around and collided with the motorcycle as well as the front bumper of a 2002 Toyota Camry that was also at the southwest corner of the intersection."  
After further investigation, the SAPD found the motorcyclist to be  a 60-year-old Carlsbad man. He has been transported to Shannon for incapacitating injuries.  The driver of the Prius, a 68-year-old Sterling City woman, was assessed by medics at the scene and released. The driver of the Camry, a 79-year-old San Angelo man, reported minor injury but refused treatment at the scene.  The 51-year-old driver of the Freightliner was not injured.  The Freightliner is owned by C & W Leasing out of Abilene, Texas. 
Get more stories like this by
signing up for our daily newsletter, The LIVE! Daily
.