San Angelo Recovers from Massive Thunderstorms Overnight, More Storms Expected Today
A massive line of thunderstorms rolled over the Concho Valley Monday night and early Tuesday morning dumping four to six inches of rain, the National Weather Service in San Angelo reported.
As the front of the line of thunderstorms flew over Knickerbocker Road, a one-vehicle crash occurred resulting in one fatality, San Angelo police said. The contributing factor was the storm, police said.
Late last night and into the early morning hours, San Angelo Fire Department, police, and volunteer REACT personnel were task-saturated tending to multiple rescues, two at least were in the Red Arroyo creek that quickly became a river of rapids. Over the radio, fire department rescue teams could be heard assessing various situations. "We can't get to it, it's already under three feet of water and rising," was one call. There were a rapid succession of 9-1-1 calls and fire alarms were sounding at a number of businesses throughout town.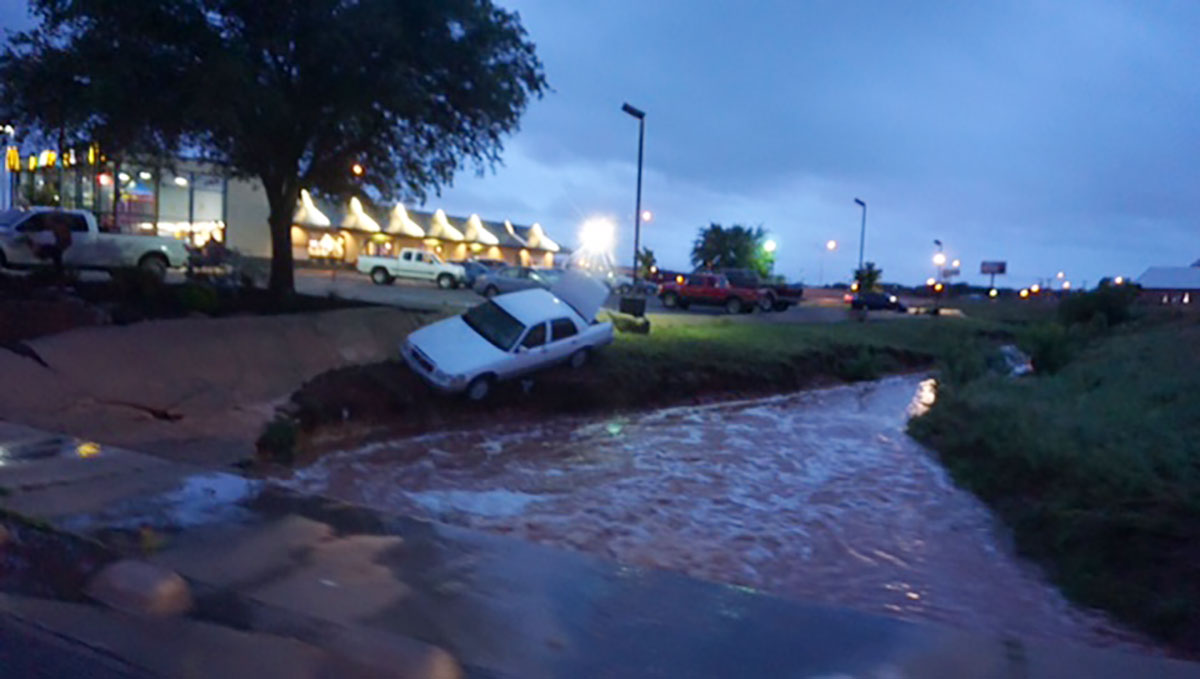 Above: A car that was washed away in the Red Arroyo near the McDonald's on Sunset last night. (LIVE! Photo/John Basquez)
One witness, Nancy Grafa, reported this morning that she saw a car and driver get swept away in flooding near Southwest Drive.
"Around midnight last night, I was watching the rain pour down and the Red Arroyo gushing over the street (I live across the street from that little lake on Sunset), when I saw a vehicle try to drive through the high water running across Sunset Dr.," Grafa wrote.  "The water current was so strong, it swept the car right off the road and into the Red Arroyo!  I grabbed my phone and called 911 in hopes of their rescue.  As I gave my report over the phone, I watched the car float until it went out of sight.  This morning on my way to work, I turned down Forest Trail over by Bowie Elementary, and I saw the vehicle still stuck in the Red Arroyo."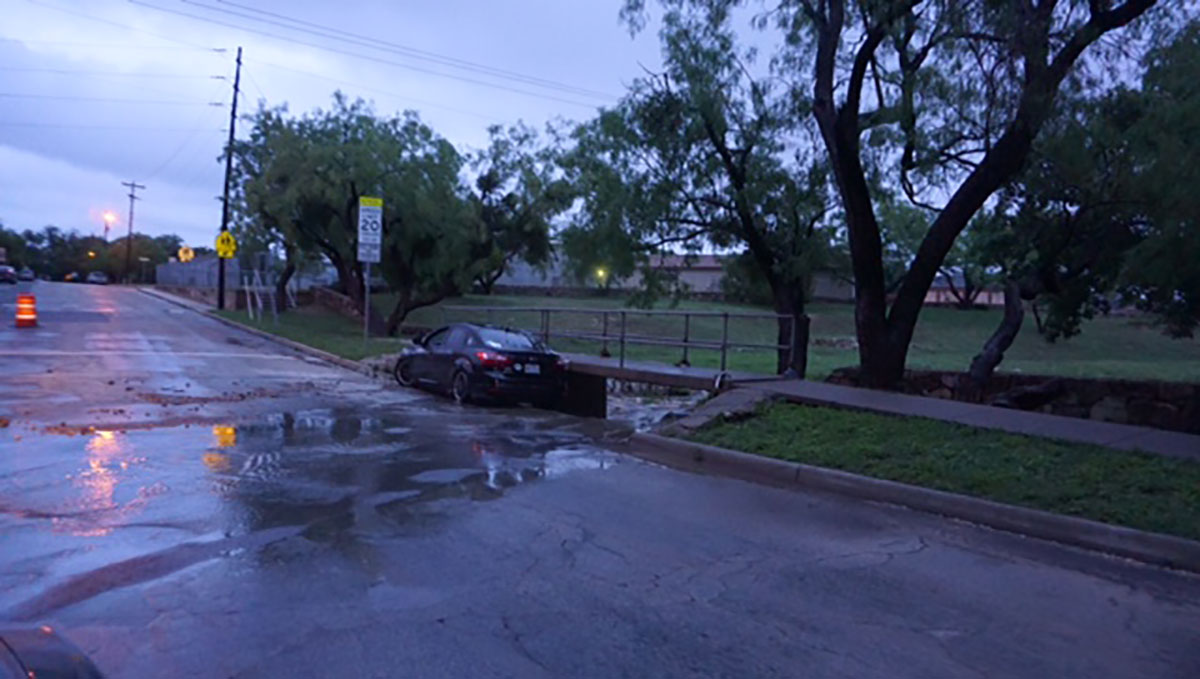 Above: A car at Ave. H and Monroe St. that was stranded last night. (LIVE! Photo/John Basquez)
The volume of calls to 9-1-1 last night challenged the first responders' ability to answer all calls immediately.
This morning, the NWS reported that the Concho River at Bell St. is flowing at the highest rate in the history of recording it—in about 75 years. At Carlsbad, Texas, northwest of San Angelo, the North Concho River is expected to crest at 20 feet sometime this morning. The Middle Concho River near Tankersley, southwest of San Angelo, is also flooding and expected to crest sometime this morning too.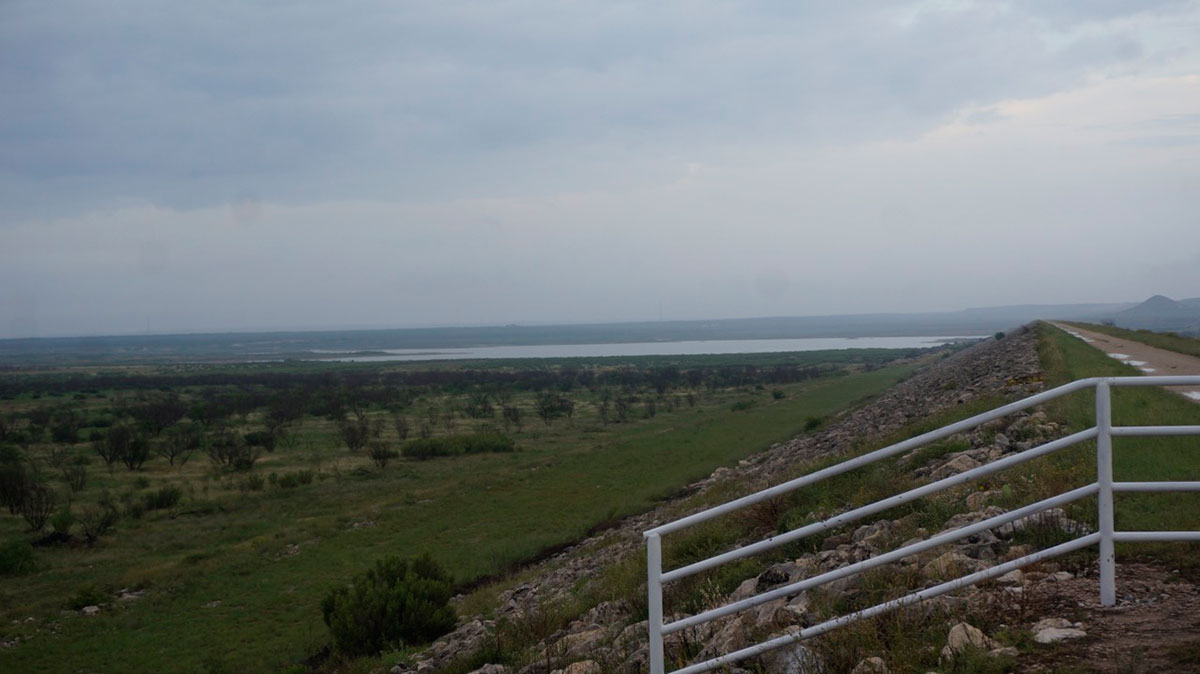 Above: Looking north off the levy at the Equalization Channel at the north pool of Twin Buttes Reservoir. (LIVE! Photo/Joe Hyde)
Mathis Field, San Angelo's airport, was closed last night and American Eagle airline flights this morning were cancelled. The City of San Angelo reported that the first flight today would be at 1:30 p.m.  Elsewhere in the city, the Southside Recreation Center, 2750 Ben Ficklin Road, flooded and will be closed until further notice. There are no events planned today at the center, which is normally open from 3 p.m. to 8 p.m. weekdays. City crews are working to remove the water from the facility.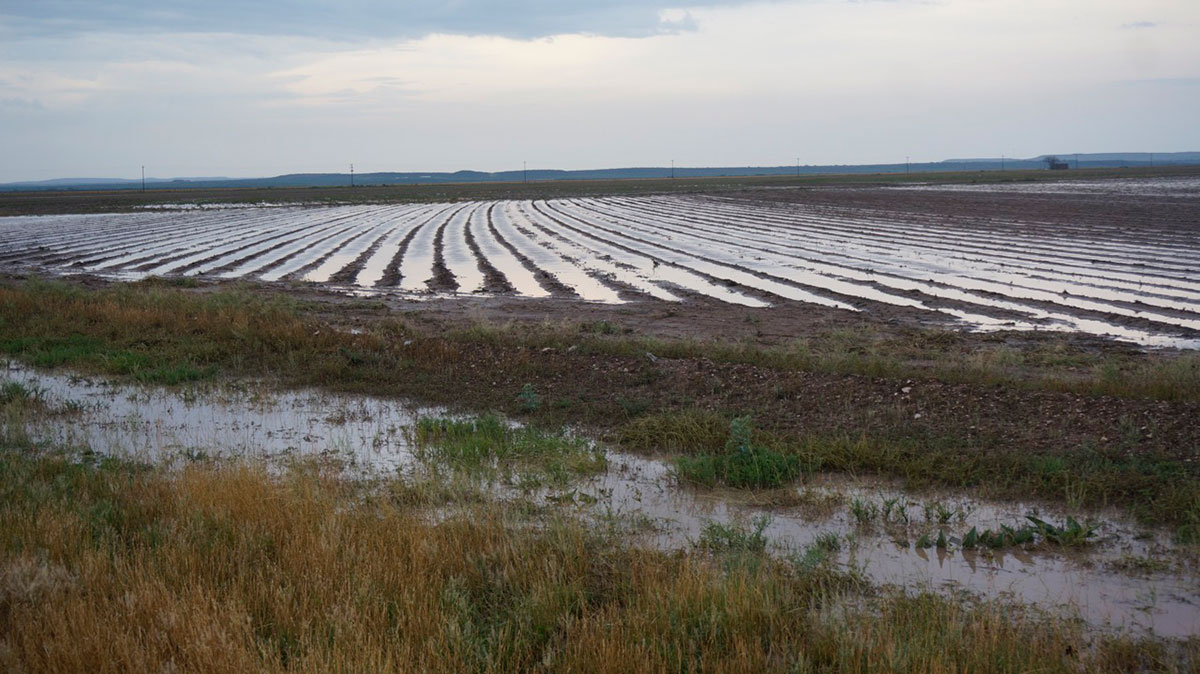 Above: Farmland off Knickerbocker Road in southwest San Angelo after the storms. (LIVE! Photo/Joe Hyde)
The NWS reported this morning that additional severe thunderstorms may develop this afternoon and Tom Green County, and the 12-county region from Ozona to Haskell is under a thunderstorm watch until 7 p.m. Hail, possible tornadoes, and high winds are possible, they reported.
Flash Flood Watch through 7 PM. Additional rainfall amounts of 1 to 3 inches are possible. pic.twitter.com/taoSPgVZVD

— NWS San Angelo (@NWSSanAngelo) May 19, 2015
Get more stories like this by signing up for our daily newsletter, The LIVE! Daily.