Dry Windy Conditions Prompt Fire Weather Watch; Commissioners Consider Burn Ban
SAN ANGELO, TX -- Forecasters with the National Weather Service have issued a Fire Weather Watch for a large part of West Texas for Sunday and Tom Green County Commissioners may issue a ban on all outdoor burning Tuesday.  
According to the NWS, the National Weather Service office in San Angelo has issued a fire weather watch effective from early Sunday morning to late Sunday evening.  Gusty winds of 20 to 25 mph and low humidity between 10 and 20 percent create conditions where any fire that develops could spread rapidly.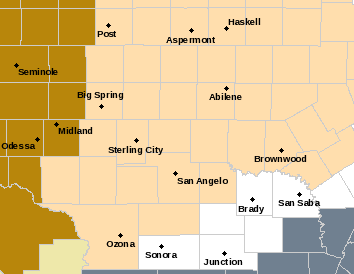 Forecasters discourage all outdoor burning.  A Fire Weather Watch means that critical fire weather conditions are forecast to occur. Listen for later forecasts and possible Red Flag Warnings.
In related news, Tom Green County Commissioners on Tuesday will consider issuing a burn ban as windy dry conditions make outdoor burning hazardous.  The Commissioners Court meets at 8:30 a.m. Tuesday and could vote for a 90 day ban on all outdoor burning.  The Court can lift the ban if weather conditions approve.  
Get more stories like this by
signing up for our daily newsletter, The LIVE! Daily
.