The Great Feeling of Integrating Dreams: Jim and Julia Lane of Horizon Builders
Sponsored Story
Jim and Julia Lane know how to build a house. They know each decision that will have to be made along the way and the various outcomes each of them will have. They know the physical effects each element of design will have on the families that will live there when it is done. 
But before they build you a house, they want to know you.
Why? Once you get to know them, you'll understand.
Jim and Julia Lane have been married for 38 years. They are a team in the truest sense, right to their adjoining offices. Jim's family came to San Angelo in the 1950's and was successful in the commercial pipe business. Julia's family helped found our city. In fact, she is descended from R.A. Hall, whose legacy includes having negotiated with the Santa Fe railroad for the land along the Concho River.  He later donated land to the city. That area along the river today is where the Santa Fe Park Golf Course is situated, and where we drive through to enjoy the Christmas lights.
Jim earned a degree in Real Estate Finance from Texas A&M, obtained his CPA and a broker's license in 1989. So in 1993, when he decided his true calling was building houses, Julia admits it came as a surprise. "When he told me at the kitchen table one morning, I spilled my coffee!" she recalls with delight. "But I knew he wanted to do something on his own. He has always been very creative and very much an individual. So I loved the idea." With that, Horizon Builders was born.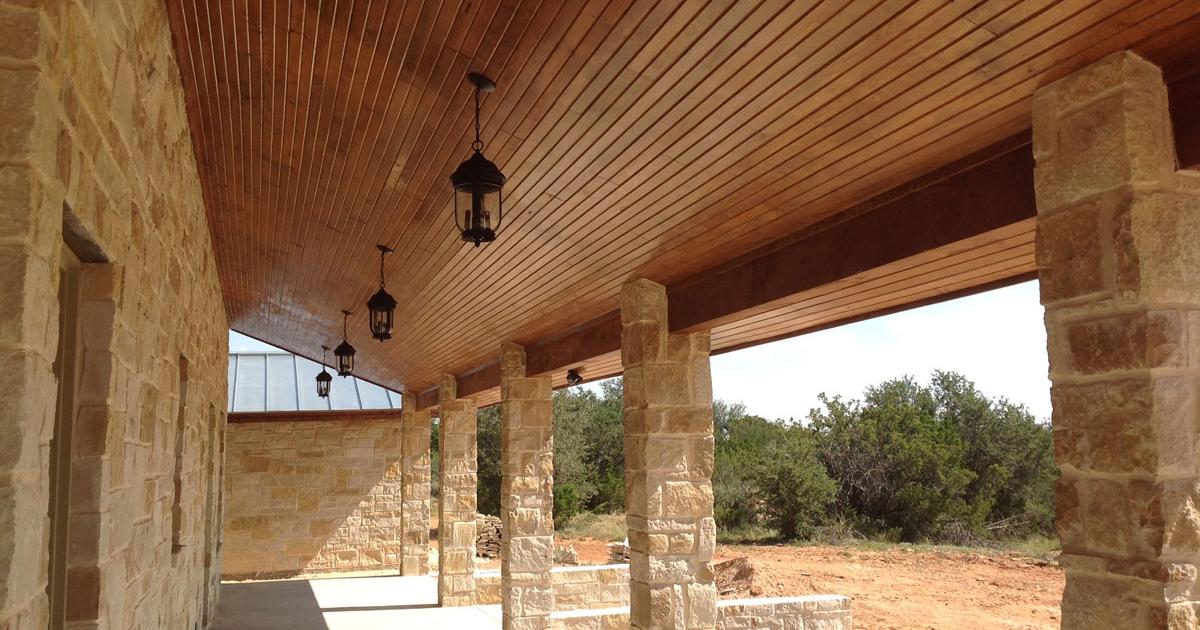 Above: Large back porches designed to allow the homeowners to enjoy the west Texas sunsets. (Contributed/McLaughlin Advertising)
For nearly 24 years Horizon Builders has constructed both inventory and custom homes here in San Angelo. Over time, they have tended to build mostly homes over 3000 square feet in size.  A powerful set of combinations has made them unique.  The first combination is Jim's mind for the analytical combined with his creative talents.  Equally important, is the teamwork between the Lanes.
Jim likes to walk clients through each of the decisions in the planning phase of their home. He helps them see the financial impact each decision will make immediately and over time. He shares his extensive knowledge of all facets of construction, from legal and financial to design and materials. This gives the client peace of mind before the dirt is turned and leads to a happier client when they are living in their new home. 
During the process, Julia works with clients helping with the selection of fixtures, granite, appliances and even color schemes. There are a myriad of choices out there, with new options all the time. Julia enjoys helping clients express themselves and remembers, "We did one home for a large extended family that ended up with 21 different colors on the walls! The best part was it ended up beautiful and lively, like the family itself."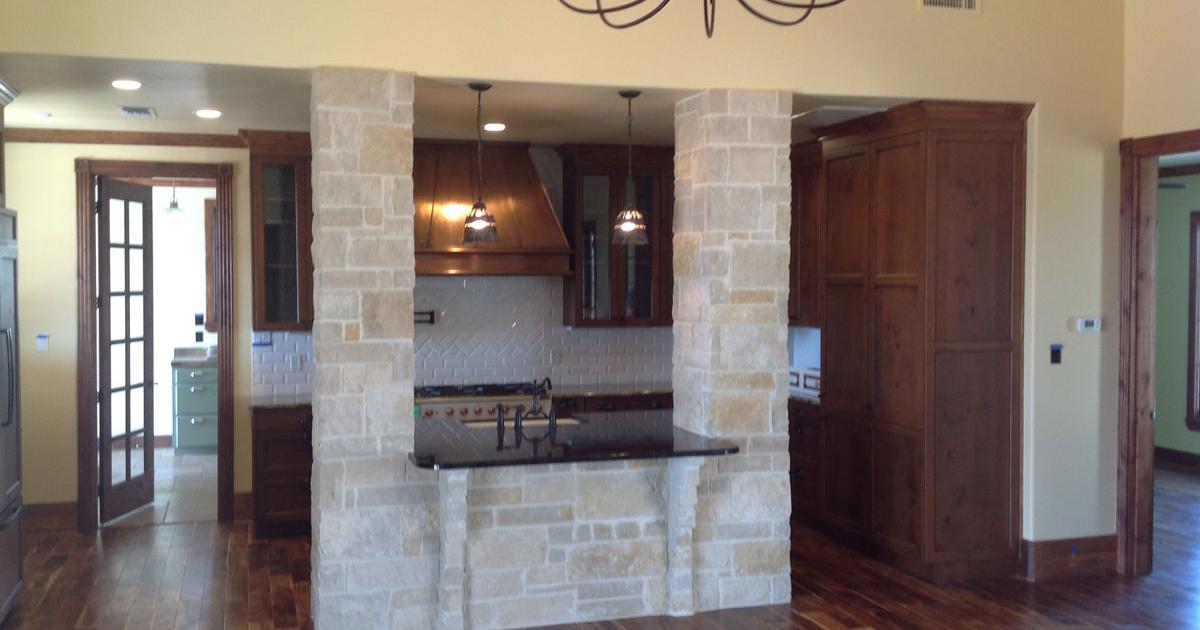 Above: Large, open floor plans with authentic rock accents give Horizon Builders homes a local, more rustic, feel. (Contributed/McLaughlin Advertising)
However, the very first step is a long talk. "Before we ever talk 'house', we like to have a long conversation to learn about the client and their family. We need their perspective," said Lane, "Very few of our physical possessions impact our quality of life like our homes.  It's my job to help you see how each of your choices can make you happiest."
In 2006, not content to rest on his laurels, Jim resumed his education and training to earn certification as a National Association of Home Builders Master Builder. He is the only one in West Texas.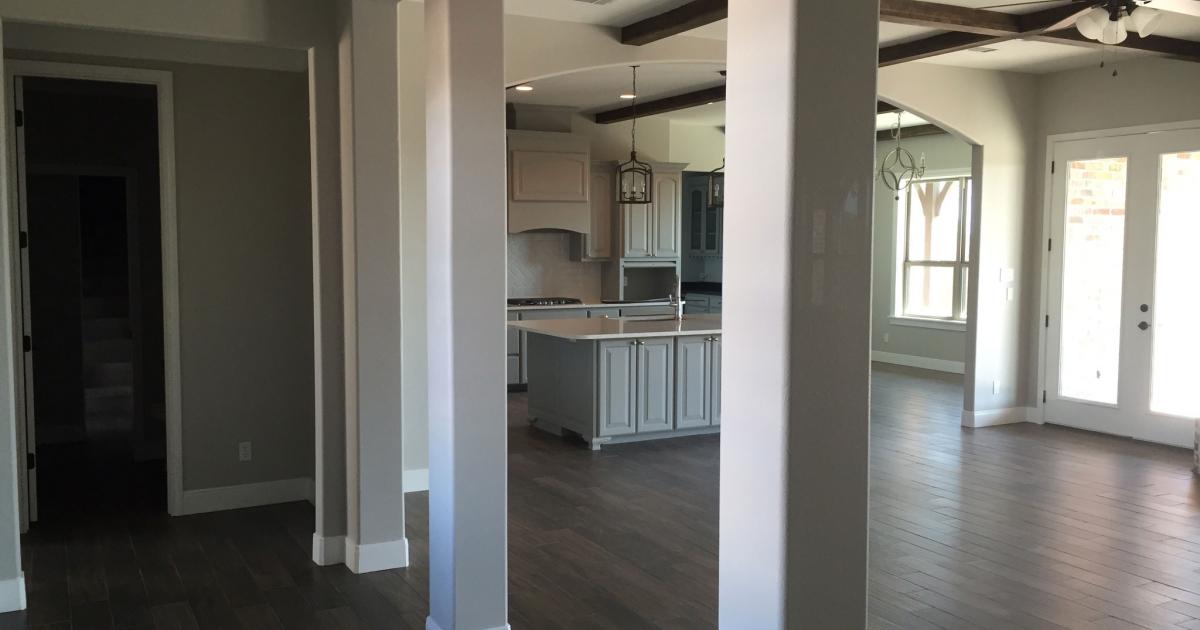 Above: Rounded corners on columns and custom raised ceilings and accents are among the signature traits of a Horizon Builders home. (Contributed/McLaughlin Advertising)
When asked what the best part of their career is, both Lanes are in unison, "It is a huge thrill to integrate someone's dreams into their homes." Lane also said, "It is what drives me to get up, do a good job, and enjoy every day."
"It is a great feeling, and we both get such a charge out of seeing people fall in love with their new home," said Julia.
The Lanes are quick to recognize the sub contractors who round out their team, many of whom have been with them since day one.
Electrician Scott Socha — "He is a third generation electrician, and the second generation of Socha Electric to work with us. A good, good man."
Framer Steve Monreal — " A true professional with a well run crew."
Painter Javier Almarenez —"A perfectionist. He does everything with such diligence and care."
Mason Richard Lawler — "Outstanding work. A true Christian. A man of his word and just one of my favorite people."
Plumber Slater Chappa of Lone Star Contractors —"He always looks for improvement, and is always on the cutting edge of technology and technique."
Roofer Benny Ramirez — "This man walked to San Angelo from Mexico when he was 13. He wanted to work hard and have a better life. Today, he has his 35 year old son as a partner, and his results reflect the value he places on hard work."
Today the Lanes build homes that continue to offer the best combination of practical and affordable as well as customized.
"We make accommodations in the plans for everything from a families heights, to where they want the vents to blow," said Lane. "We have a younger generation who like open plans and cool new media rooms. We even built a home for a musician that included a special 9 by 20 foot cabinet for his horns."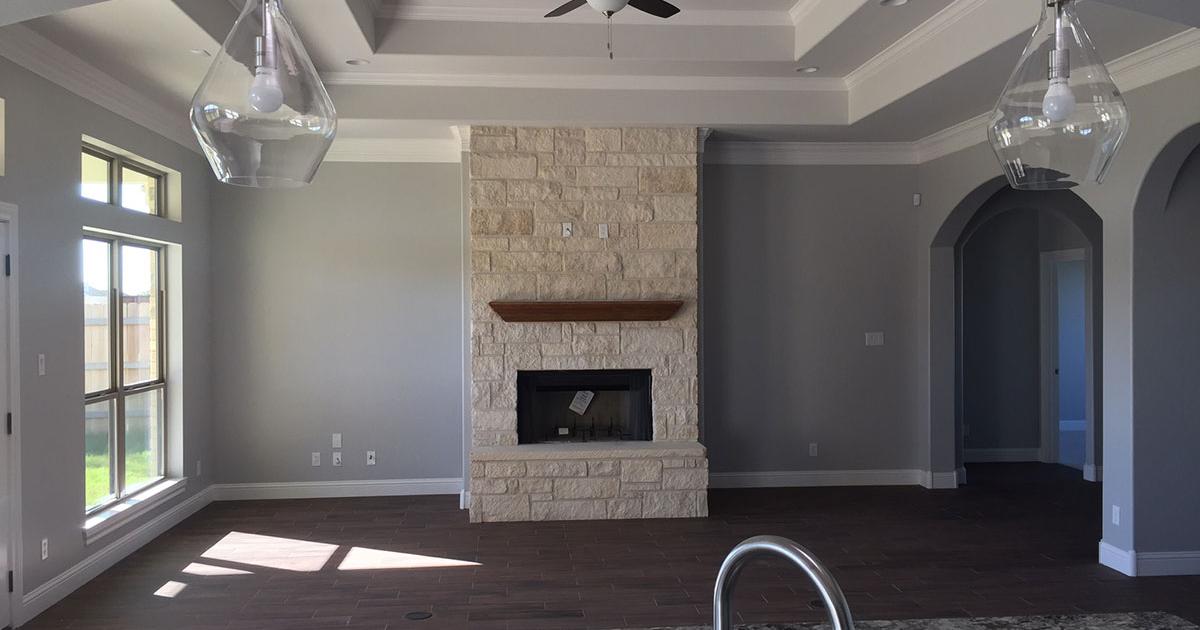 Above: An open floor plan designed and built by Horizon Builders. (Contributed/McLaughlin Advertising)
When asked about one story from their adventures that stands out, Julia relays the following:
"We were building a large and very nice country home for a very discerning client. We were touching up final details preparing to hand the keys over. I was working in a beautiful room towards the back; everyone else was in the front section. I heard a tiny noise, turned around and there was a yearling buck standing there. He seemed much less surprised than I was! My first thought was for the beautiful paint job, and my first instinct was to just grab him and pull him out of there. Well, for as small as he was, he was so strong and so fast he got away from me almost instantly. But where he had been calm, now he was not. He managed to thrash all around that room like a bucking bronc. But finally I shood him out the door. Miraculously, he never scratched a thing, including a very expensive mirror he only missed by inches."
Finally, when asked about City Lumber, Jim Lane says, "I have been with City lumber since my very first day in business. They treated me, from the start, with the highest degree of integrity. Besides being an ideal supplier, they have always had good ideas and been good sounding boards. I have never used another lumber company in San Angelo, and I never will." 
Get more stories like this by
signing up for our daily newsletter, The LIVE! Daily
.