"No Worries Wireless" Aims to Make Cell Phone Service Accessible and Affordable to West Central Texas
Sponsored Story
SAN ANGELO, TX — If you prepay your wireless plan monthly, a new wireless telephone, text and data service will save you money. No credit is needed and lower rates are the primary benefits of a new wireless brand in the region called No Worries Wireless.  Plus if you switch your cell service to No Worries Wireless you can get two months of service free or a free Samsung J2 smartphone.
On traditional wireless plans from the national carriers, a monthly smartphone wireless plan can cost over $100 per month if you also purchased a phone and finance it through your monthly bill. No Worries Wireless has plans that start at just $20 per month for unlimited talk and text, and that includes taxes and fees. Power users with smartphones can purchase unlimited talk and text with 50 GB of full speed data and 2 GB of full speed national data for just $50 per month, or you can get four phones with 25 GB of full speed data per line for just $25 per line, or $100 total for the entire family. All taxes and fees are included in the monthly prices.
Mike Higgins, General Manager of West Central Wireless, said their new brand, No Worries Wireless, is aimed at the fastest-growing segment of the wireless industry. By reducing the financial risk to the wireless carrier with prepaid plans, he said No Worries Wireless can offer lower rates and also serve customers who have difficulty passing a credit check with traditional wireless carriers. All one needs is a compatible phone, a credit or debit card or a bank account where the prepaid fees are drafted prior to each month of service. Slightly higher rate plans are available for customers who choose to make their monthly payments by cash or check.
No Worries Wireless is a new brand launched by West Central Wireless January 3. 
No Worries Wireless runs on the same network as its parent company West Central Wireless. That means LTE data speeds in most areas for smartphones, and the excellent unlimited coverage from Sonora to San Angelo and Mertzon to Stephenville, down through Brownwood, Brady, Junction, Kerrville and Fredericksburg. No Worries Wireless clients also have data available for travel nationwide.
For $5 more per month per line, No Worries Wireless can add international calling to Mexico and Canada. Higgins said this is the first time a truly affordable Mexico calling plan has been offered by his company.
For phones, No Worries Wireless partnered with Progressive Leasing. If you already have a phone, by visiting No Worries Wireless inside any West Central Wireless location, you can see if that phone is compatible with the network. Most are. Otherwise, you can choose a phone at the West Central Wireless store where Progressive Leasing offers 90-day and 12-month financing for new phones, including the popular Samsung and iPhones. "You don't need credit to get a phone from No Worries Wireless, you just need a job and a bank account," Higgins emphasized.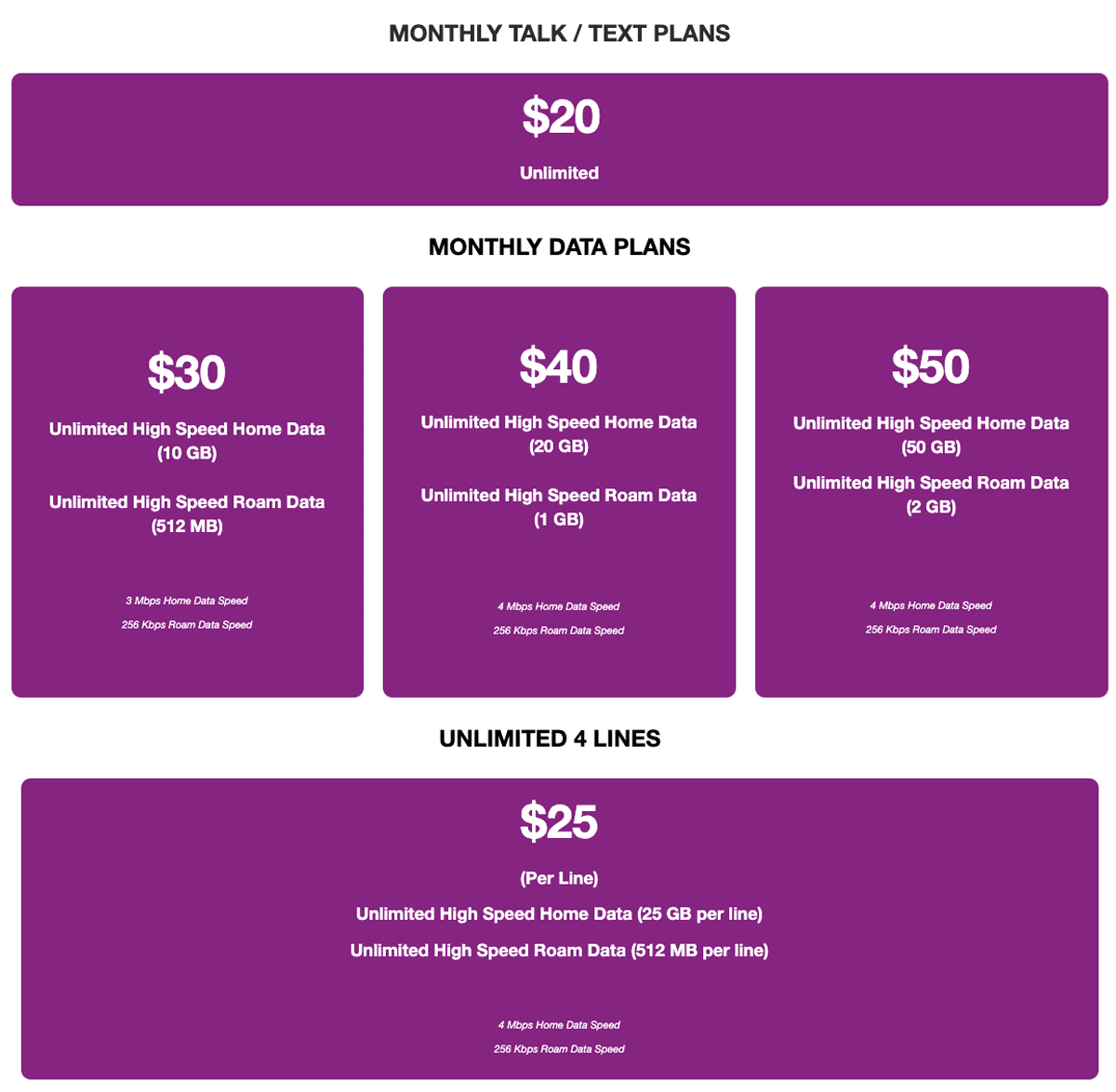 Above: The No Worries Wireless plans as of Jan. 28, 2020. 
Fine print:
Data speeds reduced upon exhaustion of allotted data as indicated in parenthesis
LTE-capable device required
Rates shown are with Autopay Discount
Data speed listed is maximum speed of High Speed Data and may vary according to network congestion
For the latest pricing, see the No Worries Wireless pricing schedule here.
The January launch of No Worries Wireless is a culmination of the "New West Central" campaign that started in January 2019. "Last year was one of the best years in our history for our San Angelo-based and independent cell phone company," Higgins said. 
Last year, under the New West Central campaign, the regional wireless network company successfully launched four new unique products for wireless customers. The "60 days to try us" campaign, the "Senior Savers Plan," the new discounted plan for first responders and former and active military, and the "Sweet Add-A-Line" plan.
Higgins said the Sweet Add-A-Line product was aimed at enticing new customers to come to West Central to save on family plans without the four line requirement of the national carriers. You can save more with West Central if you needed just two or three phones, not the four lines the national carriers required, he explained.
West Central Wireless was launched in the late 1980s by local San Angelo businessman Mark McLaughlin and by the board of directors at Central Texas Telecommunications Cooperative in Goldthwaite. The cooperative was founded in 1951. By 1987 as cell phones in cars were gaining notoriety in urban metro areas, Central Texas Telecommunications Cooperative directors believed the fastest way to get cell phone service to the rural west central Texas area was to build their own wireless network. Since then, West Central Wireless has created a strong presence through six or seven generations of wireless technology and outstanding rural cellular coverage.
When traveling outside West Central Texas, West Central customers use the same wireless towers and networks nationally as AT&T and T-Mobile customers use. "So our customers that are traveling nationally get access to both networks, Higgins said". That means West Central's national coverage has less dead spots than most national carriers.
Higgins said over the past three years, West Central has connected its towers to fiber optics and quadrupled the average data speed across its network.
No Worries Wireless is a less expensive and more accessible way customers can get access on the West Central Wireless network. Higgins said his company will still offer its legacy pre-paid plan called Right Wireless, but there is a big difference. "Right Wireless is 3G only and customers can pay by the week," Higgins said. No Worries Wireless is provisioned on the entire modern West Central Wireless network. It uses LTE (or 4G) speeds where available, which is fiber enhanced throughout the West Central coverage area.
Higgins said the No Worries Wireless product with four lines for $100 is our best value.
"It's only $100 for a family of four that doesn't need a ton of data, but they need connectivity. That $100 includes all taxes and fees," he said.
Also, on No Worries Wireless, hotspots are unlimited. Most national carriers limit monthly hotspot data usage from 5 GB to 15GB. "On No Worries Wireless plans, you can use unlimited high-speed data on a hotspot connection directly from your smartphone.," Higgins said. No Worries Wireless doesn't differentiate the type of data used and serves as a built-in unlimited Internet connection as well as a cell phone.
"We're super excited about it!" Higgins said. He expects some West Central Wireless customers may move over to No Worries Wireless, as will Right Wireless customers. Higgins stressed the product launch promotion, choose either two months of service for free or get a free Samsung J2 smartphone. Your choice.
Why the name, "No Worries"? 
"We don't want folks to have to worry about how much their cell phone bill will cost or how much data they use," Higgins said. The price you pay is the price advertised. The data is unlimited and includes all taxes and required telecom fees mandated by the government. 
Get more stories like this by signing up for our daily newsletter, The LIVE! Daily.