A Small Controversy Swells Over Who Really Owns Santa Rita's New Storage Units Now Under Construction
SAN ANGELO, TX — The company, Siber Investments, clarified its ownership of the new storage units being built on the Concho River near downtown at 909 W. Beauregard Ave and are not owned by San Angelo's Chick-fil-A franchise owner today. Instead, the project, to be named Concho Self Storage, is owned by the franchisee's daughter. 
Dana Campbell, Senior Director of Operations at the Sherwood Way Chick-Fil-A location, frantically emailed us yesterday explaining that Chick-Fil-A franchisees "do not own other businesses."  But our information came from Chick-Fil-A franchisee Rob Watkins at a San Angelo City Council meeting earlier this year. Apparently, yesterday's article caused a stir with Watkin's corporate overlords.
The planned development zone that is located on the Concho River just off Beauregard is being built by a separate company, Siber Investments, he clarified today. As previously reported, in February, Watkins met with the San Angelo City Council and Siber was approved for the $1.2 million project. 
Siber Investments LLC is operated by Rob's daughter Amberly Watkins. She also designed the storage unit and office building that will include landscape that will blend in with the neighborhood. The property, part of which was a used car lot a few years ago, was all re-zoned commercial to accommodate the self-storage facility at the Feb. 19, 2019 council meeting. Watkins said that his daughter was the designer of the 116-unit storage facility. He said the traffic will be minimal, approximately 1-2 cars per day. There will be a total of nine parking spaces.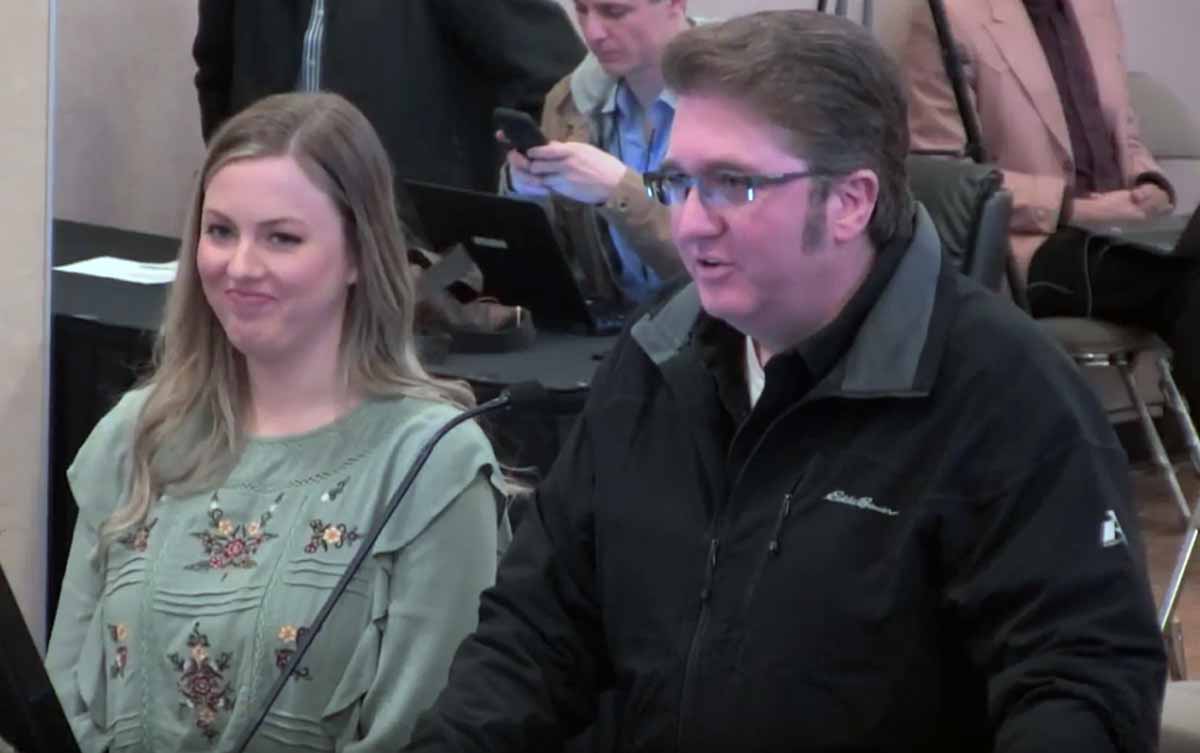 Above: Chick-Fil-A franchise owner Rob Watkins with his daughter Amberly at the Feb. 19, 2019 meeting of the San Angelo City Council. 
According to Watkins, the nine parking spaces will also be used in part by his company's local Chick-fil-A corporate offices to be located next door to the storage unit. But according to Chick-Fil-A franchise rules, franchisees like Rob Watkins cannot own any other businesses. 
The City of San Angelo and Siber Investments have been working together closely since this is considered a planned development zone. 
Construction is well underway and is expected to be complete by April 1, 2020. 
Commercial real estate agent Steve Eustis brokered the land deal and argued to council that self storage units in high-end residential areas are a growing trend and contribute to quality of life. "I think it will be a good enhancement to the neighborhood," Eustis said.
Get more stories like this by signing up for our daily newsletter, The LIVE! Daily.