New Solar Farm Promises 400 Temporary Construction Jobs, Increased Property Values for County
SAN ANGELO, TX — There will be 400 more jobs available here soon to build a solar energy farm on 1,700 acres in northwestern Tom Green County. Those jobs will be temporary and for construction of the renewable energy project that will incorporate 733,000 bi-facial BiKu solar power generation modules manufactured by Canadian Solar.
The project when complete will generate 200 megawatts (MWac) of electricity (they say 266 megawatts at peak power generation), enough to provide electricity to 40,000 homes.
Called the Rambler solar project, it was acquired this week by Duke Energy Renewables. The deal, in the works for over two years, was shepherded through by Tom Green County under the direction of Commissioner Rick Bacon working in concert with the San Angelo Chamber of Commerce Economic Development division headed by Michael Looney.
"The Rambler Solar plant, which is now owned by Duke Energy Renewables, puts San Angelo in an elite class of cities in the US with a major solar power production industry," Looney said.
Duke Energy renewables will provide long-term operations and maintenance services to the project. It is expected to come online in mid-2020. The electricity generated from the project will be sold to an energy customer under a 15-year agreement.
"Along with indirect economic benefits that accompany solar project development – such as increased local spending in the service and construction industries – Rambler will also directly provide several million dollars to Tom Green County and to the local school district over the 40-year life of the project," said Duke Renewables in a press statement.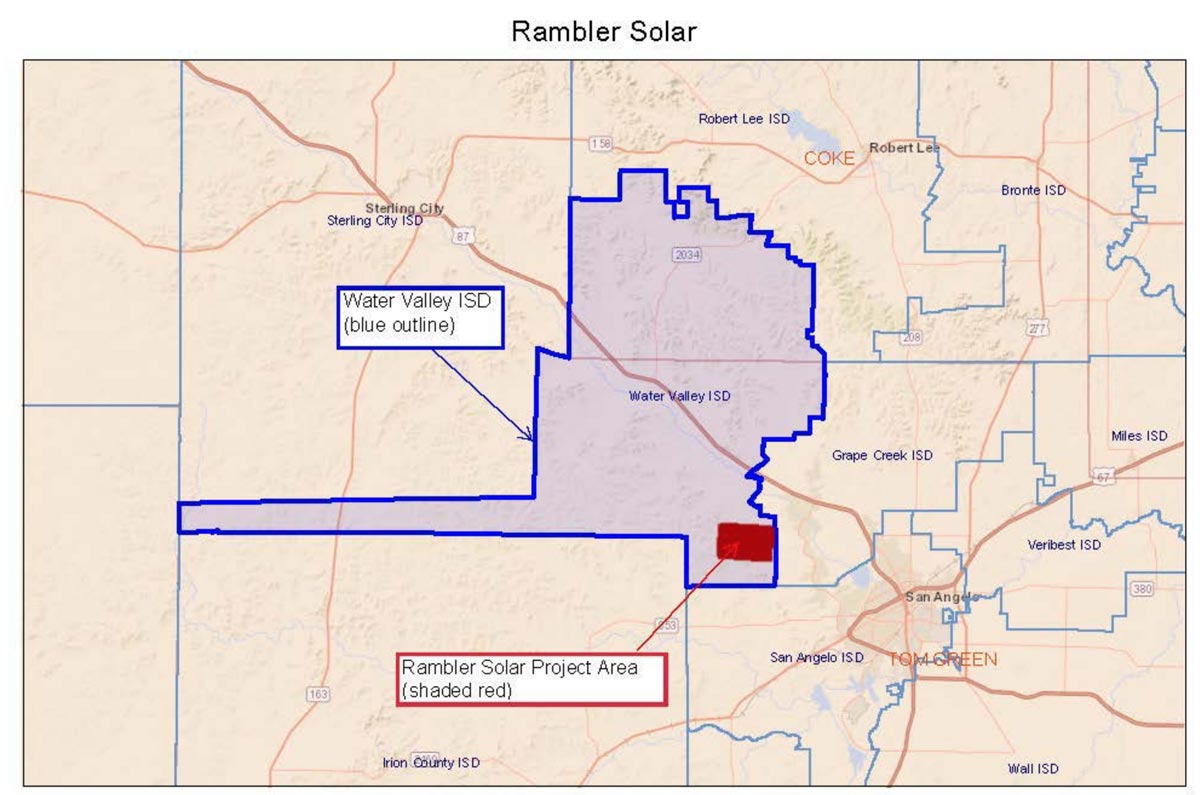 Above: The location of the Rambler solar farm. See it on Google maps here.
Increasing the value of the region's commercial and industrial tax base is a key promise made by Mayor Brenda Gunter.
"We have to reduce the tax pressure on our residential property owners," she said previously.
Although the property tax base for the solar project will be outside the city limits and the school district receiving the property tax valuation increase and resulting new revenues will go to Water Valley ISD, Tom Green County Emergency Services #1 district, and Tom Green County, the City of San Angelo will benefit from housing the construction crews as well as the increased wages and sales tax revenue from workers here during the construction phase. After construction is complete, the Rambler solar farm will employ two fulltime workers making about $45,000 each, according to filings with the State of Texas Comptroller's Office.
The property was described as 3,802 acres across six 640-acres parcels of land, wholly inside Water Valley ISD's boundaries, owned by the March Lorene Partnership. After the solar farm is constructed, Rambler, LLC documents filed at the State Comptroller's office estimate the value of the solar investment will be $180,000,000. Taxable values will be capped at $20,000,000 for the first 10 years and then no higher than $26,265.000 through 25 years after project completion. The annual property tax levy will be capped at $191,894 from 2020 through 2029. This represents a 65 percent reduction as an incentive.
As the land is now, under agriculture exemptions, each 640-acre parcel generates less than $1,000 annually in property tax revenue.
Incentives are mandatory to attract these kinds of businesses, Looney said. "You can build a solar farm anywhere the sun shines." San Angelo has an advantage in that two electricity power transfer stations are located here. That makes San Angelo somewhat a hub for the transmission of electricity to markets, Looney said.
The Chamber relied on assistance from the City of San Angelo to solve some right-of-way challenges to get the deal inked. Also, the City provided assistance in orchestrating temporary housing inside the city limits for construction crews.
"We are pleased that renewable energy companies have found one of our great assets here in west Texas, sun. Growth in our community is important. Exposure to our community is important. Investments in our community are important. Economic development has many facets. Solar is just one more way to build up the property values in our community," Gunter said of this project.
Looney said this is just one of several renewable energy deals in the works for San Angelo.
Get more stories like this by signing up for our daily newsletter, The LIVE! Daily.