We Tasted Pizza from this Little Christoval Pizza Parlor and You Should Too. Here's Why
CHRISTOVAL, TX — There's a new eatery in Christoval's historic downtown and you should try it. That's what Gary Wilson, Toni Cyan-Brock and her husband, Johnny, say about their pizza parlor named Christoval Pizza. They run the place while Kendall Green, an area real estate investor, owns it.
The eatery is located on the Main Street in Christoval, across the street from the Concho Coffee House. Officially it is at 19955 Main St.
Wilson works the kitchen, and Cyan-Brock takes care of everything else. Green said business has been brisk.
"We went from zero to a very bustling business overnight," Green said. He attributes the initial success to pent-up demand for more variety of dining options in Christoval, a town of under 600 residents located near the southern Tom Green County line just off U.S. 277.
The added attraction is Christoval Pizza delivers to nearby homes and businesses. It also has a take-out option.
"We have a cute dine-in area, too," Green said.
Wilson, who has experience running restaurant kitchens, said the first couple of weeks were tough because of how fast pizzas were flying out the door. He had to quickly readjust and increase the amounts of food and supplies he ordered.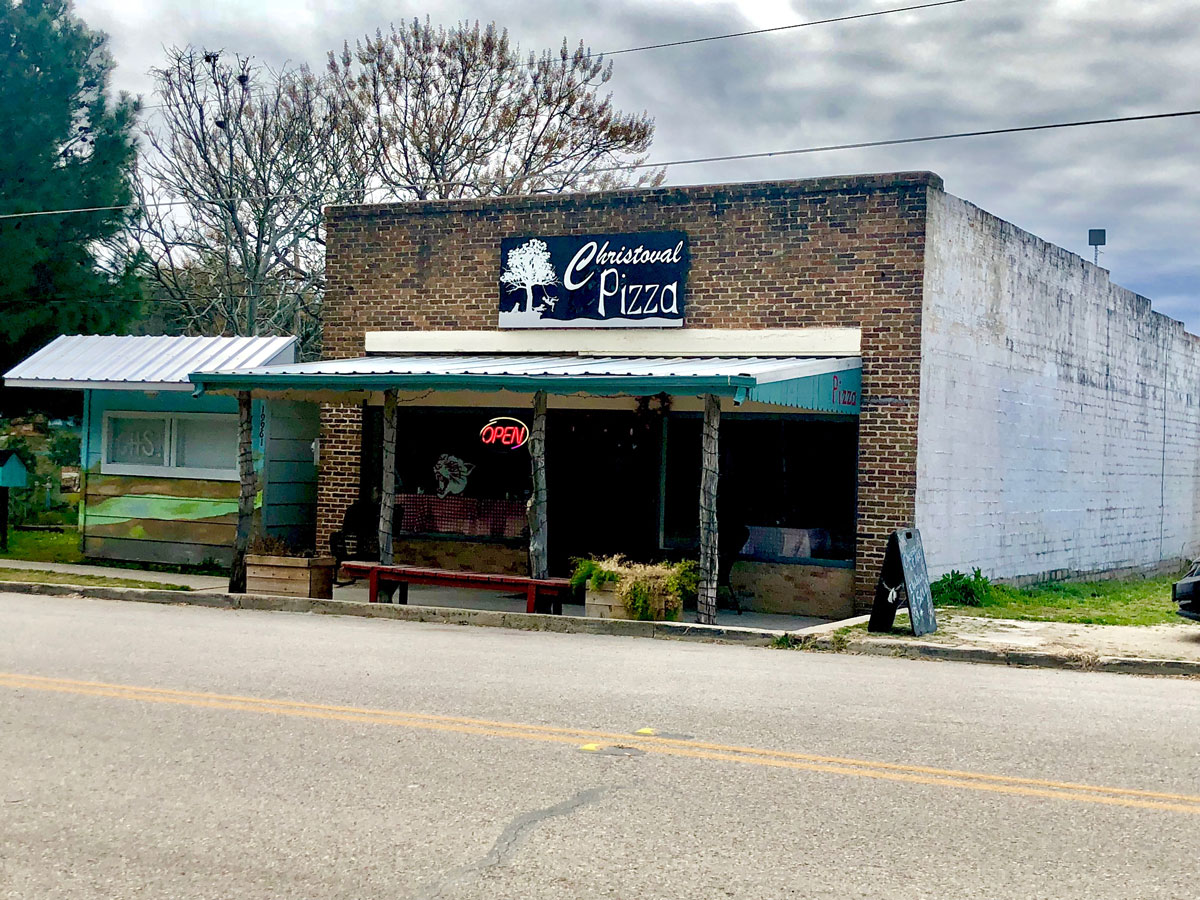 Above: The Christoval Pizza Parlor in downtown Christoval, Texas. (LIVE! Photo/Sam Fowler)
The pizza dough is handmade daily, Green said. All of the ingredients are fresh. It makes for a delightful dining experience, said Cyan-Brock.
The price is right, too. Green said the pricing provides high value. It's not cheap or too expensive. Two can eat a hearty meal for $10 to $20. But mostly families living in the area are the parlor's clientele.
We brought back a medium pizza for the San Angelo LIVE! staff to try. It was gone in seconds. Home run? You bet.
If the momentum continues, Green said to expect an expansion of the concept into San Angelo. At least he hopes to soon.
But for now, Green said he is pleased with how well his little pizza parlor is doing.
"It's fresh pizza delivered throughout a tiny Texas town. That's kind unique," he said.
To try Christoval Pizza, call-in an order at (325) 939-9695 or see the complete menu that includes wings, calzones, pasta, and desserts in addition to the pizza at ChristovalPizza.com.
Get more stories like this by signing up for our daily newsletter, The LIVE! Daily.