Republic Services Under Fire for Overpromising, Under-Delivering Recycling Promise to San Angelo
SAN ANGELO, TX — San Angelo residential trash customers are proud of the City's curbside-recycling program, the only one in west Texas, and many want the City of San Angelo to hold Republic Services accountable to the contact they agreed with back in 2014.
They want their curbside-recycling program to continue, regardless of market conditions. That was the vibe inside the third and final public forum about ending the citywide residential curbside-recycling program.
In July 2014, Republic Services and the City of San Angelo signed two contracts. One contract gave the task of managing the City landfill until closure; the other gave Republic exclusivity in collecting residential and commercial trash. The trash collections contract was for 10 years and the original agreement was for Republic to provide weekly curbside recyclable pickup in addition to weekly trash collection.
In a mutually-agreed upon contract revision in 2016, curbside recycling was reduced to one time every other week in exchange for monthly bulk trash pickup.
Now Republic is requesting to end the curbside recycling program altogether or charge residents more money to continue it. Mayor Brenda Gunter recommended a series of public forums on recycling before her council took action on Republic's request.
At Thursday evening's last forum held at Lincoln Middle School in Lake View, a small but energized crowd arrived and voiced their opinions. None of them desired to end the recycling program.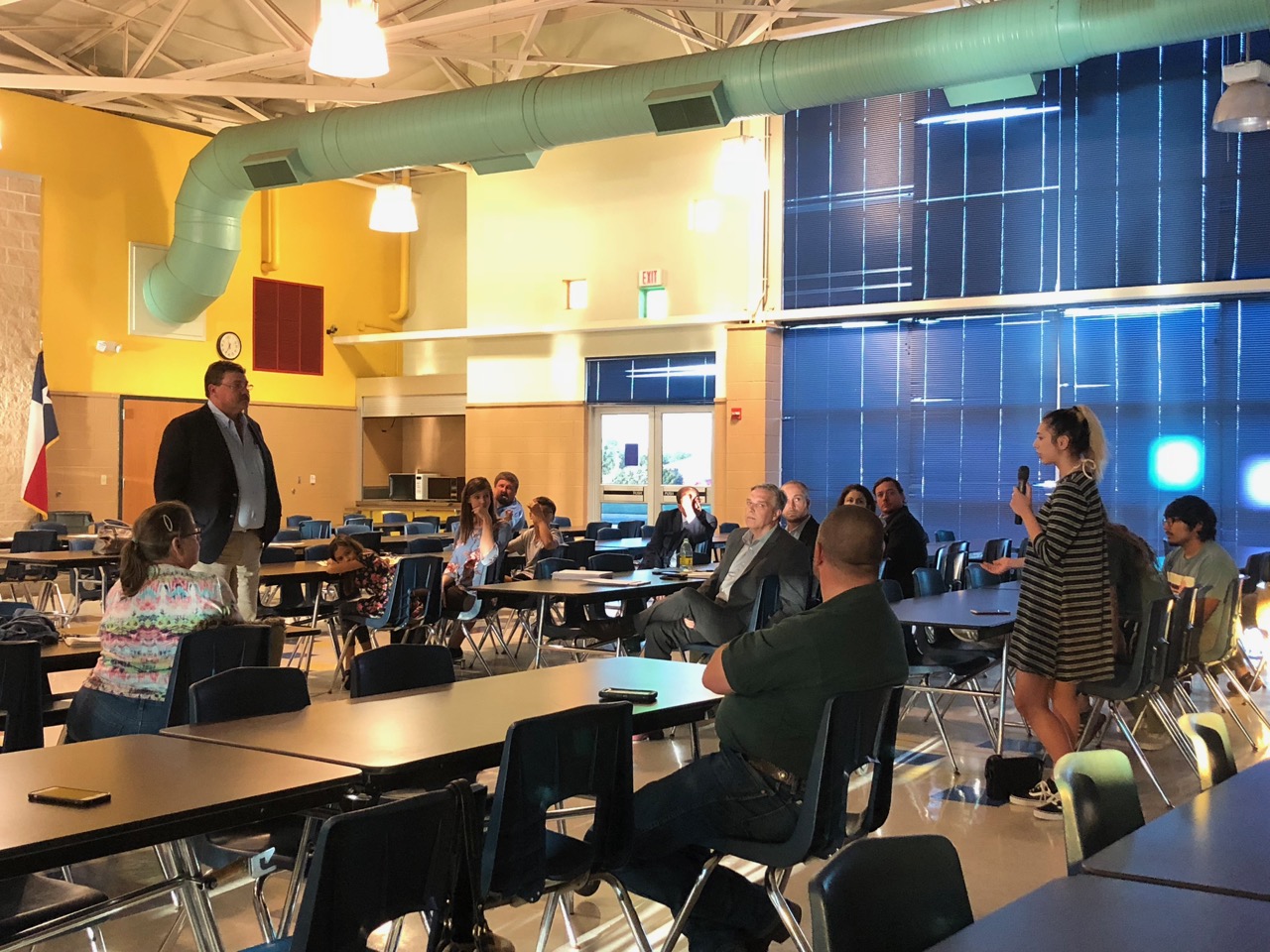 Above: A senior student at Central High School strongly requests the City not end the curbside recycling program at the third forum. (LIVE! Photo/Joe Hyde)
Also present were the heavy hitters in San Angelo's five-year trash war. Stanley Mayfield, owner of Mayfield Paper and co-plaintiff in a lawsuit against Republic over its decade-long overcharging of commercial customers for "Environmental Recovery Fees" made a pitch for an open market for all trash. Republic's request for a radical change to the 10-year contract, now less than halfway through, may open the door for the City to make such a move. An open market, where there is free enterprise and competition, would be the best guarantor that a recycling program continues to exist, he argued.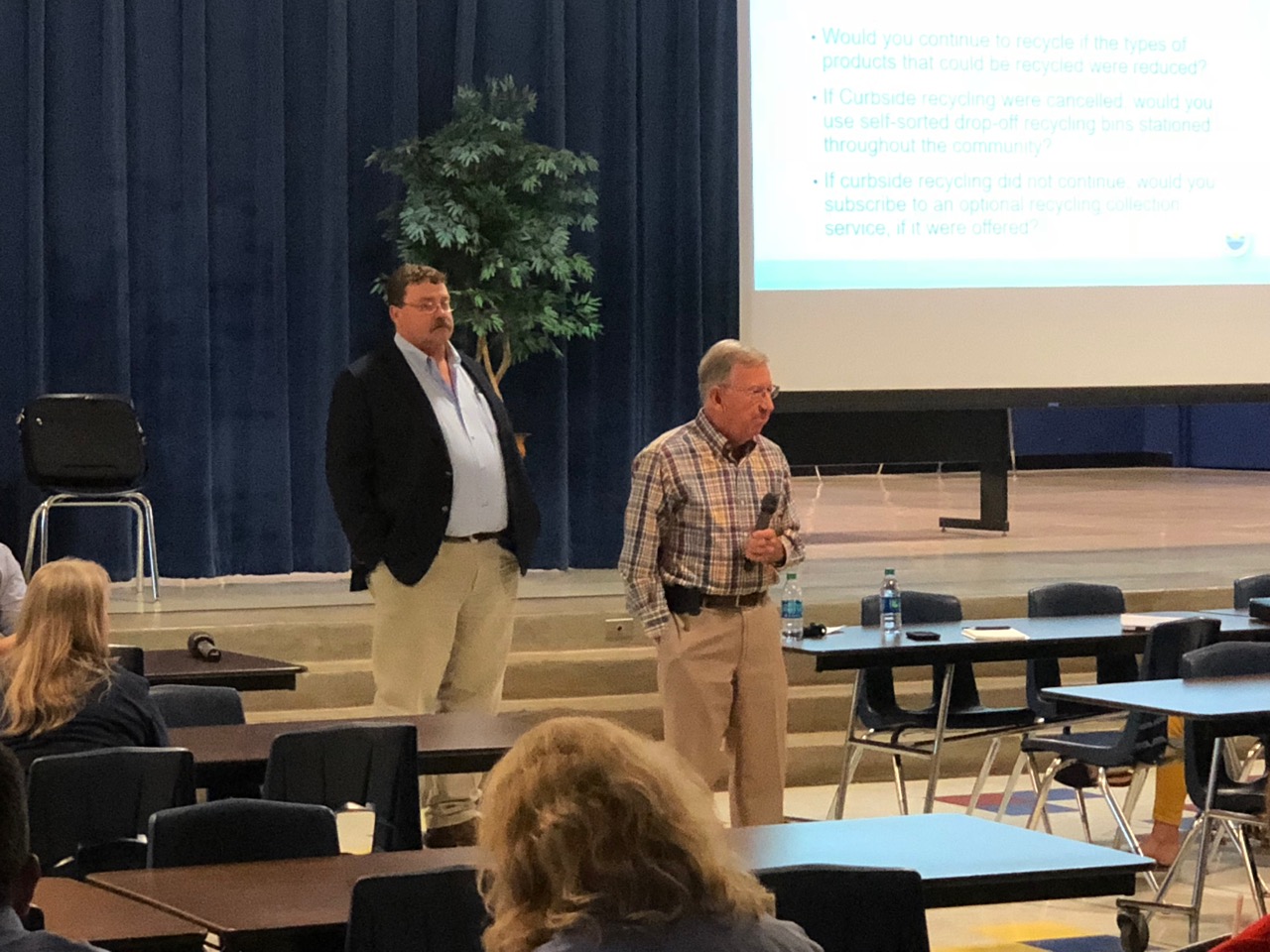 Above: Mayfield Paper's owner Stanley Mayfield said free markets and competition are best for sustaining recycling. (LIVE! Photo/Joe Hyde)
Houston's rabble-rouser, former KTRK 13 Undercover TV journalist Wayne Dolcefino made an appearance and his cameraman videotaped the entire meeting. Dolcefino asked City Operations Manager Shane Kelton if the City had any clue about how much Republic was making on the landfill contract. Dolcefino indicated the trash pickup contract might just be a throwaway to get the lucrative landfill deal.
Kelton said he did not.
"I don't see why the citizens of San Angelo have to bail out this huge corporation," Dolcefino said, urging residents to hold Republic to the words of the contract the company agreed to in 2014.
Paul Gregory, manager of Texas Disposal System's recycling operations, told the audience there that there is still a market for recyclables, but admitted there was a global downturn. Texas Disposal lost the bid to Republic to be the incumbent trash vendor for the City in 2014.
He compared the recycling market to farming commodities, saying that just like farmers have to contend with global market conditions, recyclable resellers like his company and Republic must also.
Gregory noted that Republic's efforts to offer recycling in San Angelo are half-hearted. Republic did not build out a facility to property sort using automation and today, the manual workflow cannot sort deep enough through the recyclables to make much money.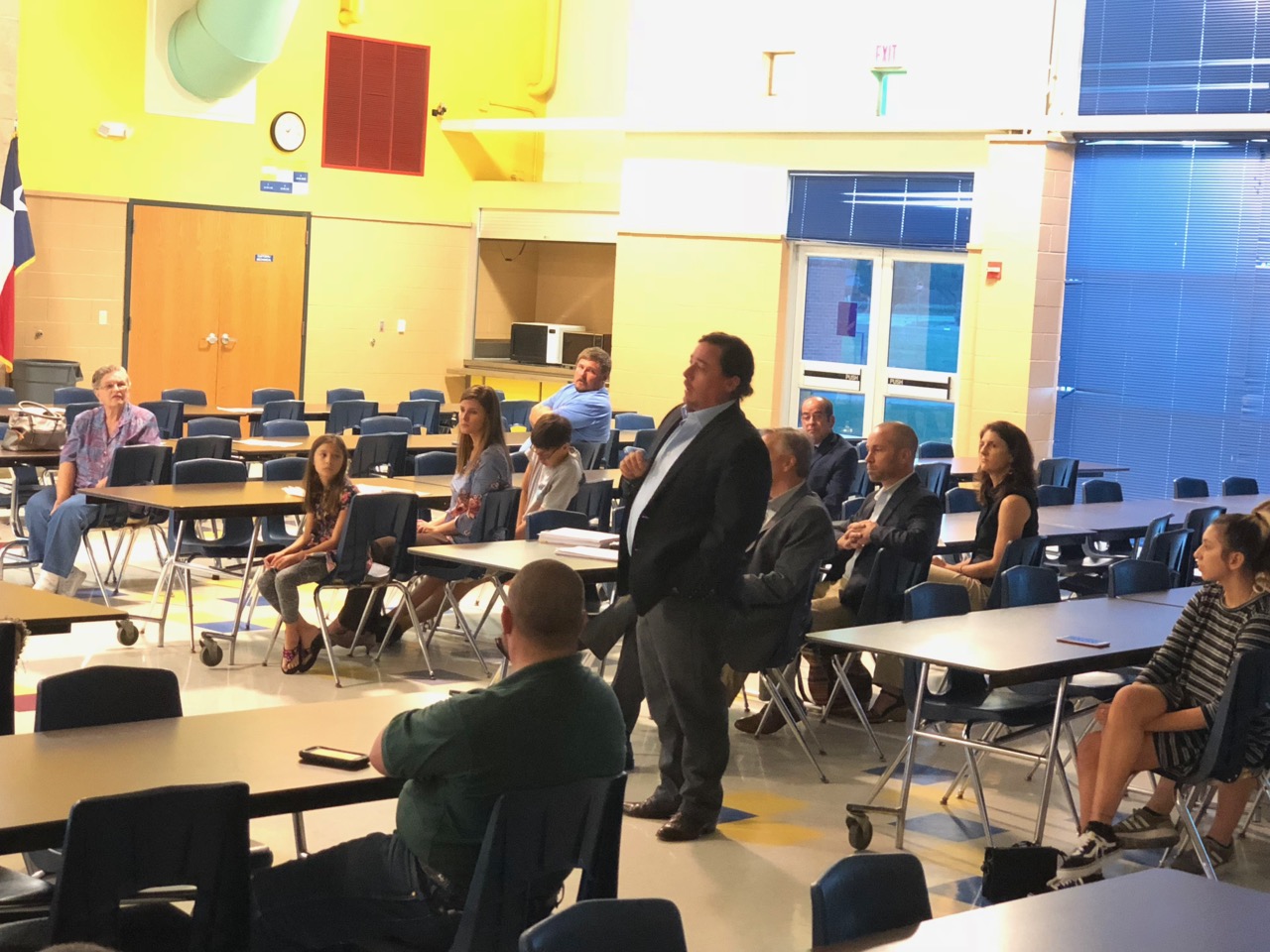 Above: Paul Gregory of Texas Disposal Systems addresses the forum. (LIVE! Photo/Joe Hyde)
Rick Frauman, director of sales for Texas Disposal Systems, presented a transcript of a presentation by Republic's corporate bigwig to the San Angelo Apartment Association on August 20, 2014. In the presentation, Republic's Reid Donaldson bragged about Republic's intentions saying his company is "bringing what is considered the highest level of technology in recycling to the city San Angelo."
Donaldson went on to compare the to-be-introduced technology as the same as what Republic provides the City of Grapevine and City of Arlington in the Metroplex. He said the hi-tech system would eliminate "source separated at the curb" recycling, allowing residents to combine all types of recyclable items in one bin that would be separated using "single stream recycling."
Donaldson said in August 2014, weeks after the contract was signed, after describing the wonders of a Material Recovery Facility, or MRF, that Republic Services would begin working on constructing one in San Angelo. "We believe it will begin somewhere in nine months, is what we're shooting for," he promised the apartment complex landlords.
The letters 'MRF' are even in the trash collection contract Republic and the City signed in 2014, though the contract was vague when an MRF would be constructed or what an MRF is.
On page 6 of the contract, it states:
"Provider shall align with Butts Recycling & SAFE Recycling Center as reasonable and appropriate for the initial execution of the processing of Recyclable commodities. Upon construction of a materials recycling facility (the "MRF"), Provider shall involve Butts Recycling and SAFE Recycling Center, as reasonable and appropriate, in the transition to utilization of the MRF."
In the original proposal Republic made during the Requests for Proposals, Republic describes the wonderful attributes having an MRF in San Angelo. The video below describes what an MRF is:
To Paul Gregory, the reason Republic wants to end curbside recycling in San Angelo is because Republic never really put any "skin in the game" like they promised in order to get the contract.
Butt's Recycling built an 8,000-square-foot metal building as its sorting facility and Republic either gave or sold to Butt's at a low cost used sorting equipment no longer usable at their larger facilities.
City Operations Director Kelton said he believed the primitive facility (when compared to Donaldson's grandiose description in his 2014 speech) and what Butt's has installed is considered to be an MRF by Butt's.
In 2014, Donaldson, described an MRF as having a capital cost of $22 million, like the one Republic built in Fort Worth.
Frauman said a quick Google search indicates to him that San Angelo is the only Republic Services market where the corporation is asking to end their curbside-recycling program.
Three Representatives from Republic Services were in attendance, but not one uttered a word.
Dolcefino said the deference the City of San Angelo staff gives to Republic is "weird."
Kelton is conducting an online survey asking what options the City should take concerning curbside recycling. The survey is here. He said he will be presenting the findings from the survey at the next San Angelo City Council meeting on Tuesday, Oct. 16.
Get more stories like this by signing up for our daily newsletter, The LIVE! Daily.