Environmental Groups Seek More Information on Goodfellow, Bliss Before Housing Unaccompanied Alien Children
SAN ANGELO, TX— Several liberal, hispanic activist groups have joined together to file a Freedom Of Information Act (FOIA) request with the Department of Defense about housing Unaccompanied Alien Children, UAC, at Goodfellow Air Force Base and Fort Bliss citing toxic pollution concerns.
According to Lisa Evans, lead counsel with Earthjustice who filed the FOIA, the groups are seeking specific information about Goodfellow concerning the southeast landfill.  Evans says the..., "Contents of the landfill may include industrial waste and unknown containerized liquids. Specifically, we request the "Performance-Based Remediation (PBR) at Texas Bases," dated May 2018 and any other documents relating to final closure, groundwater monitoring, potential vapor intrusion, landfill gas production and release, and characterization of the soil cover and remaining wastes."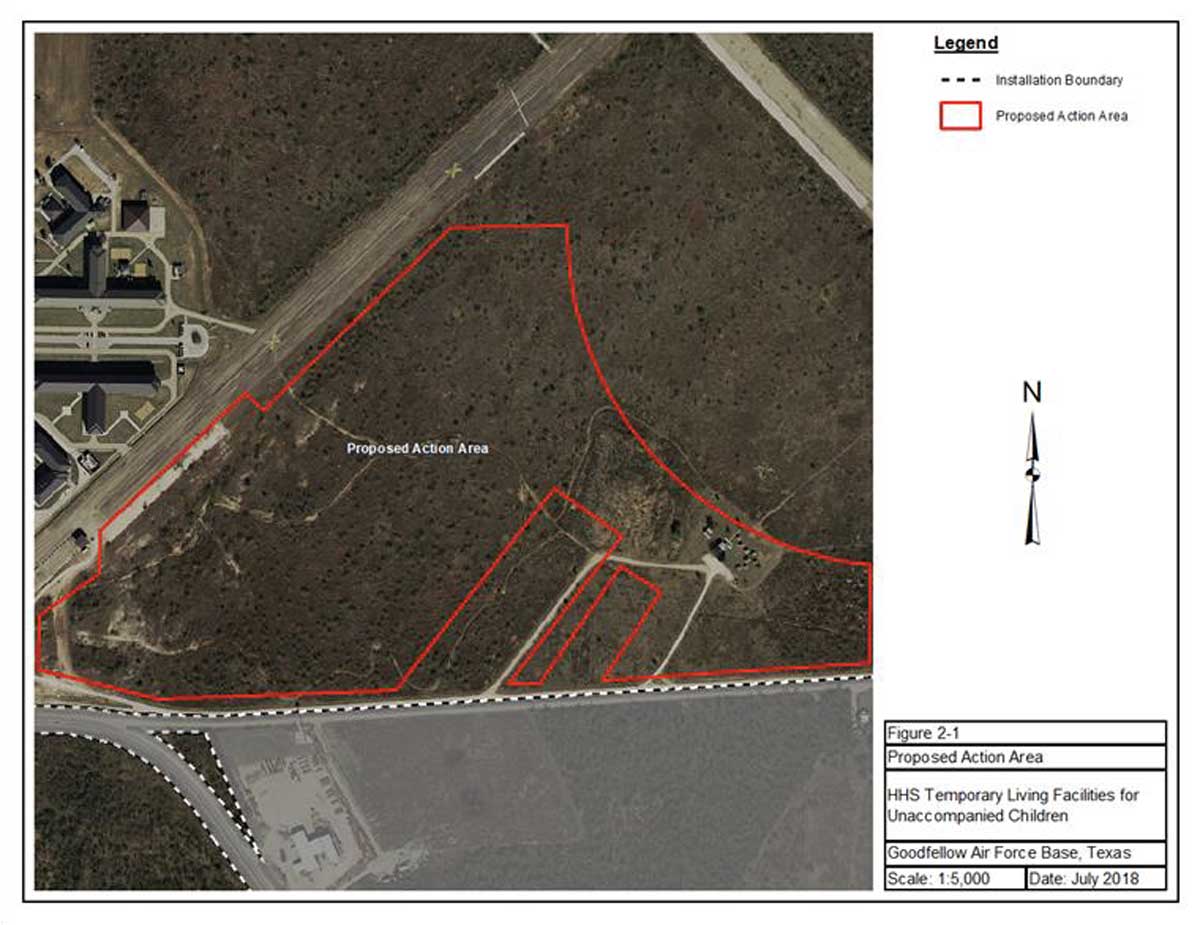 The FOIA also requests information about the former small arms firing range and other environmental issues.  
The groups represented by Earthjustice include Alianza Nacional de Campesinas, GreenLatinos, Hispanic Federation, The Labor Council for Latin American Advancement, The National Hispanic Medical Association, and The Southwest Environmental Center.
According to the FOIA, "This FOIA request seeks multiple records concerning toxic waste sites at Fort Bliss and Goodfellow Air Force Bases, where the Trump Administration will soon be constructing tent shelters for the purpose of holding thousands of immigrant children and families. These waste sites have the potential to cause dangerous human exposure to toxic chemicals via air, water and soil to migrants housed in tent encampments and to workers constructing the detention camps. Because the Trump Administration plans to construct and house immigrant children and families on a greatly expedited schedule, timely receipt of the following information is required to inform the public of potential adverse impacts and to ensure the safety of those detained and those constructing the encampments."
As we reported earlier, Goodfellow AFB has been chosen as a site to house 13 to 17 year olds.  The plan calls for Goodfellow to fence off 75 acres to house 7,500 UAC for up to six months or longer.  The Proposed Action would include providing all care, supervision, meals, clothing, medical services, transportation, and other daily needs of the unaccompanied children. A separate gate would be constructed along Old Eola Road, with concurrence received from the City of San Angelo on June 30. All entrances and exits from the Proposed Action area would occur through this gate.
Under the Proposed Action, the Air Force would provide approximately 70 contiguous acres of level and cleared land, erect temporary structures to provide living and sleeping quarters for up to 7,500 unaccompanied children and work facilities for approximately 7,500 HHS support staff for up to 180 days.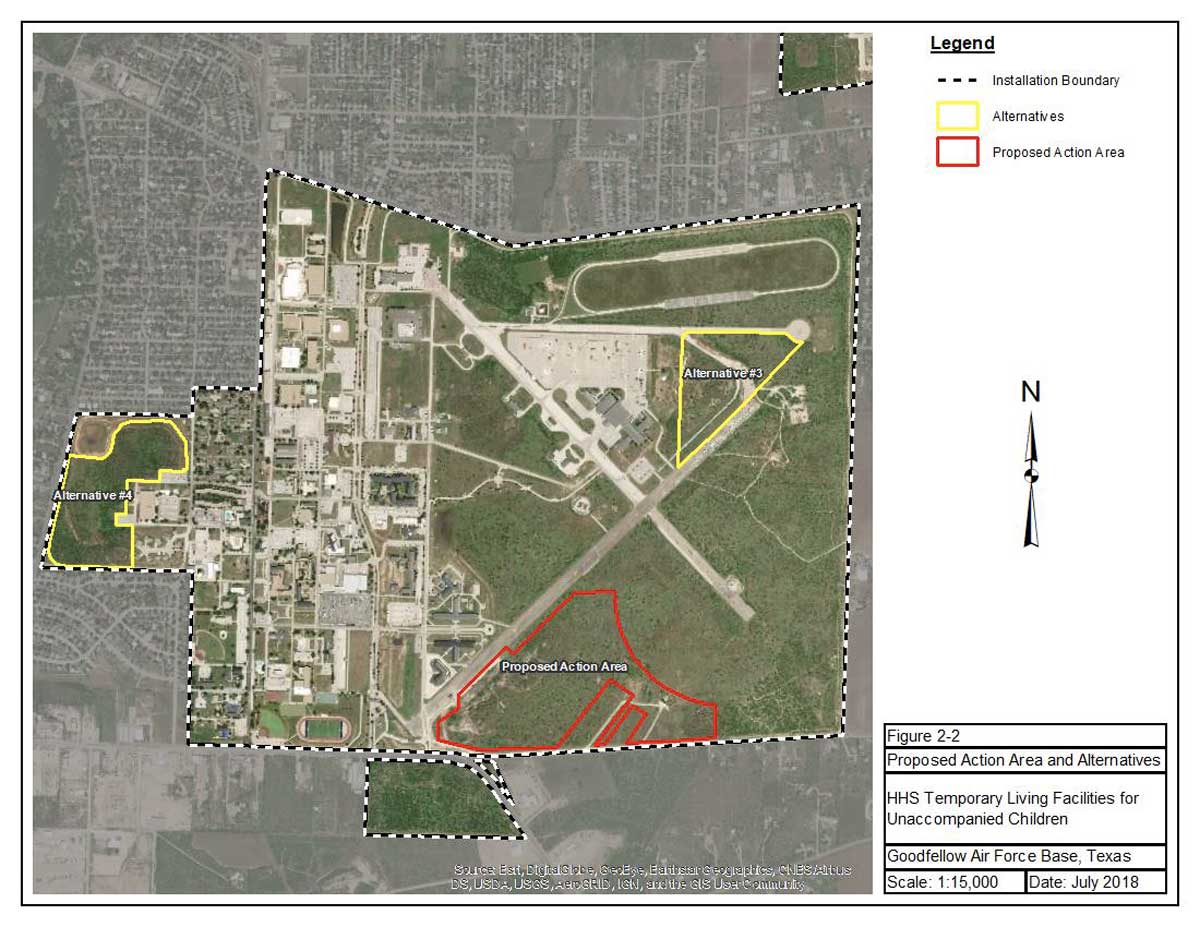 U.S. Senator Ted Cruz was in San Angelo Wednesday and toured Goodfellow.  He said, "I don't know the exact status. I spent a considerable amount of time with the leadership at Goodfellow and they are preparing to be able to stand up a detention facility if the decision is made to house unaccompanied children there."  
"My understanding is that decision has not been made so the leadership at Goodfellow doesn't know if that's going to happen or not. They have the land set aside of where the detention facilities would be stood up."
Get more stories like this by
signing up for our daily newsletter, The LIVE! Daily
.