San Angelo's New H-E-B Opens to Compete with the Walmarts
SAN ANGELO, TX — "This new location is giving San Angelo the very best that H-E-B has to offer," said Nick George at the unveiling of the grocery store's second location at 5502 Sherwood Way. The location is strategically located across the street from what is known as the Sam Walton Complex. A Super Walmart and Sam's Club are situated across the four-lane, divided roadway from the new store.
The anticipated introduction of the new H-E-B prompted TxDOT to drastically change the traffic flow along this stretch of U.S. 67. The north side of the road was a field until, in November 2014, Chick-Fil-A moved to the northeast corner of Sherwood Way ad FM 2288, giving an opening for more retail shopping space that the new H-E-B will anchor.
The new store employs over 200 San Angeloans, said the new H-E-B Unit Director Nick George at the grand opening presentation Thursday, Oct. 19. The company titles its store managers as unit directors. H-E-B's total employment is about 500 in San Angelo.
George listed the items he considers are the best that H-E-B offers that will be featured in his new store:
H-E-B Curbside – Order online and pick-up at the curb
Expanded Meat Department
Produce Department that features a wide variety of organic fruits and fresh vegetables
Fresh Seafood with fresh seafood delivered daily.
Extensive craft beer, featuring small Texas breweries and imports
Wines from around the world
Cheese Shop
Healthy Living Department with health food items
A Sports Nutrition section
Blooms Floral Department selling fresh flowers and arrangements
The Texas Backyard section features outdoor furniture, grills, shrubs, and mulches.
"Welcome to San Angelo's brand new H-E-B," he said.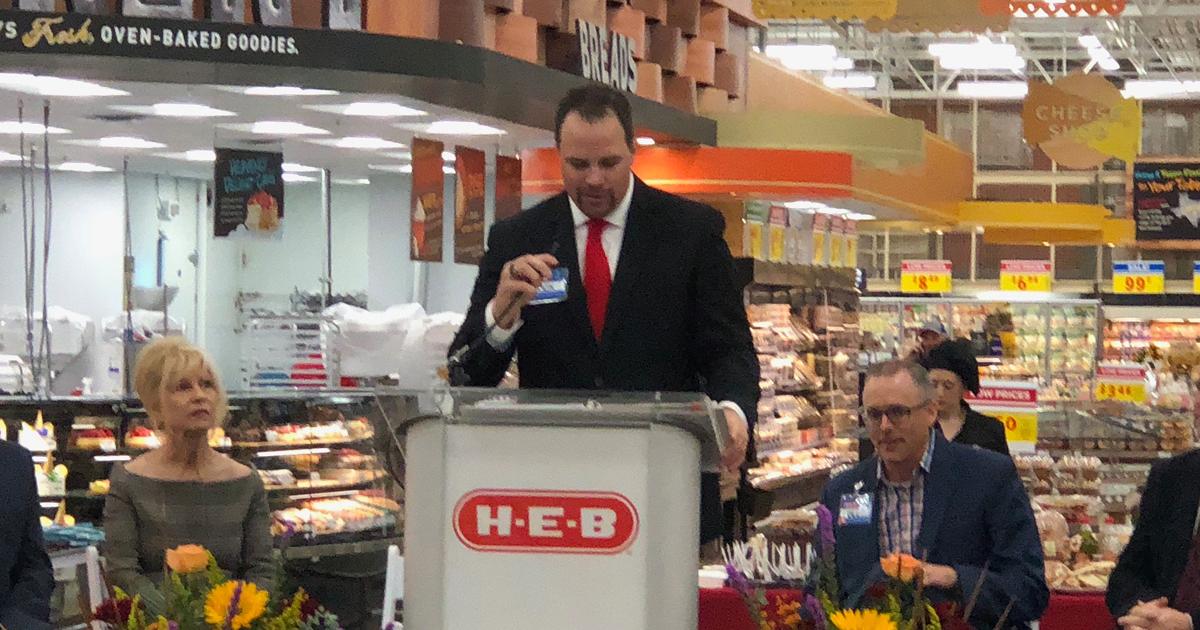 Above: Nick George, the H-E-B Unit Manager for the store located at 5502 Sherwood Way. (LIVE! Photo/John Basquez)
As part of the grand opening, H-E-B awarded $5,000 donations each to the Boys and Girls Club of San Angelo, Concho Valley PAWS, San Angelo Schools Foundation, and the San Angelo Firefighters Foundation.
Bill Anderson, H-E-B's Vice President of the San Antonio Food and Drug Division hosted the grand opening with George and Lynn Shipley. Shipley will remain the Unit Manager for the original H-E-B at 3301 Sherwood Way.
Get more stories like this by
signing up for our daily newsletter, The LIVE! Daily
.