Local Tattoo Shop "Absolute Ink" Organizes Fundraising Effort for Hurricane Harvey Victims
SAN ANGELO, TX — On Sept. 20, A local tattoo shop here in San Angelo teamed up with a St. Paul Presbyterian Church, in an effort to help Hurricane Harvey Victims. "Absolute Ink", held a $20 tattoo special all day. The proceeds to that very special day would later be turned into a shopping day, for the business to purchase necessities that one may need in a time of crisis and donate them to the relief efforts.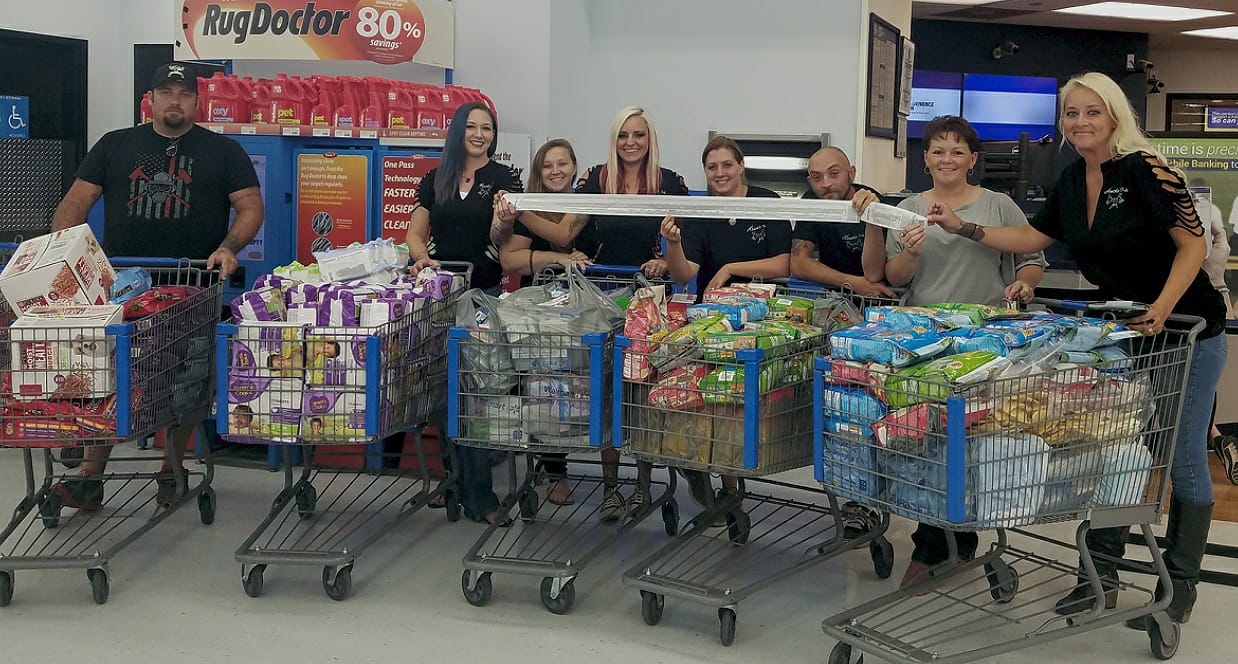 Above: Shop owners and volunteers shop Wal-Mart for supplies to assist in the Hurricane Harvey, Relief Efforts.  (LIVE! Photo/Janessa Nuñez)
The total amount of $1,400 was raised on Sept. 20, however, upon arriving to Wal-Mart on Sept. 26, a few more people felt they wanted to donate as well, putting their total fundraising success at a whopping $1,550 in supplies.
The owners of Absolute Ink, Alena Creamer and Savannah Wright, worked tirelessly through the event, giving their all to each intricate detail their customers wanted in their "Texas themed" tattoo. The apprentices Kelsie Zapata-Holden and Scott all participated in this one day tattoo event, taking down appointment times, as well as making sure the art was drawn up before the client even sat down, which made for a smooth sailing for the tattoo artists. 
On Sept. 26, The owners and volunteers eagerly arrived to Wal Mart. Absolute Ink and their team of volunteers, cleared the shelves of diapers, wipes, hygiene products, pet food and pet supplies, even having some funds left over to take to Dollar Tree. After the eventful shopping trip, three vehicles pulled into the St. Paul Presbyterian Church on Tuesday afternoon, filled with supplies to donate, but the work is still not over for the shop's owners, as Alena and Savannah have been spending all of the hours they are open placing Texas Strong Tattoos until as late as next week. 
Get more stories like this by
signing up for our daily newsletter, The LIVE! Daily
.