Sonrisas Trails to Honor Veterans at 4th Annual Clay Shoot
SAN ANGELO, TX -- Sonrisas Trails will host its 4th annual Sporting Clay Shoot on Saturday September 23 from 8 a.m. - 3 p.m. at the San Angelo Claybird Association, 13525 Duncan Rd. 
Mary Coffey was able to meet with San Angelo Live to elaborate on the importance of this wonderful fundraising event as well as how it will benefit our respected military veterans.
"We have a very special sponsorship opportunity that will directly benefit our beloved veterans and current military participants. Whether you are a sporting clay competitor, veteran and military advocate or lover of horses, this shoot offers many ways to benefit so many with one contribution. Every dollar raised from this event will be applied to support our daily therapeutic riding classes and to maintain and improve our horse herd. Sonrisas Trails is proud that our administrative costs are less than 9% of our entire budget.". 
The Junior League started the riding program in 1983 and it was incorporated in 1984. They started this program with big hearts, a horse trailer and a horse. Children would come out to whichever piece of property they had available and ride.
Sonrisas Trails riding program, took over the Mosaic Trails riding program. The Mosaic Trails program built a gorgeous arena over the course of 8 years that provided equine therapy to adults in group homes. Once the arena was built, the director retired and offered Sonrisas trails the opportunity to collaborate their riding program for the children with the program they already had for the adults, which has proved to have great benefits for both of the groups.
Sonrisas Trail Riding Program provides therapeutic horseback riding to children and adults with special needs. Their new Veteran's Riding Program, Veteran Trails, provides equine therapy to military veterans that have been injured in the line of duty. Equine therapy is provided to special needs children and military veterans free of charge. Through hard work and fundraising, Sonrisas Trails has since grown adding new instructors as well as new horses and three new classes. 100 percent of every dollar spent stays here in San Angelo contributing to the therapeutic needs Sonrisas strive to achieve. Sonrisas is proud to say they are very good stewards of the dollars they receive always trying to figure out a way to parlay that dollar and enhance the therapy to the individuals they currently have as well as expanding to new people. 
Sonrisas Trails provides services to over 200 children a year adding summer camps as well as the veterans riding program that just started on Wednesday September 13. 
Everyone is invited to come out to join as well as enjoy the clay shoot.  Children under the age of 18 can come out accompanied by an adult. Any extra lunch tickets are just $10.
The Clay Shoot will feature an opportunity for shooters to come out for the sport itself as well as the ASU claybird shooting team which will be helping Cooking for Christ. There will be a silent auction that will feature benches that are made specially for the century trail by Eagle Scout Kevin Franky, as well as the different branches of military flags with certificates that they have been flown over GAFB, a guitar signed by Lee Greenwood, known for his patriotic song "God Bless the USA," and a Texas flag crafted from some of the wood recovered from Hurricane Harvey. The Lieutenant Base Commander will lead the event in prayer and The Disabled American Veterans Chapter will be there for lunch.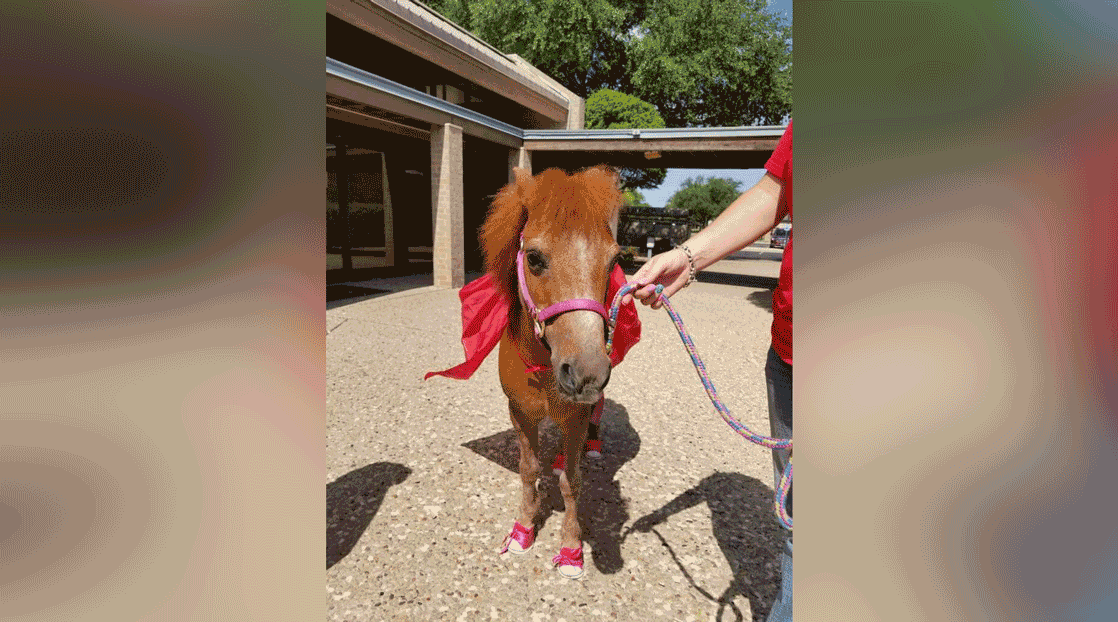 Sunny the miniature horse has picked out a mystery prize.  Sunny will be out there to help present the winners and salute our heroes!  Every person and auction item has a meaning and this is ultimately Sonrisas Trails way of saying thank you to the courageous veterans that have served our country. 
Get more stories like this by
signing up for our daily newsletter, The LIVE! Daily
.