Radio Couldn't Do This
SAN ANGELO, TX — Tonight, American Aquarium performs from the small stage near the front of San Angelo's storied Texas Country Music live music venue downtown called Blaine's Pub. The band, which isn't from Texas, but North Carolina, followed an interesting path to Texas music prominence, having ridden the lift of the revival of Blaine's over the past three years.
American Aquarium formed in 2006, experienced much success on the road in and around their home state of North Carolina. By 2012, they recorded their most critically acclaimed record, Burn. Flicker. Die. The record, produced by the Drive By Truckers' Jason Isbell, was intended to be the band's last. Bandleader B.J Barham recorded a solo record and released it this year. The end of American Aquarium appeared sealed.
But the band has no plans of disbanding. In fact, half the band plays on Barham's solo record. Likely, American Aquarium's debut into the Texas music scene has given the band new purpose, and fans. Their discovery at Blaine's and its San Angelo fan base is a part of that. It also offered the east coast rebels authenticity on the Texas music circuit because, if an artist can attract a base of fans in San Angelo, he or she can do it anywhere on the lucrative Texas circuit. American Aquarium performs for the seventh time in two years at Blaine's tonight.
Cody Strum, Blaine's owner, has an ear for what he considers good music. And his German hardheadedness demands one other thing from the bands: loyalty. "If you're playing last week at that bar across town, I don't want you," he explained. Sturm and his partner and girlfriend Katie Bollinger, who manages the booking and marketing for Blaine's, want to provide a unique experience. You can't get there if Blaine's is offering the same bands everyone else is.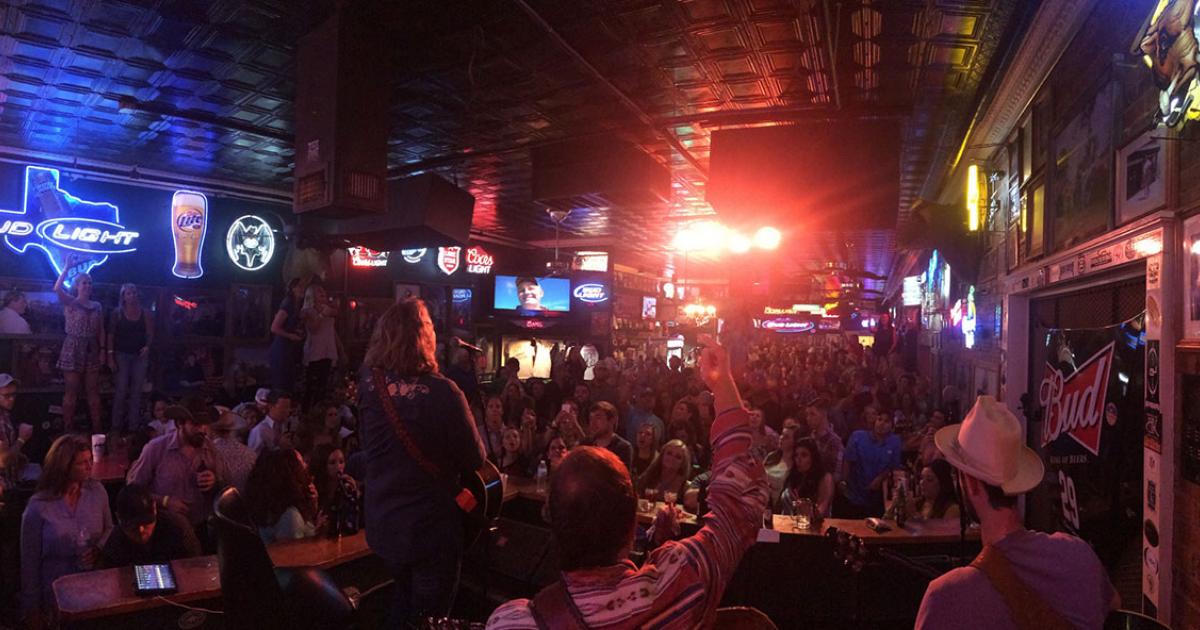 Above:  Josh Abbott, William Clark Green and Charlie Shafter at a Blaine's Pub show during the summer of 2016. (Contributed/Katie Bollinger)
What Cody and Katie are doing at Blaine's is working.
Blaine's Pub seats about 200 patrons, but in October, the bar was ranked number 3 in alcohol sales, behind two other local bars that seat 1000s, Fiddlestrings and Twin Peaks Restaurant. Getting there wasn't easy and, like the unique music played from the music venue's stage, required a different approach.
Above: The front window of Blaine's Pub at 10 W. Harris Ave. announces who is playing live music on any week in San Angelo, Texas. (LIVE! Photo/Joe Hyde)
Blaine's uses all digital advertising to promote its shows. Rarely in the past three years have they used traditional radio like in other bars do. Today, the venue's combined online audience likely exceeds the number of people it could afford to reach on local radio with their website, mobile app, and very active use of social media.
The marketing approach is best described as a silo. The website serves as a silo of content about the bands scheduled to perform that Blaine's distributes through a variety of channels, including "push notifications" from its mobile app—on any day that an event is happening, Blaine's pushes a notification to several hundred subscribed to its instant mobile phone notifications.
Meanwhile, a world class website promotes downloading the app in lieu of subscribing to a more traditional email newsletter. The patrons of Blaine's interested in seeing bands like American Aquarium are more likely to respond to a notification on their phone than a weekly email newsletter.
The website gives the bar a publishing platform from where it can share content on social media to augment the app. But social media is only half of the bar's reach. More people find Blaine's via search. Providing consistently great experiences for patrons has risen Blaine's reputation, and San Angelo's, on the Texas music circuit. Many people are looking for it in search, providing a steady current in the stream of the digital consciousness of Texas music fans.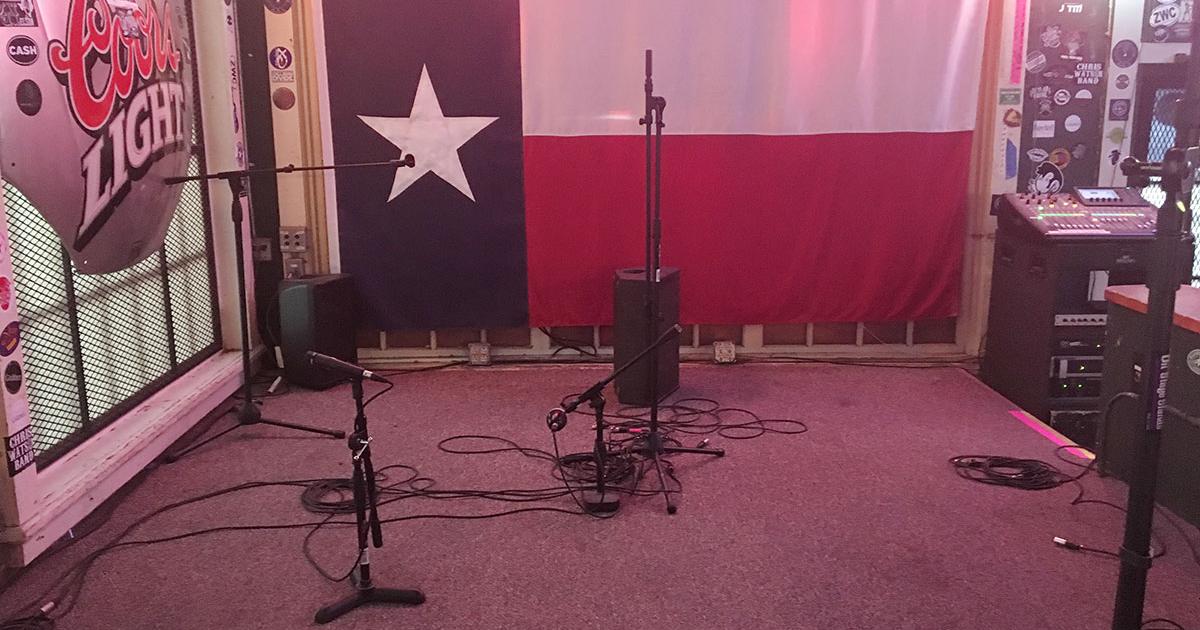 Above: The up close and personal stage at Blaine's Pub. It is empty on this Monday night, but by the weekend, this is where the magic happens. (LIVE! Photo/Joe Hyde)
The digital strategy has also provided Blaine's a way to confidently predict interest in shows it books. For example, in October, Blaine's re-introduced John Conlee to San Angelo. Conlee, whose career was marked with a string of Top 10 hits in the late 1970s and 1980s, is experiencing a revival with younger audiences. But Conlee is a relatively expensive act to bring to a venue with 200 seats. Using digital assets, Blaine's was able to pre-sell tickets and estimate interest in the show by the number of page views to the Conlee event page on their website. When ticket sales and interest appeared to be lagging, Blaine's amped up the online promotion of the show. The result was a sellout crowd.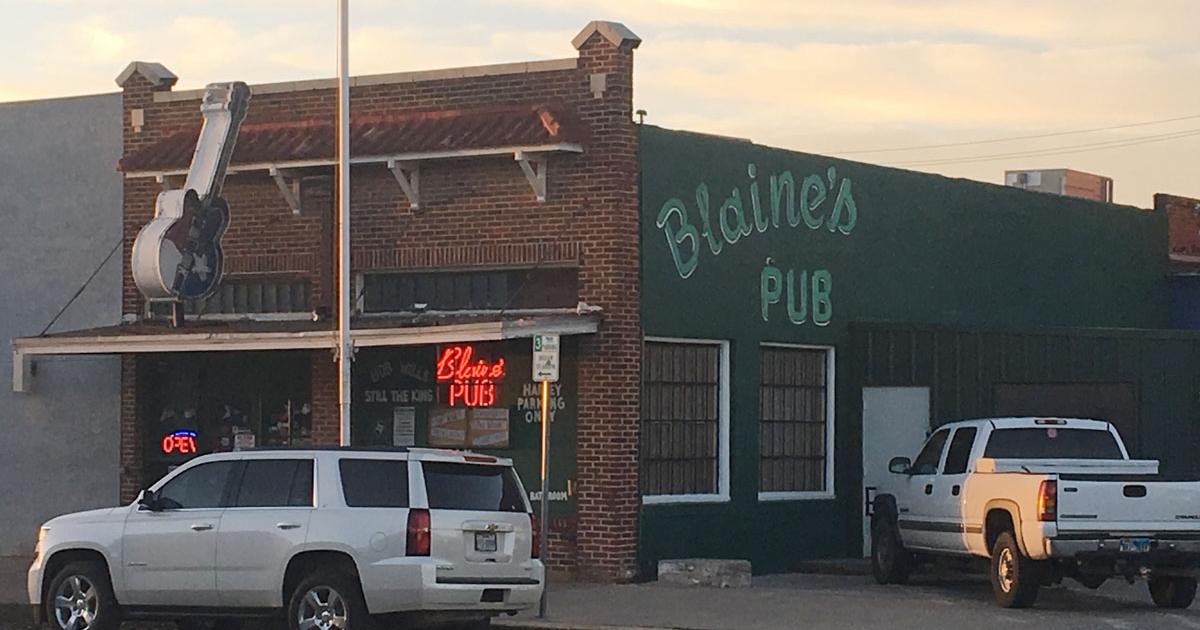 Above: The outside, should-be-historical building in downtown San Angelo where Blaine's Pub has been since 1997. (LIVE! Photo/Joe Hyde)
Every November, Blaine's invites the hobby barbeque group Cooking for Christ to smoke turkeys and hams on its side lot. Large turkeys and hams were sold to the public as a fundraiser for a local charity. This year, proceeds were donated to the Women and Children's Shelter at ConchoKids.org. To help sell the turkeys, Blaine's put its digital marketing to work preselling the turkeys. They published a story on BlainesPub.com and went to work sharing it social media and with the app announcing the bar was accepting pre-orders. This year, over 300 turkeys and hams were sold. In 2013, the first year the new owners conducted the sale and before the digital marketing system was in place, the sales were half that.
American Aquarium takes the stage tonight at 8 p.m., on a Wednesday. It's risky because it's a weeknight. Is Sturm worried? "Get that push notification out," he said.
Radio couldn't do this.
To keep up with Blaine's Pub, visit their Live Music website for San Angelo. There you can download the Blaine's Pub app. Follow them on Facebook and Instagram, too.
Interesting Blaine's Pub facts:
Best selling bottled beer: Coors Light and Michelob Ultra
Best selling draft beer: Coors Light and Miller Lite
Best selling shots: Pickle Shot, made with Vodka and pickle juice; and The Blueberry Muffin, created with Rumchata, blueberry-flavored Red Bull, and Blueberry Vodka.
The Top Bars in San Angelo in October 2016, as measured by alcohol sales
| Venue | Address | Oct. 2016 Taxes | Gross Sales |
| --- | --- | --- | --- |
| FIDDLESTRINGS BAR & PATIO | 3301 ARDEN RD | $6,413.03 | $95,716.87 |
| TWIN PEAKS RESTAURANT | 1601 KNICKERBOCKER RD | $6,012.78 | $89,742.99 |
| BLAINES PUB | 10 W HARRIS AVE | $5,660.02 | $84,477.91 |
| SHENANIGAN'S BAR | 3250 SHERWOOD WAY | $5,629.67 | $84,024.93 |
| BUFFALO WILD WINGS GRILL AND B | 4251 SHERWOOD WAY | $5,589.14 | $83,420.00 |
| THE DEADHORSE | 210 S CHADBOURNE ST | $4,590.97 | $68,521.94 |
| FAT BOSS'S PUB | 114 S CHADBOURNE ST | $4,210.34 | $62,840.90 |
| THE PARROT'S HEAD TAVERN | 2319 W AVENUE N | $3,888.27 | $58,033.88 |
| CORK AND PIG TAVERN | 2201 KNICKERBOCKER RD | $3,491.23 | $52,107.91 |
| THE PENNY TAP HOUSE | 2412 COLLEGE HILLS BLVD STE | $3,142.97 | $46,910.00 |
Note: San Angelo LIVE! is the digital marketing agency for Blaine's Pub
Get more stories like this by
signing up for our daily newsletter, The LIVE! Daily
.