AUSTIN, TX — Today, August 1, marks the 56th anniversary of the tragic shooting on the campus of The University of Texas in 1966.
The gunman, Charles Whitman, was a student at UT who became disillusioned with life on earth. Before climbing the 27 floors up the 307-foot tower to the tower's observation deck he gathered an arsenal of guns, including an M-1 Carbine, a Remington 700 6-mm bolt-action hunting rifle, a .35-caliber pump rifle, a 9-mm Luger pistol, a Galesi-Brescia .25-caliber pistol, a Smith & Wesson M19 .357 Magnum revolver, the shotgun, of which he had sawn off the barrel and buttstock, as well as more than 700 rounds of ammunition. 
Starting minutes before the noon hour, for the next 96 minutes he shot and killed 14 people, including an unborn child, and injured 31 other people from the observation deck. 
Whiteman, the gunman, was eventually shot and killed by an impromptu assault team of three Austin Police officers and an armed civilian.
The four that made it to the observation deck that day were Austin Police officer Houston McCoy, 26; Allen Crum, 40, a civilian and retired USAF bomber tail gunner; Austin Police Officer Jerry Day; and APD officer Ramiro "Ray" Martinez, 29.
At around 1:24 pm, while Whitman was facing south looking for the source of a rifle shot, Martinez and McCoy rounded the northeastern corner of the observation deck. Martinez jumped out and fired in the direction of Whitman, missing with all of his revolver shots. Meanwhile, McCoy leaped out while Martinez was firing and saw Whitman's head looking over the light ballast, McCoy fired at the top of the ballast, hitting Whitman between the eyes with several pellets, killing Whitman instantly. Crum guarded the doorway to the deck. Day and McCoy cleared the 27th floor before making it to the observation deck. Day arrived minutes after Whitman was killed.
The UT Tower is an iconic structure built in 1937. For many years, it was the tallest structure in Austin. Today, it ranks as the 27th tallest building.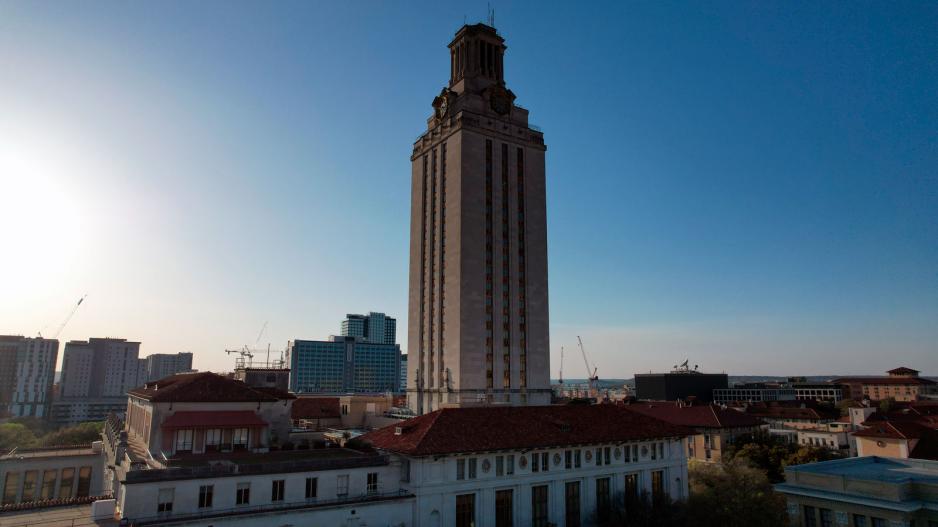 Most Recent Videos