SAN ANGELO, TX –– Even as Covid infections continue to steadily increase in San Angelo, hospitalizations in the local trauma area remain low.
According to the Texas Department of State Health Services Covid-19 Dashboard, hospitalization levels due to coronavirus in West Texas are varied. Only one area in West Texas has risen above the 15 percent threshold used to determine mask mandates and occupancy limits.
As of December 26th, Trauma Service Area K reported a 2.06% –– making the San Angelo area one of the lowest percentages in the entire state. The area serves approximately 170,000 people.
Trauma Service Area K includes the counites of Coke, Concho, Crockett, Irion, Kimble, Mason, McCulloch, Menard, Reagan, Runnels, Schleicher, Sterling, Sutton, and Tom Green.
Trauma Service Area D, which includes the City of Abilene, reported a 4.17% rate in the same time frame. This TSA serves an area of more than 300,000 people.
Trauma Service Area J, which includes the cities of Midland and Odessa, has reported a 6.38% hospitalization rate. The area, which covers 18 counties and serves 470,000 residents.
Hospitalizations in Trauma Service Area B, which includes Lubbock, have reported an elevated number. Sitting at 11.36%, the area serving 492,000 residents is inching closer to the fifteen percent threshold.
But of all the areas of West Texas, Trauma Service Area I has one of the highest hospitalizations in the state at 17.01%. with 871,000 residents.
The latest data released by DSHS, a total of 2,903 new infections have been confirmed in the last seven days in Trauma Service Areas B, D, J, K & I  combined.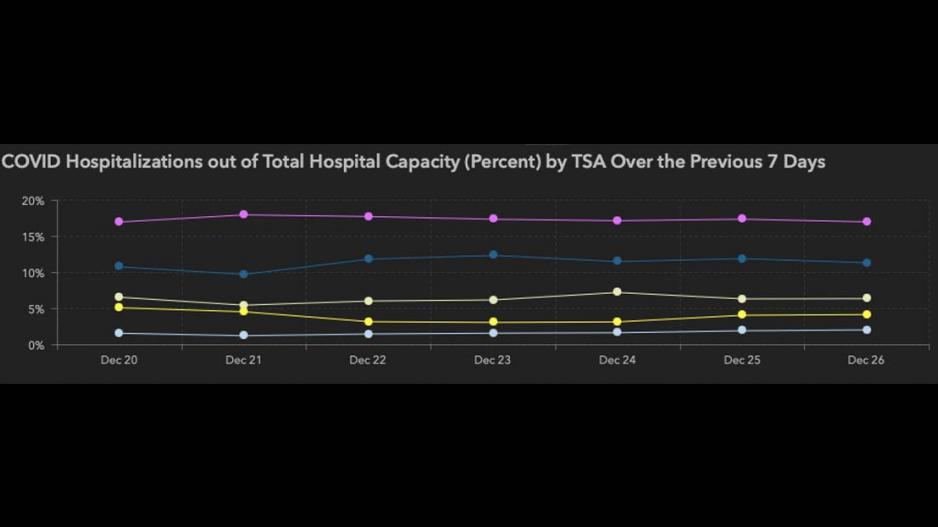 Most Recent Videos