SAN ANGELO, TX — Allen West is popular in San Angelo. The outgoing chair of the Republican Party of Texas told the packed house at the RiverView Restaurant on Thursday that they should be ready for his major announcement on July 11.
West has allowed speculation to run wild in the Texas press that he will challenge Governor Greg Abbott in the Republican primary in March 2022. When West announced his resignation as head of the Texas Republican Party June 4, he said his last day as chair was July 11. He then hinted at running for a statewide office. However, earlier this month he also said he was not pleased with the performance of his U.S. congressman, a Democrat, Rep. Colin Allred of Dallas. Though, his floating the idea of running for congress is probably a false flag if one listened closely to his remarks here on Thursday.
During his speech in San Angelo to the Concho Valley Republican Women, West's remarks sounded like he was running for a statewide office. He talked about how the Texas GOP needs to turn an urban center in Texas back to red, as all of them — Dallas, Austin, San Antonio, and El Paso — have become strongholds of the Democratic Party while the more rural areas of the state remain the Republicans' last bastion of defense to turning the entire state blue. West thought Harris County, with Houston as its county seat, provided the best opportunity to turn back red. He praised Texas GOP gains in local elections, particularly Javier Villalobos who won the mayoral runoff in McAllen on June 7, defeating Democrat Veronica Whitacre.
West discussed attracting people of color into the Texas GOP but denied any systemic racism in the U.S. as almost all on the Left claim. West noted that he was the third African American to hold the office of Chair of the Texas Republican Party. The two other Black GOP chairs served during and immediately after Reconstruction in the late 19th century. His point was it should not be a big deal what color a man or woman is, but the competency and content of each and every person's character is what matters instead. Therefore, it was not a big deal that he was a Black chairman of the Texas GOP. Besides, he was, after all, number 3, not the first.
Boilerplate issues West will use during his gubernatorial campaign will likely center around what he spoke about Thursday: border security and the culture wars. He noted the hardship that the Biden administration's border policy is bringing to Texans. On the culture wars, West railed against the teaching of Critical Race Theory in public schools. He said CRT is another strong reason why Texas needs a voucher system for public education.
Drawing upon his experience as an officer in the U.S. Army, he asked rhetorically, how can any commander foster an environment of teamwork with his troops if one group of his company is taught by the Army that they are the oppressed and the others the oppressors? West retired as a Lieutenant Colonel from the active duty Army in 2003 and is a combat veteran of both wars in Iraq. He was commissioned an officer in the Texas State Guard in 2019.
West, who began his political career in Florida as a one-term congressman there, told the audience Thursday that he has fully embraced being a Texan, comparing his lifelong journey to Texas to that of the Tennesseans who migrated here during the 19th century to help form the country of Texas and then state. He was born and raised in Atlanta, Georgia but he lived in various places while growing up, as he was a military brat, he said. True to his Tennessee comparison, however, West is a 1983 graduate of the University of Tennessee.
The overflow crowd listened intently and West's remarks struck a chord. He entertained an extended question and answer period after his remarks. He refused to discuss national politics but instead routed questions about the national political stage back to Texas issues. For example, West did not want to discuss the coming tension between Florida Governor Ron DeSantis and former President Donald Trump, as both are expected to run for the GOP nomination for president during the 2024 cycle. Instead, he sad any discussion of Trump vs. DeSantis has no immediate impact on Texas. At the same time, he said, growing the GOP in Texas holds many of the keys to leading the entire country back to normalcy he defined as re-embracing conservative Republican ideals.
West traveled alone to San Angelo. On the way out I shouted a question, asking him if July 11 is the day he announces he will challenge Abbott for governor.
"That depends on how you report it," he said.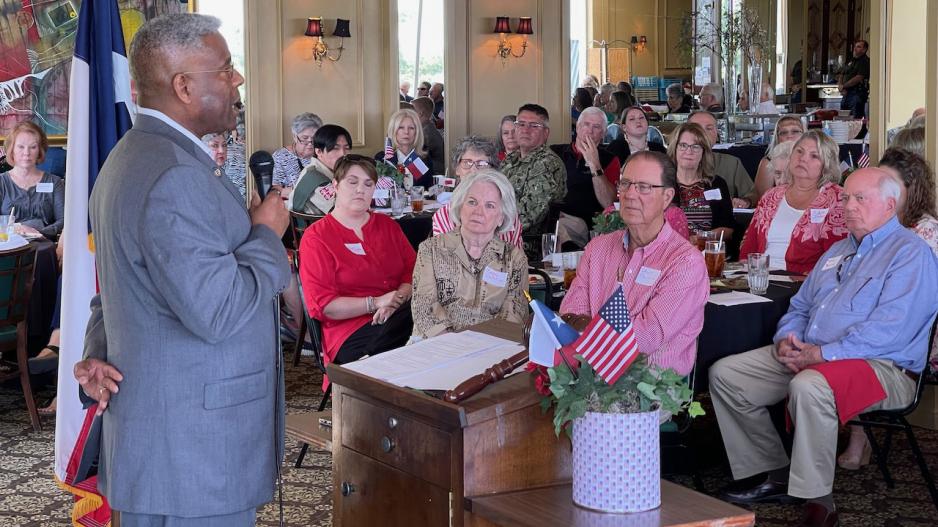 Most Recent Videos