SAN ANGELO, TX -- The water issue in San Angelo escalated quickly since the City issued a casual "do not bathe" or drink the water advisory  issued out of an "abundance of caution." Since then, restaurants have been ordered closed and major institutions like Angelo State University and the San Angelo ISD have announced closures due to the water issue. Following the City of San Angelo's precautionary citywide advisory on Monday evening urging citizens not to use water, San Angelo Independent School District, Angelo State University and Goodfellow Air Force Base have decided to close campuses and offices on Tuesday, February 9, 2021. In addition, 11 additional water districts have issued "do not use" restrictions on their water, as listed below. 
State Rep. Drew Darby (R - District 72) said he was in contact with the Texas Commission on Environmental Quality (TCEQ) who regulates municipal water utilities. He said he was informed the samples the City of San Angelo sent to them to test would have results within 24 hours. The notice to not use the water was issued at 6:30 p.m. Monday night, Feb. 8, meaning the test results will be back before 6:30 p.m. Tuesday. 
"Please continue to heed the advisories issued by the City of San Angelo. I will remain in contact with our city leaders, the TCEQ, and will closely monitor the situation," Darby said.
According to the school district the decision to close Tuesday came following communication with the City of San Angelo including the Water Director. 
The school district added there will be no expectation of online attendance for Virtual Academy students and in-person students on Tuesday. All afternoon and evening practices along with games on February 9, 2021, are canceled.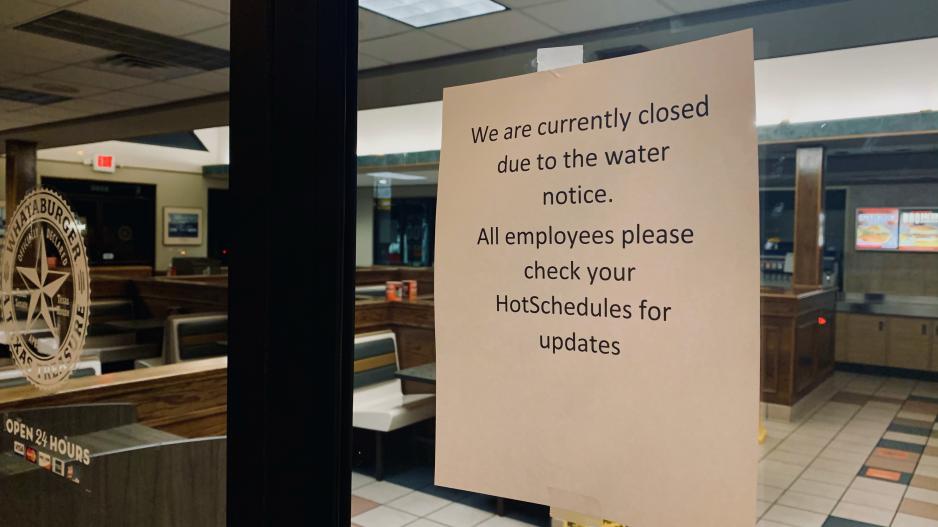 Classes at Angelo State University have also been canceled and the university will be closed. ASU is urging students to follow the citywide advisory to not use the water, even if boiled. This includes bathing. It's suggested for students to check with RAs about the availability of bottled water in their residence hall. 
Meanwhile, university essential staff is urged to contact their direct supervisor for further information. 
Goodfellow Air Force Base has also announced the canceling of all base activities on Tuesday while mission essential personnel are to report as normal.
The City announced just as night fell Monday night, Feb. 8, that in an "abundance of caution" to not use water from the Water Utilities infrastructure except to water the lawn. City water engineers have drawn samples from taps in the PaulAnn area where water was found to have a bad odor. Samples were sent to a lab and results are not expected back for another 24-48 hours.
Angry Cactus restaurant proprietor Tim Condon said city health inspectors arrived at his establishment just as the restaurant was closing and ordered him closed adding that the City will inform him when he can re-open tomorrow, if at all tomorrow. Health inspectors confirmed with Condon the issue was the water.
Condon said he can operate without City water, but would need tap water to run his dishwashing equipment.
He said he asked the City for more details about the water. As in, he asked, what is really wrong with the water?
According to City of San Angelo code, in order for retail food establishments to operate, they must have hot and cold running water under pressure. "In this case due to our "do not use" notice, this does not allow for restaurants to remain in operation at this time. Boiling water will not solve the issue because this is not a bacteriological issue that can be solved by boiling water," City of San Angelo public information officer Brian Groves said in an email.
Adrian Soto who operates Senor Changs restaurant relayed the same story. He was ordered to close "without prior notice." Sota said the health inspector told him the inspector was ordered to close all restaurants.
Meanwhile, while authorities shutter small businesses — restaurants and bars — corporate H-E-B sent a statement declaring its store would remain open and they have plenty of water. 
"H-E-B is working diligently to support the San Angelo community during the current no water use order. Our stores will be fully stocked with water when our doors open tomorrow morning. H-E-B's top priority is making sure our stores are functional and that supply is strong to support the needs of our customers," stated Alyssa Owens of H-E-B public affairs in San Antonio.
The City of San Angelo Water Utilities supplies water (or some part of the water) to the following water districts. Residents and businesses who are water customers of the following are also ordered not to use the water:
Turquoise Water
Concho Rural Water Pecan Creek
City of Miles
Twin Buttes Water System
Concho Rural Water Grape Creek
Water Wagon Water Hauling Service
Goodfellow AFB
Red Creek MUD
Concho Rural Water – Water Hauling
Original Services Water Hauler
Millersview-Doole Water System
Concho Rural Water Systems issued a clarification of what customers it serves are effected. If you live in the following subdivisons/areas you are now subject to the City of San Angelo's do not use water notice. Normal disinfection levels have been observed. However, this is a precautionary request that the City of San Angelo is extending to its wholesale customers. These areas include:
Buffalo Heights,
Arden Road,
Walling Pecan,
HiddenView,
Little Sorrel,
Hwy 584,
Line Road,
Stone Key Estates, and
the Reece Road area.
All other areas of Concho Rural Water Customers are not affected. 
Other closures:
Due to the precautionary citywide water advisory, MHMRCV Services and Offices will be closed Tuesday, Feb. 9. Essential staff personnel should contact their direct supervisor for further information. 
Most Recent Videos