Following Toddler's Death: DPS Upholds Wearing Seat Belts at All Times
SAN ANGELO, TX — On March 22, the Texas Department of Public Safety responded to a rollover crash involving a white pick-up truck on US 67 northeast of San Angelo. During the crash, two children were ejected. DPS stated the reason they were ejected was because either the children's safety seats had not been installed correctly or the children were not secured in their seats. 
Sgt. Justin Baker, with the DPS, gave this statement at the time of the rollover accident, "During the investigation, it was determined the vehicle did have two child safety seats, although it doesn't appear as though the child safety seats were properly installed, or the children were not properly installed at the time. Both children were ejected during the crash."
The parents lost their one-year-old daughter the next day after she died from injures in the rollover. 
LIVE! reached out to the DPS and the San Angelo Police Department to find out the number of fatal crashes that had occurred within  Tom Green County between May 1, 2016 and  May 30, 2017. Sgt Baker said DPS responded to four fatality crashes during this timeframe. The toddler in the rollover was one of them.
"Of those [four], three of the individuals that died were not wearing a seat belt at the time of the crash," Baker said.
Tracy Gonzalez, Public Information Officer for the SAPD, said there were a total of four fatal crashes in San Angelo.  Of those four people, one person was not wearing their seat belt, two were wearing restraints, and one was unknown.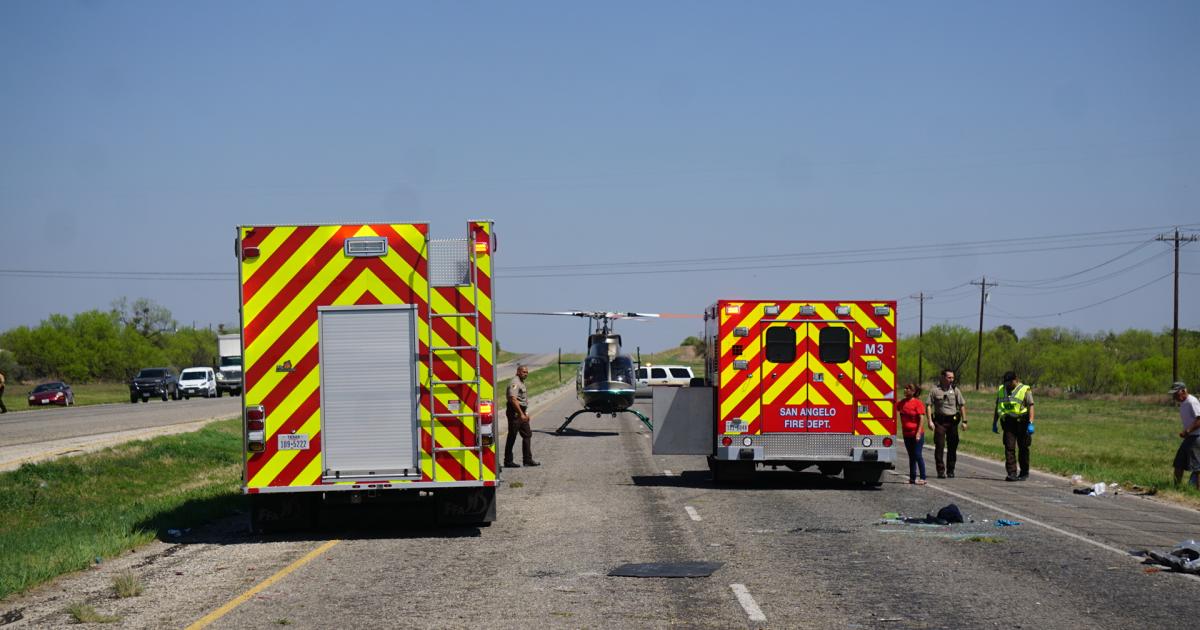 Above: Shannon AirMed 1 secures one-year-old from rollover (LIVE photo: Cameron Niblock) 
Ejection from a vehicle remains the most injurious events that can happen to a person in a crash, stated a National Highway Traffic Safety Administration (NHTSA) press release.
Of the fatal crashes reported nationally in 2015, about 80 percent of the deaths were vehicle occupants who died from ejection. Of those 80 percent, only 1 percent of the ejected occupants were reported to have been using restraints,  compared to 30 percent who were unbuckled at the time of their crash. 
Sgt. Baker explained that people are 40 percent more likely to be injured or killed during a crash if they are not wearing their seat belt. The percentage raises to 60 percent for drivers of pickups. 
Additionally, pickup truck occupants tend to be the highest percentage among any other vehicle occupants who do not wear their seatbelts. A staggering 59 percent of truck drivers killed were not wearing a seat belt, compared to 54 percent for SUV drivers, 42 percent for passenger car drivers, and 41 percent for van drivers.
"Those not secured by a seatbelt during a crash can become a projectile within the vehicle and could injure the other occupants that are properly secured," Baker stated. [Drivers] are 25 times more likely to be killed if ejected from the vehicle during a crash [when not wearing a seat belt.]"
Some local organizations, like Safe Kids San Angelo, offer their inspection services to provide families with secure child safety seats. Local business donated over 100 child safety seats at their, "Buckle Up Event", following the US 67 rollover.
Safe Kids San Angelo Coordinator, Catie Wiedenhofer, said the community was "up in arms" following the death of the toddler. 
"We are all coming together because the most precious asset we have in the world is our children," Wiedenhofer declared during a Safe Kids San Angelo event in April.
Families who want to have their safety seats inspected can contact Wiedenhofer via their Facebook page.
On a national level, the Click It or Ticket campaign uses various media including TV, radio, internet, and social media, to convey to the public that officers are always enforcing seat belt laws. 
The campaign targets all drivers, however, it focuses primarily on hard-to-reach males ages 18 to 34 who, research shows, are less likely to wear seat belts. Recent data from the NHTSA show nearly half of the 22,441 occupants killed in crashes from 2015 were unbuckled.
Additional statistics from 2015, showed that the use of seat belts in passenger vehicles saved an estimated 13,941 lives. From 2011 to 2015, seat belts saved an estimated 64,000 lives.
Sgt. Baker concluded by saying,"You should always wear your seatbelt while traveling in a vehicle.  It's not only for your safety, but for [any] passengers as well." 
Get more stories like this by
signing up for our daily newsletter, The LIVE! Daily
.