Election Returns: Brenda Gunter Elected Mayor in a Landslide
SAN ANGELO, TX — Citizens inside the city of San Angelo went to the polls Saturday to elect a new mayor and four new city council representatives.
There were 7,282 votes cast out of 54,656 registered voters. Brenda Gunter carried the absentee and early votes by a large margin and we declared her the winner by a landslide. About half the votes were cast during early voting. Over in SMD 6, Charlotte Farmer's former district, there will be a runoff between Billie DeWitt and Steve Hampton on July 7.
Bill Richardson, the councilman who resigned and caused the special SMD 1 election to happen, only attracted 37 votes in early voting, and 74 total. Tommy Hiebert will return to the city council representing SMD 1 and the Lake Nasworthy/Bentwood areas after a 20 year absence from office.
Tom Thompson, who ran unopposed, received 578 votes out of the 782 who voted in the Lake View district, SMD 2. There were 203 under votes. 
The next Mayor of San Angelo, Brenda Gunter, gave her victory speech at 9:22 p.m. 
When congratulating the 150 supporters who attended Gunter's victory party at Miss Hattie's Restaurant, she said, "It's not about what we just accomplished. It's about what we're going to accomplish over the next four years."
"This city is about the citizens, and I want to be your leader," she said.
Held in conjunction with the City of San Angelo election, Wall ISD selected three trustees for its school district's board. They were, David Kubenka, Brandon Braden, and Doug Dusek. Download all the official results here.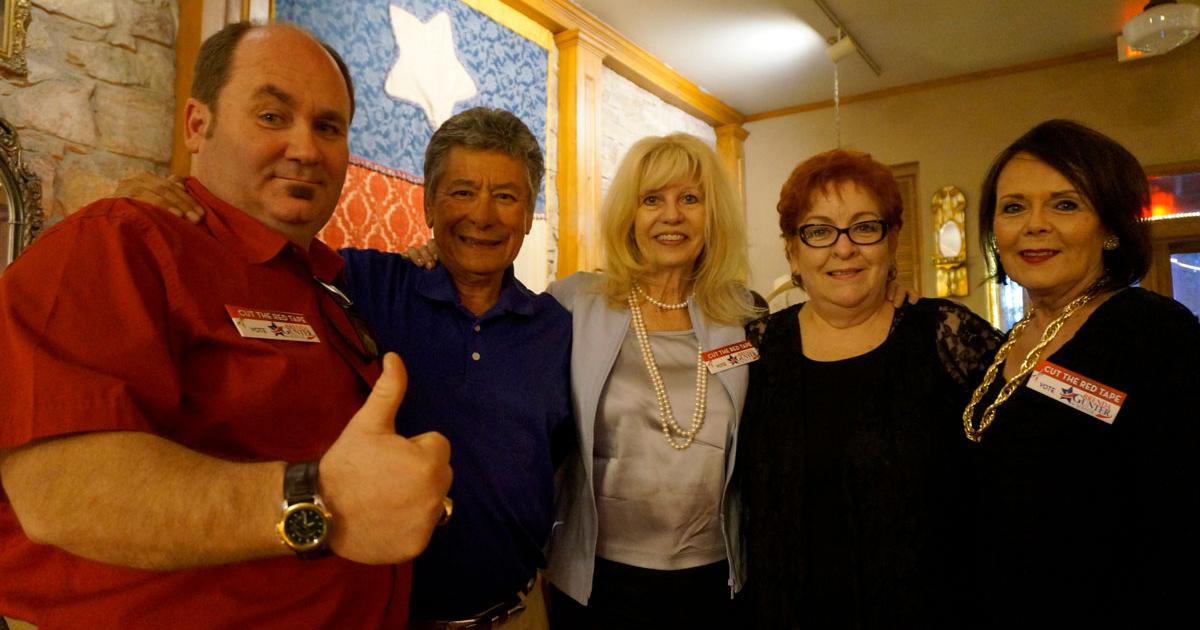 Above: The winning campaign team. Brenda Gunter (center) is flanked by Stephen McLaughlin, her ad guy; Del Velasquez, her trusted advisor; Lucie Hofheins, and Kathleen Hicks.
Mayor of San Angelo
Candidate
Absentee (percent)
Early Votes (percent)
Election Day (percent)
TOTAL (Percent)
Zach Taylor
 56 (7.82%)
115 (3.68%)
161 (5.04%)
 332 (4.72%)
Tony Villarreal
 90 (12.57%)
 676 (21.61%)
 549 (17.17%)
1,315 (18.68%)
Charlotte Farmer
168 (23.46%)
 339 (10.84%)
 295 (9.23%)
802 (11.39%)
Brenda Gunter
402 (56.15%)
 1,998 (63.87%)
 2,192 (68.56%)
4,592 (65.22%)
SMD1
Candidate
Absentee
Early Votes (percent)
Election Day (percent)
TOTAL (Percent)
Bill Richardson
 11 (9.02%)
 26 (3.02%)
37 (4.14%)
74 (3.95%)
Darrin Fentress
5 (4.10%)

 

43 (5.00%)
47 (5.26%)
95 (5.07%)
Tommy Hiebert
 66 (54.10%)
 540 (62.79%)
573 (64.17%)
1,179 (62.88%)
Anna Bartosh
 40 (32.79%)
 251 (29.19%)
236 (26.43%)
527 (28.11%)
SMD2
Candidate
Absentee
Early Votes (percent)
Election Day (percent)
TOTAL (Percent)
Tom Thompson
63 (100.00%)
 265 (100.00%)
 250 (100.00%)
578 (100.00%)
SMD4
Candidate
Absentee
Early Votes (percent)
Election Day (percent)
TOTAL (Percent)
Lucy Gonzales
 50 (75.76%)
144 (64.29%)
 166 (57.24%)
360 (62.07%)
Chris Giroux
16 (24.24%)
80 (35.71%)
124 (42.76%)
220 (37.93%)
SMD6
Candidate
Absentee
Early Votes (percent)
Election Day (percent)
TOTAL (Percent)
Rebekah Coffman
56 (29.63%)
133 (18.42%)
199 (27.11%)
388 (23.59%)
Billie F. Dewitt
57 (30.16%)
279 (38.64%)
 275 (37.47%)

384 (36.54%)

Steve Hampton
76 (40.21%)
310 (42.94%)
260 (35.42%)
646 (39.27%)