Do You Want to Play Video Games for a Living?
Sponsored Story
Mobile gaming centers are big business these days. Kids and adults alike are acquainted with most popular video games like Nintendo's Mario Kart or the most popular one, Call of Duty, a first-person combat adventure game. A local company, GoGamez, positions itself as "Your Ultimate Gaming Venue." They bring a wall of flat screen TVs connected to popular gaming consoles to you in one self-contained 32-foot mobile trailer.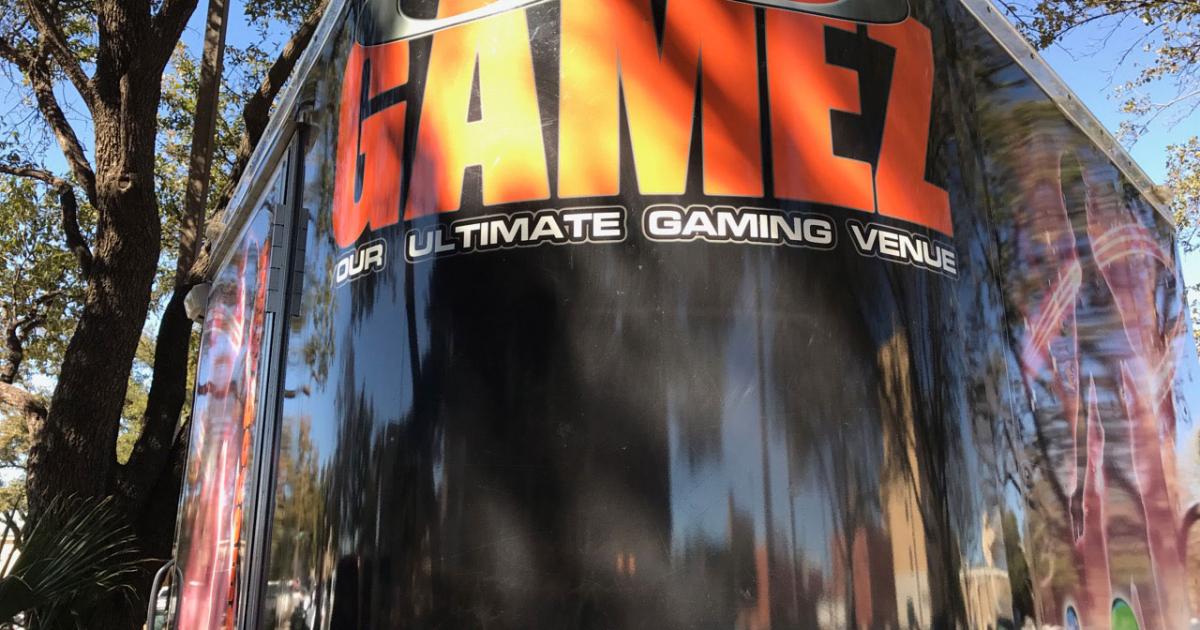 Above: The streamlined bullet nose of the GoGamez trailer. (LIVE! Photo/Joe Hyde)
Owners Tiffany and Nick Ohman said the gaming trailer can accommodate 28 patrons at once. Inside, two rows of stair-stepped long bench seats face a wall of flat screens, each connected to a gaming console that can be networked together. There are more seats for gamers outside the trailer under a retractable awning. The consoles include Xbox Ones, Xbox 360s, Nintendo Wiis and Wii Us, and Sony PS3s.
"We can accommodate just about any kind of video game play," explained Nick. He said a frequent destination for the GoGamez trailer is birthday parties. "We can provide the age-appropriate gaming experience," he said. Go Gamez is also used for tournaments amongst friends. Nick mentioned a recent Halo 5 tournament.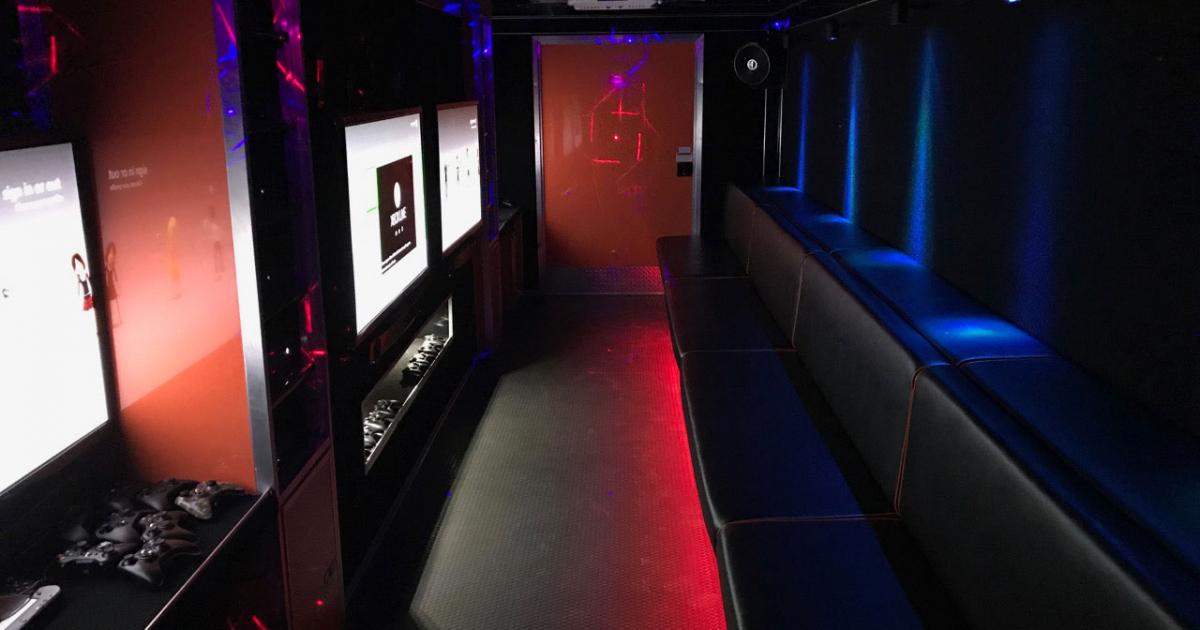 Above: Inside the GoGamez gaming trailer. (LIVE! Photo/Joe Hyde)
To attend to the gaming events, the Ohmans hire "gaming coaches." The coaches monitor the equipment, change out the games in the consoles, and offer advice. Sometimes, they act as referees during intense competitive situations like tournaments. Nick said he also has advisors. His three teenaged boys keep their entrepreneur parents up-to-date on the latest trends in the video game industry and all three work as game coaches.
Watch: the introduction of the GoGamez trailer to Nik and Tiffany's three sons:
The trailer is also equipped with a satellite TV feed for sporting events like tailgate parties. You can watch your favorite football game while taking in some Madden football on the XBox. Don't worry about the weather outside. A self-contained generator powering two air conditioning units cool or heat the inside of the trailer as required by the weather.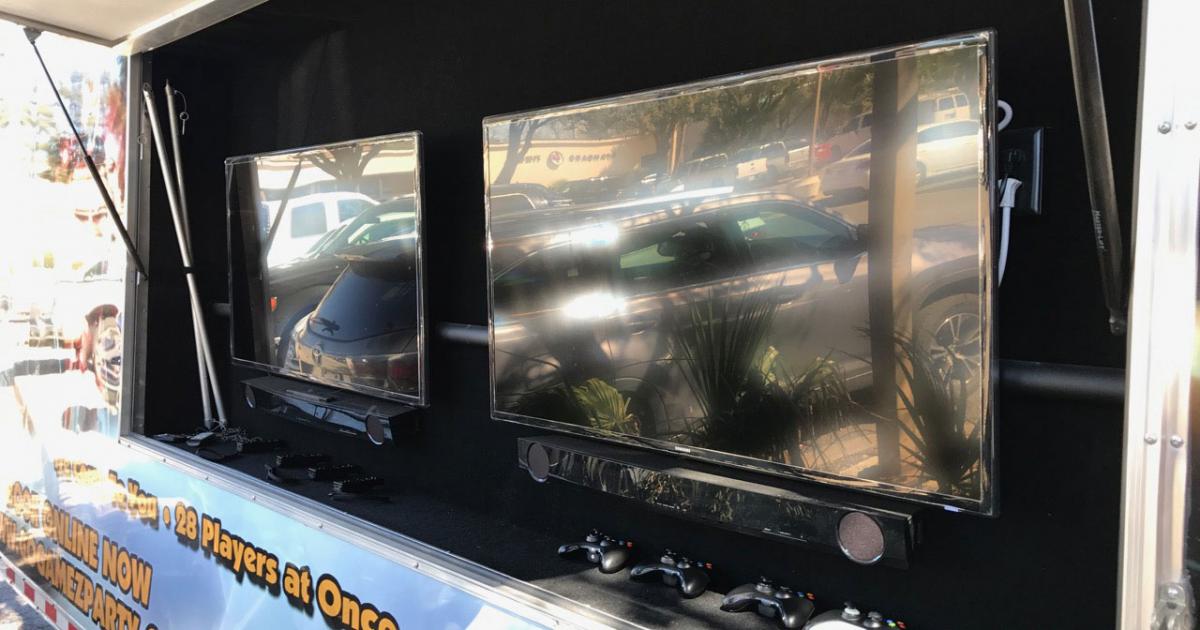 Above: The outside gaming station of the GoGamez.com trailer. (LIVE! Photo/Joe Hyde)
Inviting GoGamez to your next birthday party or house event costs $250 for an all-inclusive two-hour duration. Each additional hour is $100. Non-profit organizations get discounted rates of just $100 for the first two hours. The cost includes a gaming coach who tends to the equipment for the duration.
The mobile gaming business was a great investment and business is brisk, Nick said. Nick also owns Lone Star Moving and Tiffany founded a new business, New Roots Senior Transition Specialists.  Now their interests are taking them in new direction.  He and Tiffany are seeking someone who is passionate about gaming to buy GoGamez and take it to the next level. If you want to play video games for a living, give them a call at (325) 374-6683 or contact them through their website.
p.p1 {margin: 0.0px 0.0px 0.0px 0.0px; font: 12.0px Helvetica}