ASU Students Win Awards at National Conference
Press Release
SAN ANGELO, TX – Members of the ASU Model Organization of American States student organization traveled to San Marcus this past weekend to compete in the 20th annual Eugene Scassa Mock Organization of American States (ESMOAS) conference. There, a few students won several awards.
ASU political science majors Andreas Chavez of Roca, Nebraska, and Gadiel McDonald of Veribest, were named Outstanding Committee Delegates. McDonald also earned an Honorable Mention Award in the Outstanding Ambassador judging for his individual performance in the General Assembly, where he portrayed Canadian Prime Minister Justin Trudeau, said an ASU Press Release.
Seventeen other members of the ASU's Model Organization of America States student organization joined Chavez and McDonald at the conference. The ESMOAS conference is an academically-centered program that brings together the nation's best and brightest college students to debate the issues facing the nations in North America, South America, Central America, and the Caribbean.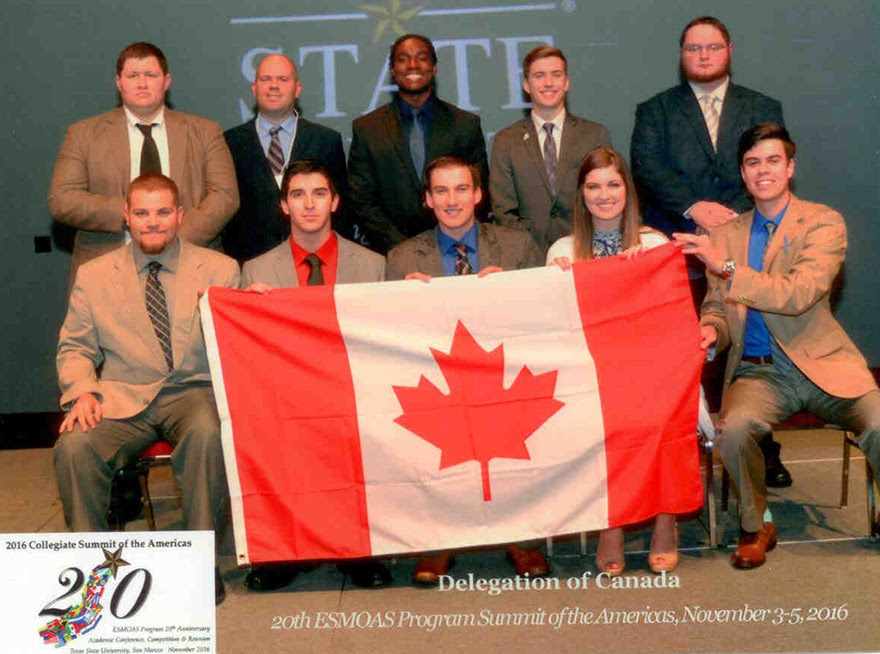 Pictured Above: (Back, L to R) Rogan Hibbitts, Dr. Mathew Gritter, Ethan Coulter, Andreas Chavez, Christopher Rapp (Front, L to R) Alex Garcia, Gadiel McDonald, Cameron Niblock, Miah Wagnon, Jonathan Morre
ASU's team divided into groups to act as delegations for Canada and Colombia where they prepared resolutions for debates, followed parliamentary procedure, and debated and approved resolutions in their respective committees pertaining to the issues of the Organization of American States (OAS) system.
The OAS system was formed in 1948, and was established to achieve an order of peace and justice among its member states, to promote the solidarity, strengthen their collaboration, and defend their sovereignty, territorial integrity, and independence. Currently, 35 independent states of the Americas are members.
Other ASU students in attendance included Estefen Alba, Thomas Bedrick, Juan Benavides, Evelyn Burch, Pascual Callejas, Ethan Coulter, Alex Garcia, Rogan Hibbitts, Steve Kim, Katelyn Marshall, Jonathon Moore, Cameron Niblock, Chasity Paxton,  Jaime Perez, Christopher Rapp, Kayla Valdez and Miah Wagnon. Assistant professor of political science Dr. Matthew Gritter is the group's faculty advisor.
The team's trip to the conference was supported by ASU's Student Organization Leadership Fund and the Office of the Dean of Arts and Humanities. The team competed against teams from Baylor University, Concordia University, St. Mary's University, Texas State University, Texas A&M University – International, U.A.N. L. Nuevo Leon and Universidad Regiomontana. 
Get more stories like this by
signing up for our daily newsletter, The LIVE! Daily
.